ALMATY -- Women, children and labour migrants from Central Asia are some of the main targets for recruiters from the "Islamic State" (IS) and other terrorist groups, according to a report by the Organisation for Security and Co-operation in Europe (OSCE).
"Deceptive recruitment by terrorist groups has long been part of the modus operandi of human traffickers to lure young girls and women with promises of gainful employment or romance into sexual exploitation in the OSCE region and beyond," said the report, published in July.
The recruitment of Central Asian labour migrants has been attributed to a range of factors, including the influence of social media and socio-economic marginalisation and discrimination, it said.
Both human trafficking and terrorism are a serious threat to peace and security, as well as to socio-economic development, the report said.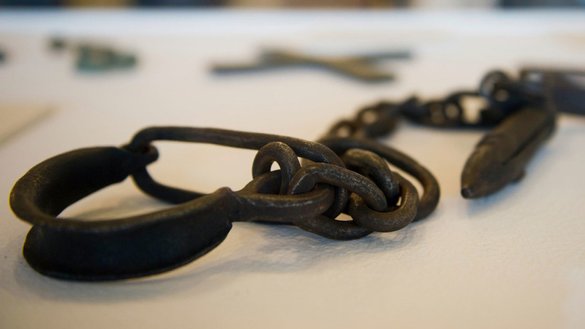 "Terrorist groups appear to accrue human capital, tactical adaptability and ideological reinforcement for their organisations by employing trafficking acts and means to exploit vulnerable adults and children for a variety of purposes, including sexual exploitation, forced labour and slavery, and even combat," it said.
Measures against human trafficking were a major topic during a meeting last week in Nur-Sultan between OSCE Representative on Freedom of the Media Teresa Ribeiro and Kazakh senate chairman Maulen Ashimbayev.
"We are paying special attention to strengthening mechanisms for the protection of human rights," Ashimbayev said last Tuesday (September 14) after the meeting.
"We are working to improve laws to combat torture and human trafficking and to protect citizens, especially children, from cyberbullying."
Luring young women, girls
OSCE specialists analysed media reports and first-hand accounts from citizens of OSCE-participating states in partner countries, particularly those in Central Asia.
The report, "Trafficking in Human Beings and Terrorism: Where and How They Intersect", provides heart-wrenching stories from some of the most vulnerable victims.
For ethical considerations, the report withholds individuals' names and the exact names of the countries involved.
"According to the data collected from one Central Asian country, there are confirmed cases of twelve single women who were trafficked from 2013 to 2017 to Iraq and Syria," the report said. "The women were used either for forced labour... or for sex."
In one case, a man approached a girl from Central Asia on the internet in 2016. She was 16 and recently divorced.
The man convinced her to travel to a city in a neighbouring country to marry him. To facilitate her travel, the would-be groom sent her $3,000.
Without informing her parents, the girl left her home country at age 17 and flew to meet her admirer. Upon her arrival, however, she was met by a member of a terrorist group who was responsible for safe houses.
This man immediately took away her passport, allegedly to get her a visa to travel to Syria, and held her in an apartment for three months.
For two weeks, after each prayer session, the man read sermons to the girl about the role of women in "jihad". Then he told her that fighters from Syria would come to her apartment every night and that she must serve them sexually.
After two and a half months, the man told the girl she would be moved to Syria and married to a "permanent husband", a member of the terrorist group.
Before that fate, the girl decided to escape. One night she tied together bedsheets and descended from the third floor. She ran to her country's embassy and ultimately succeeded in returning to her homeland.
Another example of IS exploitation involves a 56-year-old woman from Central Asia who taught eight girls aged 13 and 14 the basics of Islam in a covert school.
Six months after the girls began their studies, the woman began to tell them that they needed to go to Syria and marry "true Muslims -- those who are fighting against so-called infidels", according to the OSCE report.
At the same time, she persuaded the girls' parents that their daughters needed to receive additional training in a madrassa in a country neighbouring Syria for two weeks.
After the plane tickets were purchased, one of the girls confessed to her parents that Syria was the real destination and that "marriage" to insurgents was the real reason. Authorities removed the girls from the plane before it departed.
"The woman admitted that the girls had been destined for sexual slavery for a terrorist and violent extremist group in Syria", the report said.
False promises
In another case, a man offered a lucrative job in Syria to a divorced 23-year-old mother and migrant worker in the catering industry.
Once she arrived in Syria, IS members confiscated her passport and exploited her as a domestic servant in Idlib. She did not receive any money for her work.
When she tried to escape, IS militants caught, raped and mutilated her.
The last known evidence of her whereabouts was in November 2015, when it was reported that she had been enslaved by a terrorist group.
Central Asian men are also targets of terrorist recruiters.
One example involves 12 male labour migrants aged 21 to 25 who worked in construction, retail, hospitality and transportation in an Eastern European country.
Recruiters offered the men peaceful and lucrative employment as cooks and builders in IS territory, according to the OSCE.
After two to three months, the men were taken to Syria, their passports were confiscated and they were forced to learn how to shoot weapons.
Against their will, the report said, the men were turned into militants.
Slave markets, organ trafficking
It is impossible to predict the challenges that terrorism may present, said Gulnara Razdykova, director of the Centre for Analysis and Development of Interfaith Relations (TsARMO) in Pavlodar.
"After all, in 2013 we were not ready for our citizens' mass exodus to combat areas, or that they would participate in armed units in another state," she said.
"This was a challenge for our state, experts, and all of society. And we are still reaping the consequences."
"The fate of children whose parents joined IS and then died is also lamentable," she said. "[The orphans] are sold for organs, into labour slavery or sexual slavery."
Authorities are taking steps to stop human trafficking and protect human rights, especially those of children.