ALMATY -- The Kremlin used a variety of techniques to carry out electoral fraud in Russia's parliamentary elections, analysts and activists in Kazakhstan said.
The three-day vote that ended September 19 followed an unprecedented crackdown on critics of President Vladimir Putin and came with pre-election polls showing the ruling United Russia's popularity at a historic low, AFP reported.
Predictions by state-run pollsters had suggested United Russia would win about 30% of the vote. But the party won 49.82%, claiming a two-thirds majority in the State Duma, the lower chamber, amounting to more than 300 of the 450 seats.
The Communist Party finished a distant second, with 18.93%. The Liberal Democratic Party of Russia, led by Vladimir Zhirinovsky, who is notorious for making imperialist statements targeting Kazakhstan, won 7.55%.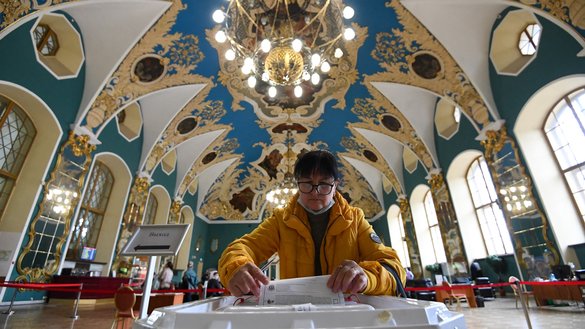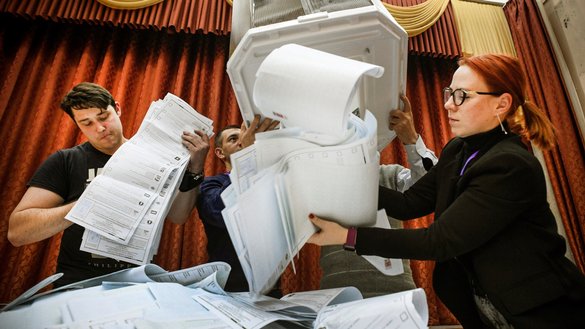 A Just Russia won 7.46% and New People 5.32%, while the other 10 parties did not clear the 5% threshold required to secure a seat.
Allies of jailed Kremlin critic Alexei Navalny, Russia's leading opposition figure, called the results outlandish.
"This is truly unbelievable," said Navalny's spokeswoman, Kira Yarmysh, according to AFP. "I remember the feeling in 2011, when they stole the election. The same is happening right now."
Claims of widespread fraud in 2011 sparked huge protests led by Navalny, who was arrested in January and jailed on old fraud charges following a poisoning he blamed on the Kremlin.
Navalny's organisations were banned as "extremist" ahead of the latest election, his top allies were arrested or fled, and anyone associated with his groups was kept from running.
Authorities falsified the vote on a massive scale, said his allies, pointing especially to delays in releasing a breakdown of the results of electronic voting in opposition-friendly Moscow.
Election fraud
Russia observers noted a number of election fraud techniques.
While authorities claimed the election was spread over three days to prevent crowding, ostensibly because of the pandemic, critics said the longer period offered ample opportunities for manipulation, Radio Free Europe/Radio Liberty reported.
The few election monitors in the country reported numerous instances of ballot-box stuffing and "carousel voting" -- where busloads of voters cast ballots in multiple polling stations as an organised group.
Public sector workers and military personnel reportedly received orders to vote.
At-home voting was likely being used to skew the results as well, Russian monitors said, pointing to irregularities in registration lists and "fake requests".
"Titushki" -- thugs hired by the government -- made their presence known in Moscow province, Krasnodar province and St. Petersburg, according to Vitaly Averin, a board member of Golos, Russia's only independent election watchdog.
Those three areas have the most voters, he said.
"These titushki are participating in carousel voting, travelling in rented buses to different polling stations to vote more than once," Averin told Dozhd (TV Rain).
"They are also used as fake observers, and their goal is to antagonise, to the point of using strong-arm tactics," he said.
Russian elections never take place according to the same set of rules, and the new three-day voting procedure lays the groundwork for fraud, said former Yekaterinburg mayor Yevgeny Roizman, who took part in election monitoring.
First, employees of large companies voted where they worked, not in their place of residence, he told TV Rain. Their minders transported them to voting sites and kept an eye on them.
He described at-home voting, under these circumstances, as a tool to falsify the results.
"None of the strong opponents of the government were permitted to take part in the elections," he noted. "The ones who could have won races didn't even have a chance to register."
Dirty elections
It was obvious to everyone, including Russian observers, that the Kremlin pulled out all the stops to make the elections difficult for the opposition, Nur-Sultan-based political columnist Gaziz Abishev told Caravanserai.
"The authorities were obviously responsible for arresting opposition figures, forcing people who disagreed with government policies into exile, and combating Aleksei Navalny's 'Smart Voting' by blocking his mobile app," he said, referring to a Navalny strategy of encouraging voters to pick the candidate most damaging to the ruling party in every race.
These shady campaign techniques "allow [the authorities] to violate the spirit of election law while still following the letter of the law", Abishev said.
"For Sergei Kiriyenko, first deputy chief of staff of the Presidential Executive Office, it was important to do everything to preserve the constitutional majority in the State Duma without having to engage in outright vote fraud."
Although blatant violations might have been few, the Duma elections clearly cannot be called completely free and impartial, he said.
"I think the strategic preparation for the elections happened last year or at the beginning of this year," Abishev said.
Russian leaders "considered everything and made a strategic decision to minimise visible external interference in the elections so there would be no outcry about electoral fraud", he said -- and then Putin loyalists put this plan into action.
"Over the last 20 years of the so-called era of Putinism, there has been an obvious backslide from democracy and squeezing out of dissent," said Almaty-based political activist Rasul Zhumaly.
"Both experts and observers are aware of this," he told Caravanserai. "These elections also fit into this policy of crackdowns and advancement of the party in power."
Authorities used the same methods they relied on in past elections, he noted: harassment of the opposition and persecution of dissidents.
In addition to the heavy pressure applied to Navalny and his supporters, the Russian government has passed anti-democratic laws, such as those related to "foreign agents", Zhumaly said.
"This year, Russia rolled out another practice: three days of voting, but there were only a few hundred foreign election observers for the entire huge territory," he said.
"They were quite restricted in their operations, and as far as I know, their names were classified," he added, implying that the observers were from pro-Putin ex-Soviet states and thus not eager to advertise their activities.
"Absurdity reigns," he concluded of Russian election conduct.