BISHKEK -- A dispute with a Chinese firm contracted to build a highway in Kyrgyzstan is the latest sign of the risks of working with China-based companies and of forging ties with Beijing, analysts warn.
Workers are demanding almost a year and a half of back wages from the Longhai Road and Bridge Corporation for work on the unfinished Balykchy–Korumdu highway along Lake Issyk-Kul.
The Chinese company in 2015 won the tender to construct the 104km-long road by the end of 2017.
Construction has yet to conclude on the project, which has cost the Kyrgyz Ministry of Transport 6.8 billion KGS ($80.2 million).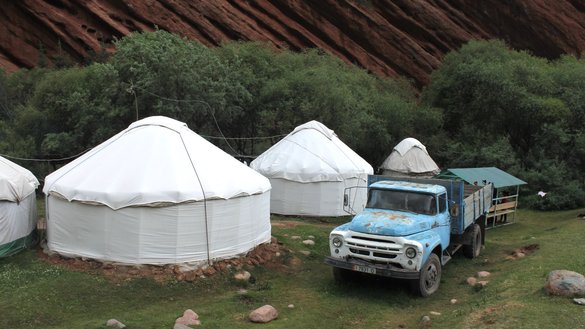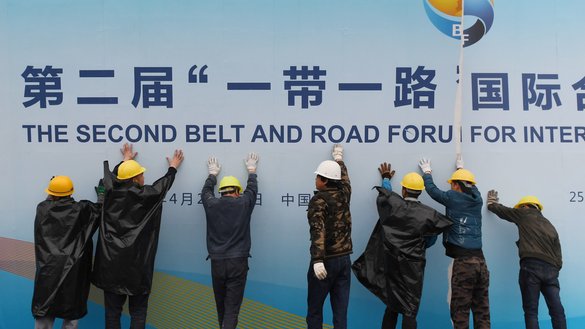 In six years, triple the originally scheduled two-year project span, Longhai has done only two-thirds of the work.
About 20km of the road remains unbuilt, but cracks already are appearing on the surface of the completed portion.
The project is progressing at a snail's pace, as disheartened workers frequently refuse to come in.
In 2019, local workers complained that the company had stopped paying their salaries, and payment problems have resurfaced.
On September 21, a group of 25 construction workers traveled to Bishkek to complain directly to Deputy Minister of Transport Nurlanbek Kaiynbayev and Baktiyar Orozov, the cabinet official in charge of the human rights portfolio, 24.kg reported.
Bakyt Aidarkanov, a road safety inspector, told reporters that he and 18 other workers have gone unpaid for 16 months and that the company owed money to a total of 120 workers.
In all, the Chinese firm owes workers 28 million KGS ($330,000).
Kyrgyz officials promised to solve the problem before the end of September, and the Ministry of Transport asked the Ministry of Economy to earmark an additional 72 million KGS ($850,000) to renovate the highway.
"The issue is now being resolved," the Ministry of Transport told 24.kg.
A project gone awry
The failure to pay the Kyrgyz workers is just one of many controversies that have plagued the Chinese company.
In October 2018, the Kyrgyz general prosecutor opened a criminal case related to Longhai's activities.
In building the drainage structures, the company used ordinary cement instead of sulfate resistant cement, a choice that makes the highway wear out quickly and increases the risk of accidents.
Longhai did not reduce its fee to reflect its use of ordinary cement, the general prosecutor said.
No resolution of that case has been reported.
Later that same year, Kyrgyz Zhol Kurulush, a Kyrgyz subcontractor, sued Longhai for overdue payment after its workers staged a protest over not being paid for four straight months.
Ultimately, the court froze Longhai's accounts.
The Chinese company also failed to pay taxes to Kyrgyzstan since nearly the beginning of the project.
In December 2019, the Kyrgyz tax service announced that Longhai owed 227 million KGS ($2.7 million) in taxes, having made no payments in four years.
Kyrgyzstan has never made a public announcement about resolution of Longhai's back taxes.
"Things went awry from the very beginning -- the tender process violated the law," Ryskeldi Mombekov, a member of parliament who sits on its Committee for Transport, Communications, Architecture and Construction, told Radio Free Europe/Radio Liberty (RFE/RL)'s Kyrgyz service in September.
"It's not for nothing that the residents of Issyk-Kul wrote a song about the inconveniences caused by the Balykchy-Korumdu [highway]," he said.
A costly mistake
Local residents have suffered the most as the highway project remains incomplete.
Bermet Abdykalykova, who owns a guesthouse in Bosteri, a village on the northern shore of Issyk-Kul, laments that since the project began, she has had fewer visitors because most travellers do not want to endure the bumpy ride on the dusty bypass road.
"After all these years, they still haven't finished the job, yet 100km isn't that much," she said. "The Chinese obviously neglect projects in Kyrgyzstan. They would have built a road like this in China in a week."
"First they start doing something, and then they abandon everything," said Kasym Attokuro, a resident of Cholpon-Ata.
"No one knows if the road will be built in the end. How is this possible?"
It was a mistake to choose Longhai as the contractor for this essential undertaking, say many officials and analysts in Bishkek.
Even back in 2019, the Kyrgyz government denounced Longhai for unreliability and flouting of its obligations.
"According to best practices, a contractor needs to have its own working capital, and if it accumulates debt, it needs to allot money to its subcontractors to pay off wages and other expenses," the Ministry of Transport said at the time. "However, because of a lack of financial means, Longhai constantly runs into problems with making its payments."
Angering the dragon
Despite the company's errors and lapses, Kyrgyzstan cannot annul Longhai's contract because the government has obligations to China, said Kasybek Jolchuyev, a Bishkek-based security analyst.
Beijing is lending money to Bishkek as part of its Belt and Road Initiative, an effort to extract and transport poorer countries' natural resources for Chinese benefit.
A key condition of these loans is that Chinese contractors must be hired to carry out large projects, he said.
"If we part ways with Longhai, Beijing will react immediately. It will lean first on its financial leverage since we own enormous debts to China and are trying to defer payment," Jolchuyev said.
As of March, Kyrgyzstan's foreign debt was $5 billion (424 billion KGS), with the largest share of it -- more than 40% -- belonging to the Export–Import Bank of China, according to the Kyrgyz Ministry of Finance.
"If we anger the dragon, there will be hell to pay," said Jolchuyev.