THE HAGUE -- A group of 45 countries Tuesday (October 5) demanded at the global toxic arms watchdog that Russia provide urgent answers about the poisoning of Kremlin critic Alexei Navalny.
Moscow now has 10 days to respond to the questions posed by the European Union and countries including the United States, Canada and Australia, under the rules of the Organisation for the Prohibition of Chemical Weapons (OPCW).
Western nations say opposition leader Navalny was poisoned in Russia with the Soviet-era nerve agent Novichok in August last year. He was treated in Germany before returning to Russia, where he is now in jail.
Moscow has always denied involvement in Navalny's poisoning.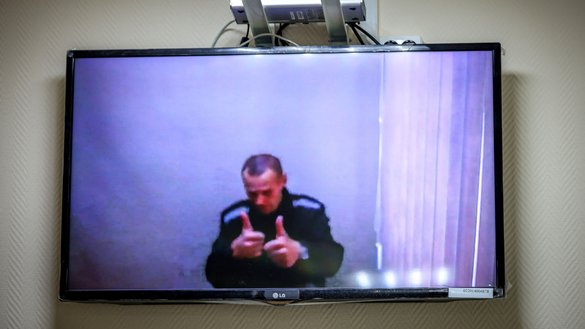 "It is essential that Russia sets out in detail the steps taken to investigate and shed light on the use of a chemical weapon on its territory," said the statement by the 45 countries.
They also asked Russia to explain why it had delayed a visit by OPCW inspectors to look into the Novichok claims.
"Russia has 10 days to answer," British delegates said in a tweet.
The US State Department said that it had concluded that agents from Russia's FSB intelligence agency had poisoned Navalny with Novichok, which it said only Russia possesses.
"There can be no impunity for such actions," it said in a statement. "Russia's continued lack of transparency and cooperation surrounding the poisoning is particularly concerning."
The Hague-based OPCW has previously confirmed that samples from Navalny supplied by Germany tested positive for Novichok.
If Russia's answers are deemed unsatisfactory, the countries have the right under the Chemical Weapons Convention to ask Moscow for further "clarifications", and then for a group of experts to investigate.
Should the issue remain unresolved after 60 days, they can call special sessions of the OPCW's executive council -- its 41-member policy-making body that is meeting this week -- and, if necessary, of all 193 OPCW member states.
Countries deemed not to be complying with the Chemical Weapons Convention can have their voting rights suspended, as happened in April with Russia's ally Syria.
Western states also called this week on Syria to admit arms inspectors, saying Damascus continued to breach its obligations to the OPCW.
Britain meanwhile said it would continue to press Russia over a 2018 Novichok attack on a former double agent in Salisbury, England.
Sergei Skripal and his daughter were left fighting for their lives afterward, while a police officer investigating the case fell seriously ill and a local woman who came into contact with the nerve agent later died. The Skripals survived.
'Stolen' elections
Navalny himself has blamed Russian President Vladimir Putin for his poisoning. The opposition leader was arrested on his return from treatment in Germany last January and jailed on trumped-up charges.
Ahead of the latest election last month, Navalny's organisations were banned as "extremist", his top allies were arrested or fled, and anyone associated with his groups was kept from running.
The three-day vote that ended September 19 followed an unprecedented crackdown on critics of Putin and came with pre-election polls showing the ruling United Russia's popularity at a historic low.
Predictions by state-run pollsters had suggested United Russia would win about 30% of the vote. But the party won 49.82%, claiming a two-thirds majority in the State Duma, the lower chamber, amounting to more than 300 of the 450 seats.
Allies of Navalny, Russia's leading opposition figure, called the results outlandish.
"This is truly unbelievable," said Navalny's spokeswoman, Kira Yarmysh, according to AFP. "I remember the feeling in 2011, when they stole the election. The same is happening right now."
Claims of widespread fraud in 2011 sparked huge protests led by Navalny.
Authorities falsified the vote on a massive scale, said his allies, pointing especially to delays in releasing a breakdown of the results of electronic voting in opposition-friendly Moscow.
While authorities claimed the election was spread over three days to prevent crowding, ostensibly because of the pandemic, critics said the longer period offered ample opportunities for manipulation, Radio Free Europe/Radio Liberty reported.
The few election monitors in the country reported numerous instances of ballot-box stuffing and "carousel voting" -- where busloads of voters cast ballots in multiple polling stations as an organised group.
Public sector workers and military personnel reportedly received orders to vote.
At-home voting was likely used to skew the results as well, Russian monitors said, pointing to irregularities in registration lists and "fake requests".