TASHKENT -- Uzbek law enforcement agencies are taking decisive action against extremist recruiters, as the Taliban takeover in Afghanistan is believed to have emboldened insurgent elements throughout the region.
In September alone, Uzbek authorities detained nearly 70 suspects accused of creating extremist cells or spreading extremist propaganda in Uzbekistan, according to the Interior Ministry (MVD).
During a security operation on September 22 in Nurafshan, Akhangaran and Chinaz districts of Tashkent province, law enforcement detained 27 Uzbeks suspected of participating in underground extremist activities, according to the Tashkent provincial police department.
Police on September 10 arrested 29 women in Tashkent and charged them with disseminating propaganda for Hizb ut-Tahrir, a terrorist organisation banned in Uzbekistan.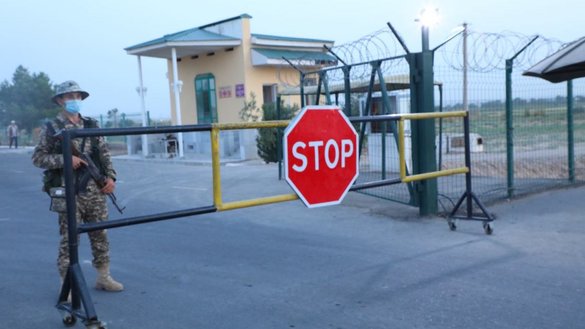 The women, residents of several districts in Tashkent, are members of the "Women's Wing" of Hizb ut-Tahrir, according to the MVD.
All of them communicated online with Hizb ut-Tahrir members L. Umarova and M. Saidaminova, who are wanted in connection with alleged efforts to overthrow the government and for their participation in extremist organisations, the MVD said in a statement.
The two extremists ordered the recruits to popularise Hizb ut-Tahrir ideas among the public and urge Uzbeks to join the organisation, it said.
Authorities found extremist material on the women's cell phones that they had disseminated through social media networks.
Meanwhile, security forces in Tashkent on September 17 detained another 12 alleged supporters of Hizb ut-Tahrir, according to Uznews.uz, which quoted the Tashkent police department.
One of the 12 suspects, a 41-year-old Tashkent resident whose name was not disclosed, worked online with wanted extremist Makhmujon Kholdarov, also known as Mahmud Abdulmumin.
The 12 suspected Hizb ut-Tahrir followers sought to recruit new members, as well as promote online the creation of a so-called "caliphate" in Uzbekistan, police said.
Preventing radicalisation, recruitment
Uzbek authorities have been watching for increased extremist recruiting activity in Uzbekistan after the Taliban took power in Afghanistan on August 15.
Law enforcement agencies are keenly sensitive to signs of extremism because of Uzbekistan's common border with Afghanistan and because of the presence of the Islamic Movement of Uzbekistan (IMU) terrorist group.
At the same time, Hizb ut-Tahrir continues its recruitment efforts, even though the Uzbek Supreme Court five years ago banned its activities nationwide.
Recruiters target in particular young Uzbeks who are active on social media.
In the Uzbek language, they call on young internet users to support a life based on sharia law, claiming that nothing in the modern world can offer more justice than does their so-called "caliphate".
"Radicalisation is undoubtedly the foundation of recruitment, and it happens on the internet and social networks," said Viktor Mikhailov of Tashkent, director of the Centre for the Study of Regional Threats.
"Of course, there are resources that the authorities block, but [software] programmes make it possible to access them," he said. "Recruiters actively use not only YouTube, Facebook, Instagram and Telegram, but also Zoom."
In addition to targeting youth online, recruiters also employ personal face-to-face persuasion in mosques and other settings, he said. They distort the Koran's content, interpreting its passages to suit their bosses in Syria and Afghanistan.
An extremist recruiter cannot budge someone who is not radicalised, Mikhailov said, adding that recruiters' main goal therefore is to radicalise youth.
Countering extremism through education
The efforts to counter radicalisation come after several thousand Uzbeks risked everything to join wars in Syria and Iraq during the heyday of the "Islamic State" (IS).
"There are roughly 3,000 citizens of Uzbekistan in war zones in the Middle East," the late Uzbek Grand Mufti Usmonkhon Alimov said in June 2019.
From 2015 to 2021, slightly more than 2,000 Uzbek citizens joined IS, said Mikhailov, adding that at present, about 500 Uzbeks remain in Syria and Afghanistan.
"Unfortunately, radical 'imams' who broadcast sermons in Uzbek are quite popular among young people," he said.
"We are seeing that young people have this interest in discussions, arguments and exchanges of opinions in private Telegram channels."
"The state is already doing quite a lot in this area," he said.
Education, including religious education, is also essential.
"There is a need for help from the imams, who can correctly explain what fitra is, what jihad is, and explain the Koran's main verses or the Prophet's hadiths," Mikhailov said.
It is equally important to cultivate in youth an instinct for self-preservation and to develop immunity to radicalism through critical thinking, he said, adding that they need to learn to distinguish reality from fantasy and to improve their legal knowledge.