More evidence is coming to light about the role of China in supporting the economic interests of the Iranian regime and its Islamic Revolutionary Guard Corps (IRGC).
The US Treasury on September 17 slapped sanctions on a network that manages commercial and banking enterprises in China that it said has laundered tens of millions of dollars, funneling these funds to the IRGC and allied groups.
The network, which trades in foreign currencies and gold, is managed by Morteza Minaei Hashemi, who lives in China, and two Chinese citizens, Yan Su Xuan and Song Jing, who serve as straw owners of his companies and provide him with banking services and facilities.
The targeting of this network sheds light on threats of global concern with regard to Iran and China, which have mutual interests and continue to work together on sponsoring destabilising activities around the world, international observers said.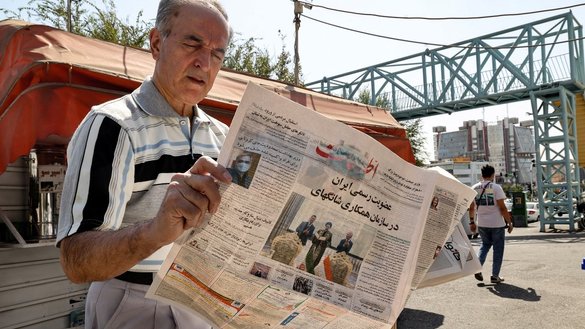 Fronts for money laundering
Iran has been managing companies and general trade businesses in allied countries, such as China, that serve as fronts for covert money-laundering operations, said Iraqi Centre for Strategic Studies director Ghazi Faisal Hussein.
The revenues the Iranian regime generates from these activities and from illicit trade, corruption and smuggling go towards funding the IRGC and its regional proxies "so that they continue to spread havoc" across the globe, he said.
China, which has economic relations and investments with the Iranians, provides "cover and protection for Iranian interests, and also is involved in money laundering and illegal activities", he noted.
These include "pirating goods, counterfeiting brand name products and manufacturing unlicensed knock off products for profit", he said.
Iran is seeking to circumvent sanctions with money-laundering operations, Hussein said, "but such operations cannot be concealed for a long time."
"They are quickly uncovered as a result of the strict control imposed by Washington on the movement of the dollar, in addition to the security and intelligence co-ordination it has with other countries," he said.
China-based networks
Last year, the United States sanctioned a complex China-based network of shipping companies that had been helping the Iranian regime evade sanctions and finance its proxies.
A Chinese national from Shanghai, Shen Yong, runs front and holding companies that operated covertly within that network to conduct business for the Islamic Republic of Iran Shipping Line Group, which is under US sanctions.
Also facing sanctions are companies operating in China that help Iran export oil and petrochemicals.
One of them is the Hong Kong-based Triliance Petrochemical Company, which has funneled millions of dollars to the National Iranian Oil Company (NIOC) as payments for Iranian petrochemicals, crude oil and petroleum products.
Observers note that Chinese authorities often fail to freeze the assets of Iranian companies and evade the implementation of international resolutions against Iran in order to develop or maintain their economic objectives in Iran.
This is because China accounts for about a third of Iranian trade, they said.
China and Iran signed a 25-year agreement in March under which Beijing will invest $400 billion in Iran in exchange for facilities and deep discounts on its purchases of Iranian oil and gas products -- not unlike what China is doing in other countries to increase its global sway.
National wealth squandered
These economic partnerships harm the Iranian people, whose wealth is wasted by a regime that seeks only to pursue expansion and tamper with the security of its neighbours, political analyst Ghanem al-Abed said.
The Iranian regime also is pursuing "circumvention policies and engaging in activities related to money laundering in China and elsewhere, to raise funds from multiple illegal sources", he said.
In this way it is trying "to tighten its grip on its tentacle-like affiliates and direct them to serve its agendas", al-Abed said.
A third of Iran's population suffers from unemployment, he said, and there has been a significant deterioration in the standard of living and public services.
The country is grappling with many crises, he said -- all because of the strategy of aggression that Iran's leaders insist on pursuing and that they are keen to protect from international sanctions and pressures.