ALMATY -- Central Asian migrant workers in Russia have lost their most outspoken and committed defender.
Valentina Chupik, an Uzbek-born activist who provides legal support to Central Asian migrant workers in Russia, earlier this month flew to Armenia after a harrowing detention by Russian authorities.
Although still committed to the rights of migrant workers, Chupik undoubtably will lose effectiveness because she now has to live abroad.
Russia's Federal Security Service (FSB) on September 25 detained Chupik at Sheremetyevo Airport in Moscow, where she had arrived after a trip to Armenia.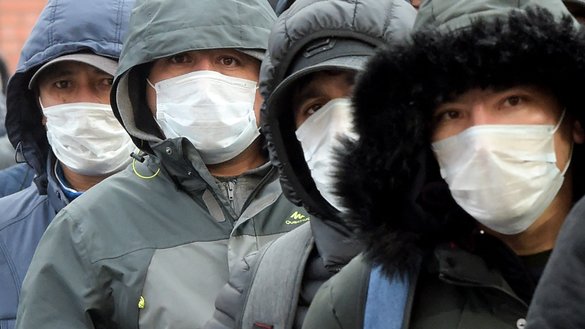 Security officials seized her documents, held her at the airport, stripped her of her refugee status and banned her from entering Russia until 2051.
Russian authorities accused Chupik of "submission of false information or forged documents for obtaining refugee status" -- a charge activists and journalists say was drummed up.
During her detention, she was threatened with deportation to Uzbekistan, where she feared imprisonment or worse. She fled to Russia after the Andijan massacre in 2005.
On October 2, the standoff ended when Uzbekistan unexpectedly issued her a new passport, enabling her to fly back to safety in Armenia.
She has not disclosed her long-term plans.
Formerly a refugee
Chupik, chairwoman of the NGO Utro Mira (Sunrise of the World) and 15-year resident of Moscow, received refugee status in Russia in 2009.
Russian authorities had planned to deport Chupik to Uzbekistan until the European Court of Human Rights and a number of international rights organisations intervened.
During her time in Moscow, Chupik provided legal support to migrant workers from Central Asia, whose rights are violated every day in Russia by police or employers. She also conducted trainings to improve their legal literacy.
All of this assistance was free.
Chupik also denounced lawlessness, corruption in the government and the systematic violation of migrant workers' rights, speaking frankly about chauvinism and racism in Russian law enforcement agencies and Russian society in general.
'You complain too much'
Chupik's advocacy had apparently created a headache for Russian authorities.
Valentina Chupik's assistant, Alexander Kim, on September 26 posted on YouTube a recording of a phone conversation with Chupik, in which she described what happened at the airport.
One of the FSB officers told her that there was nothing surprising about the ban on her entering Russia.
"This is due to your behaviour. You say too much that there is systemic corruption in the Interior Ministry. You complain too much about the police. You have no reason to be surprised," Chupik quoted the officer as saying.
Chupik accused Russian authorities of violating the law by seizing her documents without appeal.
Authorities blocked her lawyers from seeing her by demanding a "special pass from the FSB" that the lawyers could not obtain, she said.
"Thus, I've also been deprived of the right to a defence," Chupik complained at the time.
Her detention sparked a storm of indignation and criticism from migrant workers.
Russia has no other human rights defenders who will protect migrants as actively and passionately as Chupik did, said Tokhir Yusupov, a Dushanbe-born taxi driver in Moscow.
"Russian lawyers and consultants are interested only in making money off of us ... They are not really interested in helping us,'' Yusupov said. "Nobody here cares about us."
"We've lost our rock," he added.
Chupik helped tens of thousands of ordinary people in trouble free of charge, which earned her respect in the vast migrant community, said Maria Dubnova, a Moscow writer and former editor-in-chief of Fergana News.
She described the incident as a "shock" on Facebook September 25.
"The fact that she was so despicably banned from entering Russia is Russian security officials' revenge," Dubnova wrote.
"The deterioration [of the situation in Russia] has been happening for a long time. Accusations pulled from thin air, no opportunity to defend their rights, treating people like garbage -- and complete impunity for security officials," she said.
Doing the right thing
The Uzbek authorities, unlike their Russian counterparts, made the unexpected and correct decision to support Chupik, said attorney Islam Baigarayev, director of the Bishkek bar association.
"We see an improvement in the human rights situation in Uzbekistan compared to what it was many years ago," said Baigarayev, who also provides legal assistance to migrant workers who travel to Russia.
Uzbekistan has conducted many reforms since Shavkat Mirziyoyev became president in 2016.
"At the same time, we see the opposite trend in Russia," said Baigarayev.
For her part, Chupik intends to continue human rights activism even outside Russia.
"Nazis call me ... they are pleased; they make threats,'' she told colleagues in the phone call that her assistant Kim posted.
"But I hope to please them for many years, because if I stay alive, I will continue to help migrants from anywhere in the world, wherever I am."