BISHKEK -- Kyrgyz parents and guardians are finding it increasingly hard to monitor their children's online activity, which many fear could land them in the clutches of online extremist recruiters.
Fourteen-year-old Sagyn Kanybek-uulu, who lives in Bishkek with his grandmother, Aynagul Sydykbekova, has had a mobile phone since he was 11 to keep in touch with his parents, migrant workers in Europe.
Since then, Sagyn has created accounts on various social networks, including TikTok, Instagram and WhatsApp. He also plays online games -- which he says he often wins.
While Sydykbekova says she does her best to monitor her grandson's online activity, she understands that keeping track of it all is impossible.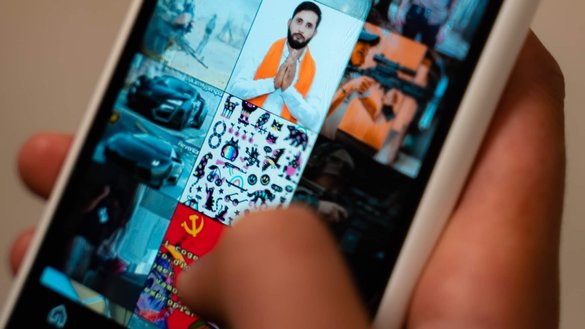 High social media use
Many other parents and guardians in Kyrgyzstan face the same issue as Kyrgyz children rely heavily on social networks and the rest of the internet.
Children and adults alike turned to the internet for entertainment and social contct when the COVID-19 pandemic flared up in early 2020, forcing them to stay at home for months.
Some 43% of Kyrgyz elementary school pupils have a profile on social networks, according to Valery Zubanov of Almaty, commercial director of Kaspersky Lab's regional office for Kazakhstan, Central Asia and Mongolia.
"Statistics show that 95% of all high school pupils are on social networks," he said at the Central Asian Internet Governance Forum held late September in Bishkek.
"More than half of minors receive invitations to connect from strangers," he added. "Thirty-four percent of their friends are adults they don't know in real life."
Even more concerning, "One-third of children get together offline with people they met on the web."
At the same time, no app or software exists to protect children from objectionable information online, said Zubanov.
Extremist recruitment
These factors create fertile soil for extremist recruiters, and the coronavirus pandemic has created even more favourable conditions for recruiters, said Azamat Tilekeyev, a Bishkek analyst who specialises in security.
The number of recruits will grow accordingly, he warned.
"The pathways for deploying these recruits to combat zones to fight alongside international terrorist groups were closed [by the pandemic]," he said. "This in turn led to an increase in the number of covert cells that have sworn allegiance to the 'Islamic State' (IS) and al-Qaeda."
The websites of extremist and terrorist groups generally publish reports of these groups' activities, leaders' biographies, information about political goals, and current news, he said.
"The social networks Facebook, VK and Odnoklassniki have become the main tools for disseminating this information in Central Asia," Tilekeyev said.
"To conduct training sessions and do follow-up, they use Skype, Telegram and the internet walkie-talkie app Zello."
Digital hygiene
Family and social factors affect extremists' ability to recruit children, said Gulshan Abdyldayeva, chief specialist at the Education Ministry's Office of School, Preschool and Out-of-School Education.
She pointed to a study conducted by the Ministry of Education and Science that found that children in urban schools are more susceptible to the internet than their rural counterparts are because city-dwelling parents spend the majority of their time at work.
Children in rural environments are busy with household chores and spend more time under their parents' eye, according to the study.
Terrorists actively use at least 5,000 websites worldwide, said Yuliya Denisenko, a Kyrgyz specialist on countering extremism and terrorism.
"This is why digital hygiene is vital," she said. "There are 'viruses' in cyberspace too, and parents, schools and the news media need to inoculate against them."
Simply teaching elementary psychological literacy can solve half the problems related to deviant behaviour, said Denisenko.
"We can't wait for the process to become irreversible," she said.
Denisenko suggested using social networks themselves to help solve the problem.
"In essence, all social networks are nothing but advertising hubs that collect information about users and analyse their searches in order to identify their preferences," she said.
"Ultimately you'll see contextual advertising 'especially for you' on a web page. Companies pay massive amounts of money for that kind of premium marketing."
That potential could serve as a counterweight to terrorist and extremist groups, she said, adding that all that needs to be done is to build an "early warning" function into a given website.
"For example, say a teenager starts getting interested in terrorist groups online. No one knows about it -- neither parents nor friends. But the social network's server, which long ago analysed the 'customer's' interests, does know, and it reacts accordingly," Denisenko said.
"Instead of contextual advertising, the teenager will see materials that discredit terrorists," she said.
Improving internet literacy
Kyrgyz officials meanwhile have taken steps to improve internet literacy for youth.
The education and interior ministries and the State National Security Committee (GKNB) have an inter-agency plan under which security agency personnel visit schools and talk with pupils about terrorism and extremism activities, said Abdyldayeva.
"We're talking about the internet. A school can't monitor all children, keep track of what sites they visit or whom they interact with, and so on," she said.
"The only thing we can work on is prevention: working with parents and warning them about the threat from ... social networks."
It is crucial to teach young people how to recognise an extremist recruiter and find reliable online resources, said Bishkek media analyst Gulnura Toraliyeva, adding that young people need to recognise hate speech so they can prevent it.
Youth also must increase their tolerance -- extremism and terrorism actually grow out of hate speech and one group's sense of superiority over another, she said.
"So there need to be as many camps and schools as possible dealing with tolerance, expanding horizons and accepting diversity," Toraliyeva said.
"These programmes could be introduced starting in first grade and could involve young people in constructive activities and develop their creativity."