ALMATY -- Russian President Vladimir Putin's attempts to frighten Central Asian countries into expanding the scope of the Collective Security Treaty Organisation (CSTO) come as leaders of member states contemplate leaving the military bloc in light of obvious Russian pretences.
The Russian-led CSTO includes six former Soviet republics: Russia, Kazakhstan, Kyrgyzstan, Tajikistan, Belarus and Armenia.
Putin on October 13 at a meeting with security officials from former Soviet republics claimed that battle-hardened terrorists from Iraq and Syria were actively concentrating in Afghanistan and may attempt to destabilise members of the Commonwealth of Independent States (CIS), including through "direct expansion".
"In this regard, it is important to constantly monitor the situation on the Afghan border and be ready to counteract militants, and accordingly, to co-ordinate the work of security forces -- conducting joint special operations, if necessary," Putin said.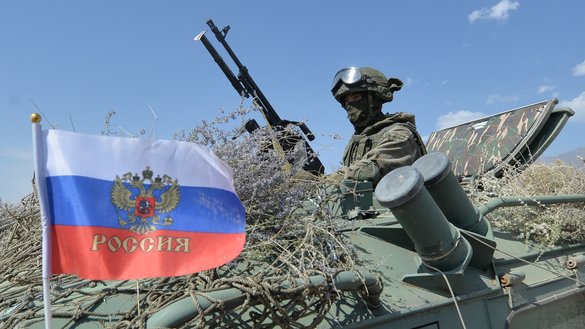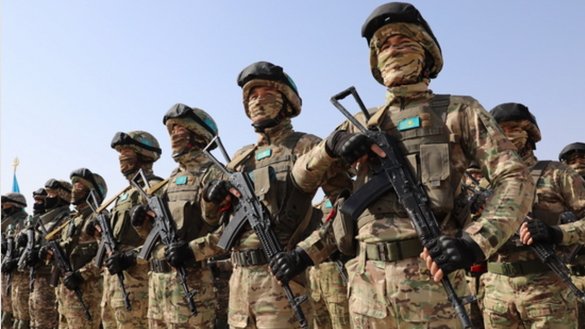 The leaders of terrorist groups in Afghanistan "are hatching plans to spread their influence", Putin added during a later meeting of the Council of Heads of State of the CIS on October 15.
A "concentration of extremist and terrorist groups near the borders of the Commonwealth" has formed and in northern Afghanistan alone, IS members number about 2,000, he claimed.
The situation in Afghanistan "carries risks for Central Asia, and for the entire CIS space, even though some countries are somewhat distant from this region," Putin said.
Putin's fear-mongering came days before the security bloc started its largest military drills near the Tajik-Afghan border in years on October 18. The six-day drills involve over 5,000 troops, more than half of them Russian servicemen, Russia and Tajikistan's defence ministries said.
Observers, however, say such "risks" are simply a pretence for Russia to expand its interests.
"The Afghan threat to regional security, which the Kremlin has actively used to scare us in recent months, is a very convenient and convincing excuse to expand its military presence and influence in Central Asia," said Bishkek-based security analyst Kasybek Jolchuyev.
"This bloc was created to protect, not our countries from a mythical external enemy, but rather the geopolitical interests of Moscow," he told Caravanserai.
"Russia is worried about the US missile defence system in Eastern Europe and increased US military co-operation with Ukraine and Georgia, and wants to prevent a similar trend in Central Asia".
'A paper organisation'
Despite Putin's scaremongering, politicians and observers in CSTO member states see the organisation as useless against external aggression.
They also view it as cover for Moscow to implement its geopolitical goals -- increasing its military, economic and political influence within Russia's orbit, including in Central Asia.
Russia's actions have repeatedly given cause for doubt.
Moscow in late April remained silent as two CSTO members -- Kyrgyzstan and Tajikistan -- battled for several days over a long-festering water dispute, leaving dozens dead and hundreds wounded.
In the end, Moscow called on Bishkek and Dushanbe to negotiate on the third day of the conflict, April 30 -- when both sides had already agreed to a ceasefire.
Since then, Kyrgyz lawmakers and ordinary citizens have questioned whether the nation's CSTO membership is justified.
At a session of parliament on May 10, members of the Kyrgyz Parliamentary Committee on International Affairs, Defence and Security criticised the CSTO, which "did not express any reaction to the armed conflict on the Kyrgyz-Tajik border".
Some proposed leaving the CSTO.
"The CSTO paid no attention when one country openly attacked another. How can we react to this, or will we just keep silent? Why then did we join the CSTO?" asked Kyrgyz member of parliament Aybek Osmonov.
"If the organisation acts so unfairly, then I think we do not need to be in it," he said.
Another CSTO member, Armenia, also become disenchanted with Moscow after Azerbaijan defeated Armenia decisively in late 2020 in a war over the disputed region of Nagorno-Karabakh.
The CSTO gave it no support.
Although the CSTO adhered to its own rules during the 2020 war, the Armenian public still accuses Russia of betraying it.
Aharon Zavaryan, a Yerevan-based activist of the Sasna Tsrer political party, said that Armenia should leave the bloc immediately.
"The CSTO is just a paper organisation, which in all its years of existence, even at times when its members needed its support, has not proven the need for its existence," Zavaryan told Caravanserai.
"This only confirms that the bloc has other goals that correspond solely to the interests of Russia."
Time to leave
Central Asian countries are becoming increasingly cognisant of the true goals of the CSTO.
For example, Uzbekistan -- which left the CSTO in 2012 -- continues to assert that the bloc is pointless.
Uzbekistan is maintaining its new image as "a country in which a democratic society, strong and competitive economy, and innovative institutions and infrastructure are taking shape", said Uzbek Foreign Minister Abdulaziz Kamilov in an October 8 interview with newspaper Pravda Vostoka.
Tashkent will not return to the CSTO, since "it has its own significant capacity to ensure national security", he said, adding that "when one is faced with security challenges, relying on military force alone is not always productive".
"After all, there are also other tools that are no less effective and in most cases even actually turn out to be highly effective in countering security challenges," Kamilov said.
"For example, Central Asia has a balanced system of mechanisms for dialogue between the region's countries and large partners in the 5+1 format [which is co-ordinated by the United States]".
The CSTO serves no purpose for their nations, agree analysts.
The CSTO is more about self-interested Russian posturing and geopolitical intrigue than about actually protecting its members from external threats, said Farhad Tolipov, director of the Tashkent-based research institute Caravan of Knowledge.
"The past 30 years have shown that Central Asia has no special need for the CSTO," Tolipov said. "It's time for Kazakhstan, Kyrgyzstan and Tajikistan to leave this bloc as well, as Uzbekistan did."
Uzbekistan is in fact reducing the threat to its national security from another state by remaining outside the CSTO, according to Dauren Ospanov of Almaty, a retired Kazakh army major.
CSTO membership is unjustified for Kazakhstan, since it does not border Afghanistan and is not facing an imminent invasion, he said.
"Additionally, like Uzbekistan, we have sufficiently powerful weapons and a combat-ready army, and in the event of a terrorist threat, we are able to deal with such challenges on our own," Ospanov said.