ALMATY -- Kazakh food producers were able to save their businesses last year thanks to the US market, after China shut its borders ostensibly to prevent the spread of the coronavirus pandemic, economists say.
Since the pandemic began in 2020, the number of countries to which Kazakh producers send their goods has shrunk from 190 to 119, according to Assel Egemberdiyeva, deputy CEO of the QazTrade Centre for Trade Policy Development.
She made her remarks at the 11th annual Central Asia Trade Forum, which is hosted by the US Agency for International Development (USAID).
This year's forum took place online October 4–8 and focused on Central Asia's post-pandemic trade recovery.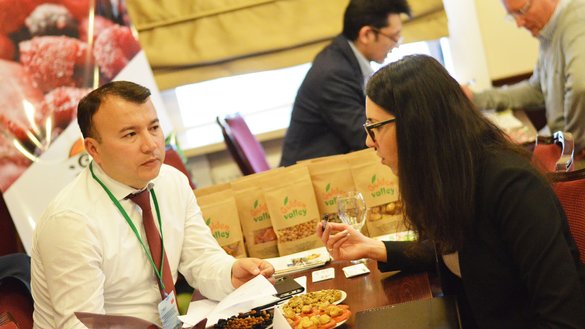 "During the pandemic, we launched a new programme to accelerate exports," Egemberdiyeva said. "We chose 35 Kazakh companies from the food industry to take part."
"Unfortunately, we focused them on the Chinese market, but the [China-Kazakhstan] border was closed, so we began seeking out buyers in other markets," she said.
"As a result, we helped Kazakh companies sign agreements in the United States worth $17 million."
Chinese authorities starting late last year tightened customs controls ostensibly to halt the spread of COVID-19. Many, however, viewed the change in policy as a reprisal for Kazakhstan's granting of refugee status to ethnic Kazakhs who are fleeing the Chinese regime.
Turning to new markets
Because many exporters were unaware of existing state support, QazTrade put out a series of videos describing how to begin exporting and what documents are required, and it helped conduct research on target markets.
As a result, frozen meat suppliers changed their delivery points abroad, redirecting their exports from China to the Middle East, Egemberdiyeva said.
Safflower oil producers also "turned their attention from the Chinese market to Qatar and raised their shipment volumes", she said. "They're now looking for ways to ship to the United States."
The United States is one of Kazakhstan's largest economic partners and investors, said Aidos Taibekuly, an economist in Almaty.
More than 500 American companies are operating in Kazakhstan, in machine building and in the chemical, construction, oil and gas, and IT sectors, he said.
According to the Foreign Ministry, "over the last 16 years the United States has invested $45 billion in the Kazakh economy," Taibekuly said.
Every year, Kazakh diplomatic and trade missions meet with large American companies to propose terms of co-operation that benefit both parties, he said.
After all, in addition to being a good financial partner, the United States imports various technologies from around the world, Taibekuly said.
Resiliency
Small- and medium-sized enterprises (SMEs) in Central Asia found ways to adapt during the pandemic, according to Valentina Rollo, an economist at the International Trade Centre (ITC), an agency of the United Nations and World Trade Organisation.
Those owned by women faced more challenges than those owned by men, she said, citing a recent study.
"This is cause for concern because companies run by women had trouble getting information about benefits that the government and international donors provided to businesses during the pandemic," Rollo said.
Central Asia needs to consider the gender gap, she said. That is, woman-led companies need more support from the state, which in turn needs to find an effective way to back female entrepreneurs.
Moreover, foreign donors should pay attention to them and offer benefits, she said.
"We're also seeing that SMEs in Central Asia ran into more problems with importing than [SMEs from] other Asian countries did," Rollo said.
"Still, Central Asian SMEs reacted faster to the pandemic: they pivoted more quickly to online sales and began to call on new raw materials suppliers. This is a feature of competitiveness."
The resilience of SMEs during the crisis depended on how connected a company was to business partners and associations, according to Rollo.
Connected companies had less difficulty finding information about support provided by the government and by international donors because they got it from their business contacts, she said.
"Also, they were able to operate more independently of raw materials suppliers than were big companies, which have long-standing channels for procuring raw materials and were not prepared to quickly find replacements for them," Rollo said.
A company's ability to transform its knowledge into new products and processes, such as shifting to online sales and implementing new customer loyalty programmes, also played a major role, she said.
"We concluded that all the factors I mentioned have an impact not only on the companies themselves but also on the economies of the Central Asian countries since they create jobs and pay taxes," she added.
US jumps in with help
When the COVID-19 pandemic threatened to derail the Kazakh economy, the United States jumped in with help.
Over the past year, it allocated more than $6 million to help Kazakhstan overcome the consequences of the pandemic, according to Andrey Chebotarev, a Nur-Sultan-based financial analyst.
"I'm pleased about this aid -- I think it's a positive thing that these projects and donors exist," he said. "All the programmes are set up for specific segments of society, such as in the case of farms that suffered from drought, or relief shipments of medicines."
"We all remember that in the summer of 2020 Kazakhstan didn't have enough antiseptics or surgical masks and gloves," he added.
"These are good partnerships between Kazakhstan and the United States, and we stand only to gain from them," Chebotarev said.
USAID helps not only Kazakhstan but also other countries in Central Asia that need aid and are willing to accept it, Chebotarev said.
The help comes "at a time when it's really needed".