ALMATY -- New evidence is emerging that paints a harrowing picture of the conditions in Russian prisons and police stations, ones where Central Asian migrants are systematically abused, tortured, and sexually violated.
Just earlier this month, authorities launched a probe into a case in Saratov, after a video released by the anti-torture project Gulagu.net showed a naked man being violated with what appears to be a broomstick at a prison hospital.
The video was part of a trove of more than 1,000 files allegedly showing instances of torture in prisons across the country.
Gulagu.net also brought to light a case in which prison guards at Penal Colony No. 15 in Angarsk, an Irkutsk province city of more than 200,000 people near Mongolia, embarked on a brutal campaign of retribution for an April 2020 mutiny, turning inmates on each other to extract confessions with beatings and sexual violence.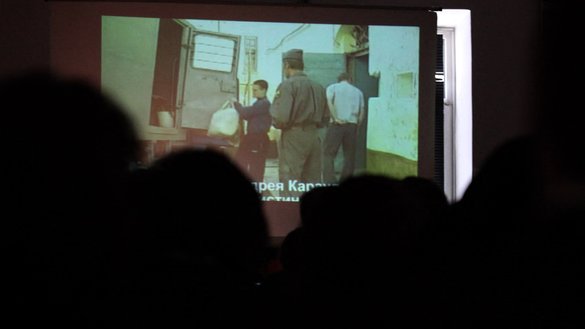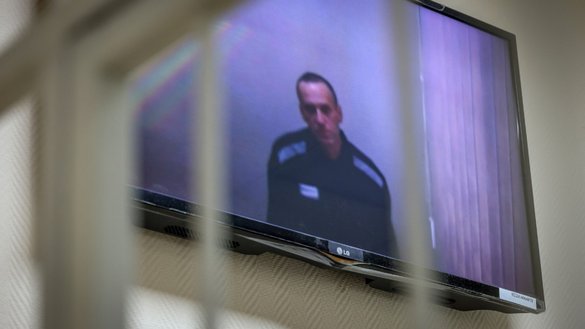 Former Angarsk inmate Alexei, 25, whose name has been changed to protect his safety, described how his cellmates, acting on prison authorities' orders, tied him up, hung him by his feet and beat him until he confessed to breaking two cameras in the unrest.
After the unrest, Alexei and another now released inmate, 40-year-old Rustam -- who spoke to AFP from his native country, Tajikistan, and whose name has also been changed -- were transferred him to Irkutsk's Detention Centre No. 1, where the punishment got worse.
It was there, they said, that inmates assaulted them on the orders of prison guards.
"They broke my fate," Alexei told AFP, referring to an expression in Russia's prison lexicon meaning to have been raped by fellow inmates.
One of those inmates, Denis Golikov, said that guards instructed him to go as far as possible to extract confessions from 150 prisoners between April and July 2020.
"Everything -- except corpses -- is permitted," he said in handwritten testimony obtained by AFP.
Central Asian victims
Mahmoud, a 36-year-old from Tajikistan who has since been released, told Caravanserai in a phone interview that guards at Angarsk beat him with clubs and he suffered two broken ribs.
"I was lucky that I was only physically injured. Other people had it much worse," Mahmoud said, alluding to sexual assault.
Russian prisons have had numerous cases of the torture of Central Asian migrants, according to Sviatoslav Khromenkov of Irkutsk, director of the Siberia Without Torture human rights organisation.
He gave as an example the high-profile case of an Uzbek named Takhirjon Bakiyev.
In January 2021, prison authorities at Penal Colony No. 6 in Irkutsk ordered inmates to stir up a fight and insult Bakiyev, a Muslim, on religious grounds according to Gulagu.net.
Bakiyev's cellmates beat him up and tortured him as prison workers looked on. After beating him, the convicts "shoved a mop into Bakiyev's anus, damaging his internal organs and injuring him seriously".
His assailants then threw him under a bunk bed and covered him with bags to hide him.
Authorities rescued Bakiyev more than two days later, only after an informant in the cellblock notified Gulagu.net.
Central Asian prisoners also endure racially motivated violence at the hands of Russian convicts, but the Central Asians rarely complain about such incidents, said Khromenkov.
Central Asians "who are arrested or imprisoned are afraid to complain because after their release, they could be put in a special facility for temporary detention of foreigners and then deported", he said. "That's why they often keep quiet."
"Prisoners don't want to be deported because after they're released, they want to keep working in Russia," he said. "[They] tough it out or pay a bribe."
Police torture, violence
The beating and torture of migrants are also widespread outside corrections facilities, and the culprits usually avoid punishment because the victims are reluctant to seek justice, according to Khromenkov.
"Once an entire construction crew from Uzbekistan phoned us and complained that they had been beaten in a police station in a small town in Irkutsk province, but not a single one of them came to us personally to file a complaint," he said.
Law enforcement agencies in Russia routinely violate human rights themselves, especially those of migrants.
The torture of migrants is frequently accepted in police stations, where it is a common occurrence, said Valentina Chupik, chairwoman of Utro Mira (Sunrise of the World), a Moscow NGO that provides legal support to Central Asian migrant workers in Russia.
"When the police are simply detaining migrants, they hold them for many hours -- and sometimes days -- without food, water or toilets, outside in the sun, rain or freezing temperatures, or with 70 people in a 20 square metre cell, and they often beat them," she said.
Chupik experienced the police's lawlessness firsthand when on September 25 agents from the Federal Security Service (FSB) detained her at Moscow's Sheremetyevo Airport upon her return from a trip to Armenia.
Although she had lived in Russia for more than 15 years, the authorities seized her documents and detained her in an airport holding cell until October 2, when she flew back to Armenia, where she now lives.
The Kremlin gave a bureaucratic pretext for barring her from Russia for 30 years, but an FSB officer told her the actual reason was her frequent criticism of the Interior Ministry (MVD).
Russian police also torture female migrants, said Chupik.
"Even if they don't physically beat them, they hold them in cells without food or water for long periods without letting them out to use the toilet," she said.
Migrants who have been beaten or tortured usually do not report such incidents or go to the hospital because they do not know how to defend their rights in such situations, Chupik said.
While Russian media have decried torture in prisons, they have remained silent on the everyday violence carried out by authorities against Central Asians.
"[Russian media] barely cover the torture of migrants," said Jibek Kangeldiyeva, a salesperson and cashier at a Moscow supermarket.
"Are the rights of Russian citizens worth more?"
A return to the Soviet era
Meanwhile, the number of political prisoners in Russia has risen sharply this year in a trend that recalls late Soviet-era repression, Russia's leading rights group Memorial said on Wednesday (October 27), according to AFP.
It listed at least 420 political prisoners in Russia, up from 362 last year.
"Unfortunately, the numbers have been steadily growing every year," said Sergei Davidis, director of a political prisoners' support programme at Memorial, referring to attacks on rights.
"This is a sad and disturbing reality."
Memorial's tally uses Organisation for Security and Co-operation in Europe (OSCE) and Council of Europe guidelines to identify political prisoners, but the real number was thought to be "two or even three times higher", said Davidis.
"That's completely comparable to the figures of the Soviet era."
Soviet-era dissidents estimate that there were more than 700 political prisoners in the Soviet Union in 1987.
"We are returning to methods that were being practised in the Soviet era," said Alexander Podrabinek, a Soviet-era dissident and journalist, referring to the use of the judiciary to punish dissenters and widespread claims of abuse and torture in prisons.