TASHKENT -- The United States is tightening co-operation with Uzbekistan and other Central Asian states on Afghanistan despite Russian attempts to undermine the independence of regional states in making such foreign policy decisions.
The Kremlin, fearing the loss of its traditional influence in the region, is urging Afghanistan's neighbours not to allow US or NATO forces on their territory.
During an online ministerial conference of countries bordering Afghanistan last Wednesday (October 27), Russian Foreign Minister Sergey Lavrov, reflecting the Kremlin's fear, said in a video message that the United States and the West do not care about Afghanistan, which "has always been for them merely a convenient tool to achieve self-serving geopolitical objectives".
Besides Russia, attending countries included Iran, China, Pakistan, Tajikistan, Turkmenistan and Uzbekistan.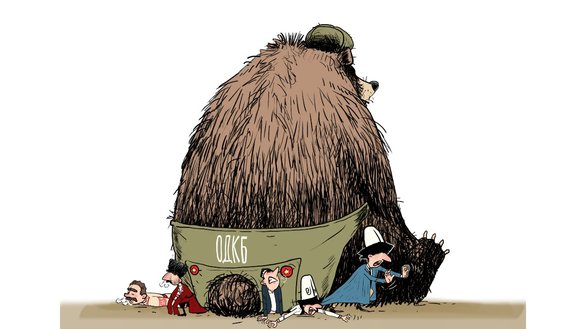 Lavrov's comments came after US diplomats and military officials held talks in Tashkent over border security in light of the situation in Afghanistan.
"Uzbekistan is quietly mounting an aggressive outreach campaign to US officials in hopes of creating tighter links between Washington and Tashkent -- and it seems to be working," US publication Politico wrote in October.
In October, Pentagon officials visited Uzbekistan to discuss security issues, Politico reported, citing a US Defence Department official and a member of Congress.
The main topic was the possible deployment of "over the horizon" counter-terrorism forces, which would allow the American military to remain in the region, monitor the situation and, if necessary, hit targets in Afghanistan.
The Biden administration has been in discussions for several months with Uzbekistan and other countries that border Afghanistan, but nothing is known about specific results.
Uzbekistan has been quiet on any such discussions.
An Uzbek government statement barely mentioned Afghanistan -- and only in a humanitarian context -- in a statement after Uzbek President Shavkat Mirziyoyev received on October 6 a delegation of four members of the US House of Representatives.
Media outlets did not say whether the Uzbeks and the visiting lawmakers discussed the idea of deploying a US military unit in Uzbekistan.
However, some US lawmakers see Uzbekistan as a country uniquely positioned to help the US secure regional interests down the line, said Politico.
"Having a friend in the region in geographic proximity to that potential terrorist safe haven is important tactically and strategically," Congressman August Pfluger, one of the four US lawmakers who visited Uzbekistan, told Politico.
In Central Asia, Russia has military bases in Kyrgyzstan and Tajikistan. Kazakhstan does not border Afghanistan, while Turkmenistan sticks to a policy of neutrality.
"It is unlikely that US troops will be deployed in Tajikistan, where Russia's 201st Military Base and the Okno military space surveillance station are situated," Ravshan Nazarov of Tashkent, a security analyst, told Caravanserai.
"Turkmenistan, with its doctrine of 'eternal neutrality', is also not agreeing to host US troops and bases. Only Uzbekistan remains," said Nazarov.
The United States did use Karshi-Khanabad, an Uzbek air base, from 2001–2005, for operations related to Afghanistan.
Worries about Russia
Uzbekistan has not yet made a final decision, but possible co-operation with the United States already is a hot topic in the expert community.
As long as the Taliban hold Afghanistan, Uzbekistan will be important for the United States and Russia, said Anora Sodikova, analyst and journalist from Tashkent.
Both of these countries need co-operation with Uzbekistan, she said.
"But, I oppose arguments ... that Russia will protect us from the current Taliban regime. In reality, we need to defend ourselves against Russia itself," Sodikova told Caravanserai.
"The United States will co-operate with Uzbekistan in regard to Afghanistan, since the situation itself requires it," she said.
"It's hard to say whether it will be possible to place military bases in Uzbekistan, but co-operation in training Uzbek military specialists in the United States is essential."
"From the point of view of security and preventing ... extremism in Central Asia, including Uzbekistan, these countries will have to co-operate with many countries, including the United States," said Tashkent political scientist Anvar Nazirov.
"Without the United States' support and military strength, it will be hard to maintain peace and stability in Central Asia," he told Caravanserai.
"When it comes to Afghanistan, it would be more advantageous to co-operate with the United States than with Russia," he added.
Co-operation with the United States is "more advantageous than with Russia", because Uzbekistan's economy will receive additional political, trade, and economic benefits in the form of investments and a favourable attitude from Western countries, said Pulat Akhunov, a former Uzbek politician living in Sweden.
"In regards to ensuring peace in Central Asia... the most correct thing would be to co-operate with the United States and Russia," he told Caravanserai.
"Uzbekistan could become the Maidan [town square] for co-operation between these countries to ensure peace."
Rejecting Russia-led blocs
For its part, the Kremlin, which has the advantage of centuries of tsarist, Soviet and post-Soviet experience in Central Asia, has been urging Uzbekistan to rejoin the Collective Security Treaty Organisation (CSTO).
Uzbekistan left the CSTO in 2012 and has since tried to steer a path between United States and Russia.
"We are not discussing any new security agreements between Uzbekistan and Russia related to the exacerbation of the situation in Afghanistan," Uzbek Foreign Minister Abdulaziz Kamilov said in October, according to Gazeta.uz.
The country sees no need to re-enter the CSTO because it does not expect a military invasion, he said. Uzbekistan considers its prime security goal to be the repulsion of terrorism.
Other Uzbek commentators see no need to welcome the Kremlin's smothering embrace.
"As for the CSTO and the EEU [Eurasian Economic Union], Uzbekistan will not join these organisations," said Nigara Khidoyatova, a former Uzbek politician living in the United States.
"The recent conflicts between Azerbaijan and Armenia have shown the unsuitability of the CSTO, and the economically bankrupt EEU is more of a political union rather than economic one"," she said.
"However, the Kremlin continues to urge Tashkent to join the CSTO," Kamoliddin Rabbimov, an Uzbek political scientist from Tashkent, told Caravanserai.
"Uzbek authorities understand that joining this bloc is not in the country's strategic interests, so they have never shown interest in CSTO membership," he said.