BEIJING -- As world leaders convened in Glasgow, Scotland, this week to discuss ways to halt climate change, China has been ramping up coal production in a desperate attempt to meet its energy needs with no regard to its impact on the environment.
At the same time, Chinese President Xi Jinping opted to skip the United Nations (UN) Climate Change Conference (COP26) summit, staying in China.
The world's biggest coal importer has battled widespread power cuts in recent months that have disrupted supply chains, due to strict emission targets and record prices for the fossil fuel.
The immediate energy crisis is now winding down thanks to a boost in domestic coal output.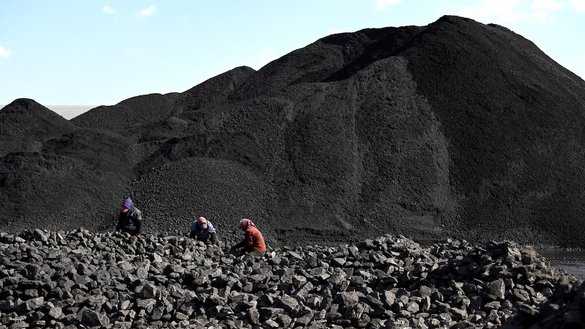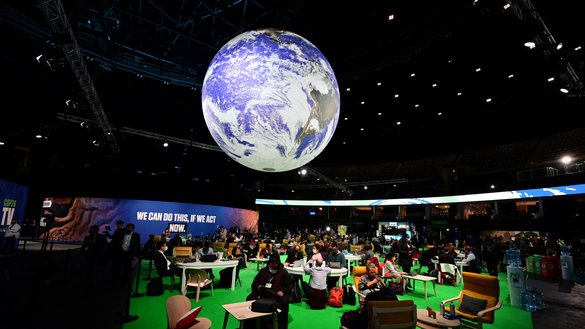 But reopening shuttered coal mines and boosting production will have devastating effects on pollution, global warming, and the health and safety of China's 2.6 million coal miners, analysts warn.
Coal-driven climate change
Burning coal is the world's single biggest cause of human-driven climate change, research shows.
In China, economic growth spurred by government incentives will see emissions grow 5.5% this year compared to 2019, the last year not affected by the COVID-19 pandemic, according to an annual report from the Global Carbon Project consortium published Thursday (November 4).
China on its own will account for 31% of global emissions this year.
Emissions in the United States and European Union in 2021 will drop 3.7% and 4.2%, respectively, and their share of global emissions will stand at 14% and 7%.
The wild card that could determine how quickly the world can finally bend the emissions downward is coal, the report made clear.
Worldwide, decarbonisation -- mainly switching from fossil fuels to renewable -- continues to be outpaced by the demand for energy, adding to emissions.
"Mostly it's about coal now," said the report's co-author Corrine Le Querre, a professor of climate change science at Britain's University of East Anglia. "This is where the big uncertainties are."
But the report was not bereft of positive signals.
Twenty-three countries accounting for a quarter of global emissions over the last decade -- including the United States, Japan, Germany, France and Britain -- simultaneously saw strong economic growth and a significant decline in emissions, showing that the two can be decoupled.
"This shows that these countries know how to do it, they demonstrate it's possible," Le Querre said.
But China is going full-steam ahead on coal.
Over the past few weeks, China has increased its daily coal production by over one million tonnes, according to the National Development and Reform Commission (NDRC), the country's top economic planning body.
Average daily coal production has risen to above 11.5 million tonnes since the middle of October, up by 1.1 million tonnes compared with the end of September, the NDRC said October 31.
Absence of leadership
The production surge comes as nearly 200 world leaders -- but not Xi -- convened at the COP26 to secure more ambitious global greenhouse gas emissions.
Xi, whose country is the world's largest emitter of planet-heating gases, instead submitted a written statement to the summit, drawing ire from other world leaders.
"It's been a big mistake, quite frankly, for China not showing up," US President Joe Biden told journalists before flying out of Glasgow. "The rest of the world looked at China and said 'what value are they providing?'"
"It just is a gigantic issue, and they walked away," he said. "How do you do that and claim to be able to have any leadership?"
Xi has not left China since the beginnings of the COVID-19 pandemic in early 2020.
COP26 has been billed as vital for the continued viability of the 2015 Paris Agreement under which nations promised to limit global temperature rises to "well below" 2° Celsius (C), and to work for a safer 1.5° C cap.
At the summit on Tuesday, which kicked off 13-day climate negotiations, nearly 100 nations joined a US and European Union initiative to cut emissions of methane -- a potent greenhouse gas -- by at least 30% this decade.
However, major emitters China, India, Russia and Australia did not sign the pledge.
Russia is the world's fourth largest emitter, but Russian President Vladimir Putin, who does travel, was also absent from the COP26 summit.
"His tundra is burning -- literally, the tundra is burning," Biden said of Putin. "He has serious, serious climate problems, and he is mum on willingness to do anything."
Difficult promises to keep
Chinese Foreign Ministry spokesman Wang Wenbin defended Xi's decision to stay home from the summit.
"Actions speak louder than words," he said Wednesday.
Days before the summit, Beijing submitted a renewed climate plan to the UN confirming its goal to achieve carbon neutrality before 2060 and slash its emission intensity -- the amount of emissions per unit of economic output -- by more than 65%.
Xi has vowed to "phase down" coal use from 2026 and to become carbon neutral by 2060.
Despite the big promise, China is building coal plants in more than 60 sites across the country, while dozens of idling plants have reopened or expanded production.
China generates about 60% of its energy from burning coal. The United States generates about 19% from coal, according to the US Energy Department.
Last year, China added 38.4 gigawatts of coal-power capacity -- more than three times the amount built elsewhere in the world, according to data from Global Energy Monitor (GEM), a US-based organisation that catalogues fossil fuel projects worldwide.
"This new coal binge is undermining both short- and long-term climate goals," said Christine Shearer, GEM's coal programme director.
Pressure is mounting
The pressure is mounting on Beijing.
In early August, the UN's Intergovernmental Panel on Climate Change (IPCC) warned that global warming would reach 1.5° C above pre-industrial levels around 2030.
That level of global warming will have devastating impacts on humanity, including more extreme weather events such as fires, typhoons, droughts and floods.
Years in the making, the sobering report approved by 195 nations shines a harsh spotlight on governments dithering in the face of mounting evidence that climate change is an existential threat.
Top on that list is China.
For China to meet its emission targets, 90% of power should come from nuclear and renewables by 2050, according to researchers at Tsinghua University in Beijing.
Currently it is just 15%.
China has more than a third of the world's installed wind and solar capacity, and electricity generated using renewables is now cheaper than that made with coal.
"But utility companies are still reluctant to increase the amount of green electricity they purchase because of intense pressure from the coal lobby," said Han Chen, China energy policy researcher at the National Resources Defence Council, a US-based climate advocacy group.
"That is why renewables only contribute to 15% of China's energy mix despite all the investments flowing into the industry."
"The new IPCC report is not a drill but the final warning that the bubble of empty promises is about to burst," said Saleemul Huq, director of the International Centre for Climate Change and Development in Dhaka.
"It's suicidal, and economically irrational to keep procrastinating."