ALMATY -- A viral image of an automated teller machine (ATM) in Kazakhstan has sparked widespread criticism of Russia's state-owned Sberbank for disrespecting the national language.
Murat Abenov of Nur-Sultan, chair of the Kazakh Coalition on Consumer Rights Protection, on October 20 posted a photo on Facebook of a Sberbank ATM in Turkistan.
Taped onto the ATM is a piece of paper bearing a message in Kazakh: "Don't choose Kazakh -- the ATM won't work."
"This is how Sberbank treats Kazakhstan," wrote Abenov, a former vice minister of education and science.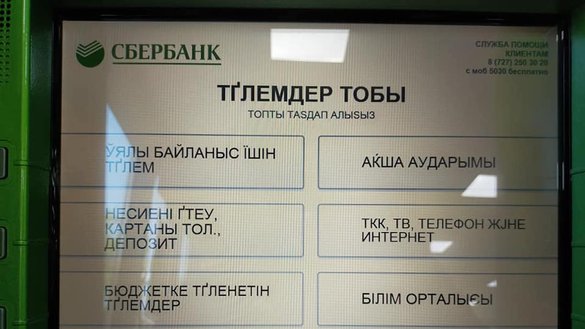 Hundreds of Kazakhs reacted to the post, furious that Sberbank deprived Kazakh-speaking customers of the right to use its services in their familiar, native language.
The photo is "symbolic" of Russia's distaste for national identity in Kazakhstan, said Togzhan Kozhaliyeva of Almaty, director of HAQ (Halyqqa Adal Qyzmet [True Service to the People]), an activist group.
"This is how Sberbank's managers treat Kazakh customers. They could have fixed the system instead of posting messages like that on the ATM. That's showing scorn for the language," Kozhaliyeva told Caravanserai.
If Sberbank's ATMs had problems with Russian, they would be fixed in a day, noted Kozhaliyeva.
"The problem is that Kazakh [is seen as] a second-class language, and Russia wants to keep things that way," she said.
Maxim Rozhin, an adviser to Kazakhstan's minister of Information and Social Development, also slammed Sberbank for its linguistic disrespect.
"There are Kazakh citizens who aren't fluent in Russian. So that means you deny them services?" he posted in October on Facebook under Abenov's photo.
"Hopefully, this is just an exception, not the rule. I really hope that your company unwaveringly respects the state language, Kazakh," Rojin said.
Questionable IT
However, this is not the first time that Sberbank's ATMs have faced complaints.
In a similar incident in October 2020, Yerbakyt Amantaiuly of Petropavlovsk, editor-in-chief of the regional newspaper Soltustik Qazaqstan (Northern Kazakhstan), posted photos on Facebook of the menu of a local Sberbank ATM in which the majority of the Kazakh words either contained grammatical errors or had incomprehensible symbols instead of letters.
"Is anyone home at Sberbank? Let them explain what these letters are. They're neither Latin nor Cyrillic. When I use an ATM, I usually choose Kazakh, but today I had trouble because I couldn't decipher the words," Amantaiuly wrote.
Nobody has fixed the menu text.
"You can fix a problem like that in a day. Obviously Sberbank just doesn't think it's that important," said Askhat Baketayev of Almaty, an IT manager at a different bank. He asked Caravanserai not to identify his bank.
"Naturally, as a rule, if you're working and providing services in another country, you automatically need to communicate with the local population in its native language, so the case of Sberbank is unusual," he said.
In light of the controversies, Baketayev said he finds it strange that the Kazakh government has enlisted Sberbank to develop a national e-platform.
Kazakh Prime Minister Askar Mamin and Sberbank CEO Herman Gref on September 3 signed a memorandum of co-operation on Kazakhstan's digital transformation.
As a part of the memorandum, the Sber group -- a group of companies with close ties to the Kremlin -- is expected to implement the GovTech digital platform for the Kazakh e-government (egov.kz) website.
Under the deal, Sber will link all government agency databases to the same platform.
Kazakhs have misgivings over the deal in light of the notoriety of Russian government-backed hackers like the election-disrupting Internet Research Agency (IRA) in St. Petersburg and the potential for Russian authorities to access Kazakh citizens' personal.
"That could create a threat to Kazakhstan's sovereignty," Baketayev said.
"Government services will be provided through GovTech, which entails linking to every IT system and to all government data, and this is strategically important information," Yerkegali Mashir of Almaty, CEO of the Azimut Solutions Group, told Caravanserai.
"That's why I am pessimistic about this project's implementation by foreign software developers," Mashir said.
'Moscow is keeping a close eye'
Such privacy issues are particularly relevant as those raising the issue of the Kazakh language face potential retaliation by Russian authorities.
In August, Kazakh language activist Kuat Akhmetov posted a series of videos taken at public establishments in Kazakh cities in which he pointed out the lack of customer service in Kazakh.
Russian politicians subsequently demanded that the Kazakh authorities "call out these disgraceful actions by homegrown nationalists", and Kremlin-controlled media outlets berated Kazakh activists.
Akhmetov was forced to flee Kazakhstan and according to media reports now lives in Kyiv.
Russian authorities have increasingly warned against what it calls ethnic hatred.
Maria Zakharova, a Russian Foreign Ministry spokeswoman, last Wednesday told the Russian news site Lenta.ru that "Moscow is keeping a close eye on all displays of intolerance for ethnic traits in [Kazakhstan]."
The "language patrols will face consequences from the Kazakh authorities," Zakharova said, referring to groups of Kazakhs like Akhmetov who aggressively look for failures by businesses, government offices and their employees to speak or write Kazakh.