The People's Republic of China (PRC) could have 700 deliverable nuclear warheads by 2027 and could top 1,000 by 2030 -- an arsenal two-and-a-half times the size of what the Pentagon predicted only a year ago, according to a Pentagon report published last week.
The United States has declared China its principal security concern for the future, as Beijing works to build the People's Liberation Army (PLA) into "world-class forces" by 2049, according to its official plan.
Like the United States and Russia, the two leading nuclear powers, China is building a "nuclear triad", with capabilities to deliver nuclear weapons from land-based ballistic missiles, from missiles launched from the air, and from submarines, it said.
Beijing is also "building the infrastructure necessary to support this major expansion of its nuclear forces", according to the assessment, which came in the Pentagon's annual report to Congress on Chinese military developments.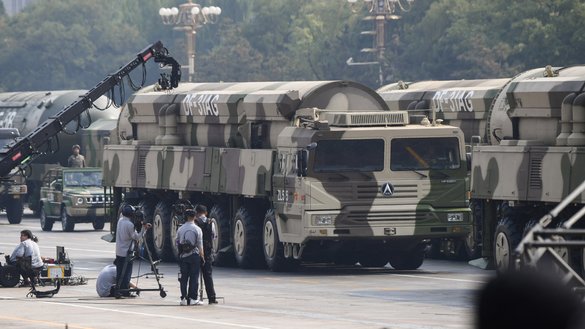 But the report argued China was likely not seeking a capability to launch an unprovoked atomic strike on a nuclear-armed adversary -- primarily the United States -- but looking to deter attacks by maintaining a credible threat of nuclear retaliation.
Potential for misunderstanding and miscalculation
A year ago, the Pentagon's China report said the country had about 200 deliverable warheads and would double that by 2030.
Independent researchers have in recent months published satellite photographs of new nuclear missile silos in western China.
The developments come as China expands and upgrades its military, seeking the capability of projecting power globally.
The rivalry has increased concerns about a possible US-China clash, especially over Taiwan, which is closely supported by Washington but claimed by Beijing as its territory -- to be seized one day, by force if necessary.
By 2027, the latest report said, China aims to have "the capabilities to counter the US military in the Indo-Pacific region, and compel Taiwan's leadership to the negotiation table on Beijing's terms".
The report also confirmed recent reports that in October 2020, Pentagon officials helped quell concerns in Beijing that the United States intended to instigate a conflict with China in the South China Sea.
After senior Pentagon officials moved to directly speak to Chinese counterparts, the concerns eased.
"These events highlighted the potential for misunderstanding and miscalculation, and underscored the importance of effective and timely communication," the report said.
It also questioned the PLA's intent in biological research into substances that potentially have both medical and military uses.
"Studies conducted at PRC military medical institutions discussed identifying, testing, and characterising diverse families of potent toxins with dual-use applications," the report said, raising concerns over compliance with global biological and chemical weapon treaties.
Such concerns have mounted since COVID-19 emerged in Wuhan, China, an area also home to a biological research lab with PLA connections.
Critics have accused Beijing of downplaying the scale and scope of the outbreak when it first emerged, while some theorists speculate that the virus could have escaped from a lab at the Wuhan Institute of Virology (WIV).
New evidence has emerged that the lab in question may have ties to the Chinese military.
Regional tensions
Meanwhile, analysts in neighbouring Central Asian states are watching the situation in Taiwan for its implications across the region.
"If China seizes Taiwan, it will have irreversible consequences for global security," said Talgat Ismagambetov, lead researcher at the Institute for Philosophy, Political Science and Religion Studies in Almaty, in September.
"In this case Beijing will not feel any limitations on itself in the eastern part of the Pacific and will try to solve future territorial questions not through negotiations but by force, relying on its own claims and its right to self-determination."
"China has territorial disputes with Japan, South Korea, Vietnam, Malaysia and the Philippines, which Beijing might want to settle by military means," he said.
"The United States has to restrain China, which has become a new hegemonic power in the Asian Pacific region," Ismagambetov added.
China is striving for global domination, said Edil Osmonbetov, of Bishkek, a specialist in international affairs and conflict, also in September.
"Having the second largest economy in the world, China wants the biggest," he said. "This desire gained strength during the pandemic because China made a lot of money selling medical products and COVID-19 vaccines."
Osmonbetov called China's aggression toward Taiwan "a test of Chinese strength and potential".
"China wants to understand if it can cross a red line," he said.