DUSHANBE -- Tajiks are questioning Beijing's motives for planning to build a base for police in Tajikistan near the Afghan border.
The Tajik parliament October 27 ratified an agreement between Tajikistan's Interior Ministry (MVD) and China's Ministry of Public Security for the base.
Under the deal, China committed to building a security complex on 3,500 hectares of land, comprising 12 buildings -- including both residential and training facilities -- for the Special Rapid Response Unit (SOBR) of the MVD.
The base will be in Ishkashim district, Gorno-Badakhshan Autonomous Province (GBAO), according to sources in parliament.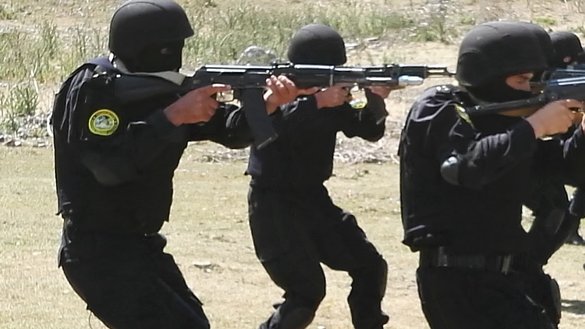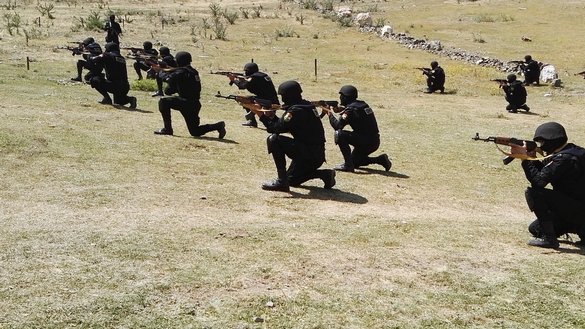 "All construction is funded by the Chinese side. After construction, the base will be transferred to the Tajik [police]," a parliamentary spokesman who did not provide his name told AFP by telephone.
China is providing $8.5 million in assistance for the base, he said.
Radio Free Europe/Radio Liberty's Tajik service, Radio Ozodi, confirmed the funding amount, quoting part of a speech by Tolibkhon Azimzoda, a deputy in the lower house of parliament.
The Chinese have agreed to fully equip the facility, according to Azimzoda.
"Issues related to the allocation of land and the military facility's design are being settled," Azimzoda told other lawmakers.
Tajik officials including Azimzoda, however, have given no indication what the Chinese would get in return.
Asked about reports of the new police base, China's Foreign Ministry told AFP that "we can assure that China does not have any military bases in Central Asia".
Caravanserai was unable to clarify the situation through parliament or the MVD.
Tajiks are questioning the murky details of the deal and the real cost of doing business with China.
"China does not simply give out money," said Sayidmukhiddin Dustmukhammadien, an expert on Central Asia.
"Tajik authorities also understand this, but they don't spread this [recognition] widely because anti-Chinese sentiments prevail in society," he said.
Several leading local and international news agencies featured articles about the joint project ahead of its ratification by parliament, causing a storm of indignation among Tajik readers -- many of whom expressed distrust of China.
"They will build the base and covet our lands," warned user Naimchon Mavlonov in comments under another Radio Ozodi story in October about the planned base.
"What we feared has come to pass," wrote Ahmad Ali.
Murky intentions
Although China and Tajikistan do not advertise their military ties, it is known that Beijing has invested in several security and defence projects.
Tajikistan has received financial assistance from both China and the United States to build and reinforce its border posts and hosts a major Russian military base.
Co-operation between China and Tajikistan in the fight against terrorism is gaining momentum, say some sources.
China is reported to maintain a joint military facility with Tajikistan in the GBAO, which borders Xinjiang, though neither country has officially acknowledged its existence.
Radio Ozodi last month reported that Tajikistan was ready to transfer full control of that base to Beijing and "waive any future rent payment in exchange for military aid", citing a communiqué signed by the governments of both countries.
In recent years, China has also built four border outposts in the Pamirs in Tajikistan; one military training centre; the Centre for Combating Terrorism, Extremism and Separatism; and the Officers' Club in Dushanbe.
China's interests are twofold: in addition to national security, Beijing is pursing the purely economic benefits achieved as a result of its policy of exploiting the natural resources of Central Asia.
Though Tajik authorities have not named the exact location of the new police base, it is likely to be situated near the Wakhan Corridor, a narrow Afghan valley located between three mountain ridges -- Hindu Kush, Pamir and Karakorum.
It is 15km wide and stretches 300km in length.
In ancient times, one of the main branches of the Silk Road passed through the Wakhan Corridor, and it remains strategically significant for China as it connects Central Asia with China, Pakistan and India.
Pakistan, Tajikistan and Afghanistan have plans for a highway project along the corridor, but they have not progressed beyond discussions.
Davlat noted ongoing consideration of having China join this project, given its deep pockets and its multi-national Belt and Road Initiative (BRI), an effort to extract and transport poorer countries' natural resources for Chinese benefit.
A senior Tajik transport official confirmed to Caravanserai on condition of anonymity that this possibility is under consideration.
"For now, we have one proposal. We are studying it. We will see what will happen," he said.
The proposal likely comes from China, said Davlat.
According to Davlat, it is not difficult to guess what China's plans are.
"It does everything with the future in mind," he said. "It makes no difference whether it is building roads, military facilities, hydroelectric power plants, or giving out grants and loans," he said.
"Roads are necessary in order to carry out the loot. Energy is needed for industrial enterprises to work ... It gives out grants to win trust, loans to drive them into debt bondage and then, manipulating by using debts, to dictate its own terms," he added.
Xinjiang fears
Plans for the base may also stem from Beijing's worries over the situation in Xinjiang.
Chinese authorities in the region have imprisoned more than one million Uighurs and other Muslims -- including ethnic Kazakhs and Kyrgyz -- in as many as 400 detention facilities that include "political education" camps, pretrial detention centres and prisons.
Independent investigations and interviews with former inmates indicate physical and psychological torture, brainwashing, systematic rape, forced sterilisation of Muslim women, forced organ harvesting, sexual abuse and other horrors.
Millions more live under tight supervision and control.
By financing the SOBR base construction, China could in exchange gain permission to strengthen its military presence near the Wakhan Corridor -- the likeliest route in Afghanistan for "Islamic State" (IS) or other militants to move towards Xinjiang, said Abdumalik Kodirov, director of the Media Alliance of Tajikistan.
At present, the corridor is roadless.
"For several years already, a small Chinese detachment has been located there [near Wakhan] and prevents Uighur separatists' forays from Afghanistan," he said, referring to the semi-clandestine Chinese base in the GBAO.
"This scares the Chinese leadership," Kodirov said.
"The Chinese military understands this and is protecting itself," he said. "By building and equipping a SOBR base ... China could, if necessary, use it if there is a threat to its national security."
"Permission for a military presence may be [Tajikistan's] payment for construction of the base," said political scientist Andrey Zakhvatov.
"China wants to kill two birds with one stone -- to protect itself from possible military attacks by Uighur separatists through the Wakhan Corridor and to create conditions for laying the most convenient transport routes for exporting ore from Afghanistan and Tajikistan, which contains precious metals," he said.