MOSCOW -- The Kremlin is taking a page from Beijing's "Great Firewall" and embarking on what may be the world's most ambitious digital censorship effort outside China -- one that could be replicated by authoritarian leaders worldwide, The New York Times reported.
Under Russian President Vladimir Putin -- who views the internet as a threat to his power -- the government is attempting to rein in the country's once open and freewheeling internet.
The process began in 2019 with a series of bureaucratic emails and forms from Russia's powerful internet regulator, Roskomnadzor, seeking technical details from internet and telecommunications service providers.
Then Roskomnadzor sent government-approved technicians to install black boxes, sometimes under lock and key, alongside telecom companies' own computer systems and servers.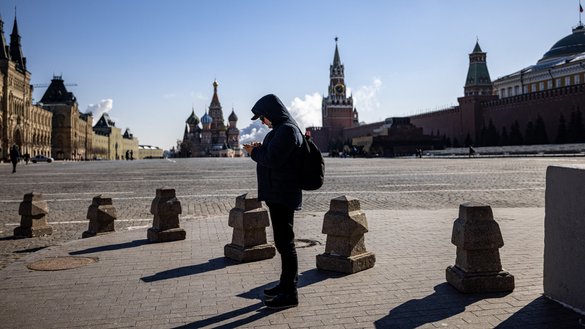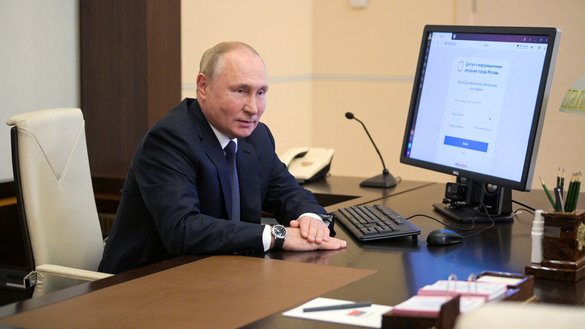 The boxes link back to a command centre in Moscow, giving the authorities the ability to censor or slowdown websites they do not want the Russian public to see.
Putting the brakes on Twitter
The Kremlin put its new powers to the test for the first time earlier this year, researchers and activists said.
Twitter users in Russia experienced a sharp slowdown on March 10; photographs that take about four seconds to load under normal circumstances took eight times longer to load -- about 34 seconds.
Roskomnadzor had accused Twitter of failing to remove more than 3,000 "illegal" posts, including those the authorities said contained illegal drug use, child pornography or messages "pushing minors toward suicide".
The internet regulator said the move was made "with the aim of protecting Russian citizens and forcing the internet service to follow the law in Russia".
Aleksandr Khinshtein, a member of parliament who helped write the law that allows the regulator to slow traffic, said the action was meant as a warning to other American internet companies.
Putting the brakes on Twitter, which has a limited following in Russia, "will force all other social networks and large foreign internet companies to understand Russia won't silently watch and swallow the flagrant ignoring of our laws", he told reporters March 10.
Silencing dissent
Human rights groups say the real motive is about stifling dissent.
Twitter, Facebook's Instagram, Google's YouTube and Chinese-owned TikTok played a pivotal role in anti-Kremlin protests following the imprisonment of opposition leader Alexei Navalny.
Navalny returned to Russia in January after receiving treatment in Germany for poisoning in August by the Soviet-era Novichok nerve agent, widely believed to be an attempt on his life by the Russian authorities.
Navalny has 2.6 million followers on Twitter, 3.7 million on Instagram and 6.45 million subscribers on YouTube.
His investigation into government corruption and Putin's purported $1.35 billion Black Sea palace that Navalny says was paid for "with the largest bribe ever" was viewed over 119 million times on YouTube.
Social networks give Russians ways to share information, organise and speak openly against the regime.
The black boxes give the Kremlin a way to silence the opposition and to strong-arm Western technology companies into removing content displeasing to the regime.
Ahead of national elections in September, after the government threatened to arrest local employees of Apple and Google, the companies removed apps run by Navalny supporters.
Several websites linked to Navalny have also been silenced.
"This is something the world can copycat," Laura Cunningham, a former head of US State Department programmes on internet freedom, told The New York Times in October.
"Russia's censorship model can quickly and easily be replicated by other authoritarian governments," she warned.
In recent years, governments in India, Myanmar, Ethiopia and elsewhere have used internet blackouts to stifle pockets of unrest.
Russia has used the tactic twice previously during anti-government protests in the southern region of Ingushetia in 2018 and Moscow in 2019.
Following in China's footsteps
The Kremlin and other authoritarian regimes are taking lessons from China.
Beijing's "Great Firewall" blocks access to foreign websites in China -- including Facebook, Twitter, Instagram, Google, Yahoo, YouTube, WhatsApp, Telegram and many others.
The China National Electronics Import and Export Corporation (CEIEC), meanwhile, offers a commercialised version of the Great Firewall that scrubs out politically sensitive material from the internet.
CEIEC, on its website, describes itself as "a state-owned enterprise, directed by Chinese Central Government" with 24 main branches around the world operating in 160 countries and regions.
In one example, CEIEC was caught providing expertise to Venezuela's state-owned telecom company -- which has blocked independent media as well as livestreams by opposition leader Juan Guaido, whom at least 50 nations recognise as the country's interim president.
President Nicolas Maduro seized total control of Venezuela's political institutions last December 6 with a sweeping victory in legislative elections that were boycotted by opposition parties and widely denounced as fraud by world leaders.
The United States last November 30 said it was imposing sanctions on CEIEC and blocking assets of any firm in which the state-owned company holds a 50% stake or higher.
CEIEC was previously under US sanctions from 2006 to 2008 in accordance with a law that prohibits activities aiding the transfer of weapons to or from Iran and Syria.
A glimpse of the 'real' internet
In another example of Beijing's iron fist when it comes to the internet, censors shut down the popular Clubhouse app earlier this year.
For about a week in February, mainland Chinese and other Chinese-speaking users had rare and unfettered access to the "real" internet.
The repression of Muslims in China's Xinjiang region, the Tiananmen Square crackdown, Taiwan's independence and other taboo subjects -- nothing was off-limits in the rambunctious, unfiltered chatrooms of the exclusive, invitation-only audio app.
Then late on February 8, an error message appeared to Chinese users logging on without a virtual private network (VPN) to establish a secure connection, a telltale sign that state censors had gained hold of the debate.
"Under [Chinese President Xi Jinping], the ban was a matter of time," said Lokman Tsui, a communications professor at the Chinese University of Hong Kong.
The space for free online discussion has "been drastically reduced" since 2013, the year Xi became president, added Emilie Frenkiel, associate professor at Université Paris Est Créteil, who researches political participation and representation in China.
Beijing is also finding legal loopholes from which to silence material it finds objectionable to "Chinese culture".
Last month the authorities used a law that requires a permit authorising the distribution of books or magazines online in China to shut down a Koran application trusted by millions of Muslims worldwide.
The Quran Majeed app was removed for hosting illegal religious texts, the BBC reported October 15, but it is not clear what exact rules the app had broken in China.
Around the same time, another popular religious application -- Olive Tree's Bible app -- was also removed from the App Store in China.
Apple Censorship -- a website that monitors apps on Apple's App Store globally -- first reported the deletions on October 12.
Audible, the audiobook and podcast service owned by Amazon, removed its own app from the App Store in China last month "due to permit requirements", The Mac Observer reported October 15.
Microsoft on October 14 announced it was removing its career oriented social network LinkedIn because of the "challenges" of complying with Beijing's censorship rules.