MOSCOW -- A court in Moscow Tuesday (November 23) began hearings into a request by prosecutors to shut down Russia's most prominent rights group, Memorial -- a move that has sparked sharp domestic and international criticism.
Dozens of supporters of Memorial gathered in frigid weather outside the Moscow City Court for the first of two court hearings this week on efforts to shutter the group, founded in 1989 to catalogue Soviet-era crimes.
Tuesday's preliminary hearing was in connection with prosecutors' request to close Memorial's Moscow-based Human Rights Centre, which campaigns for the rights of political prisoners, migrants and other disadvantaged groups.
Migrant workers from Central Asia routinely suffer at the hands of abusive police and corrupt employers. Crimes against them include beatings and theft of wages.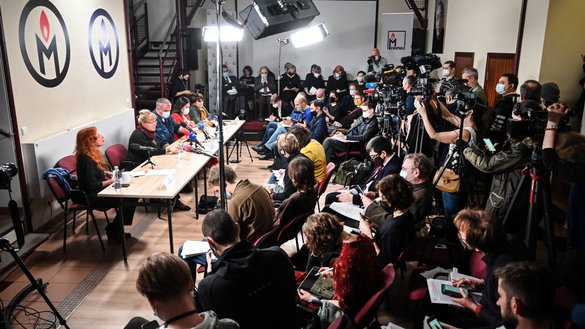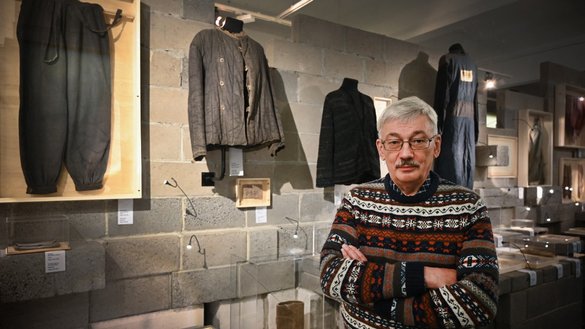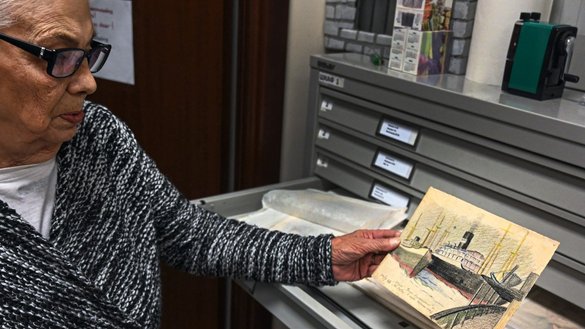 In April, Memorial published, along with other human rights groups, a damning report on Russia's role in the decade-long Syria conflict, which sought to shed light on the victims of the country's military actions in Syria.
Prosecutors accuse the centre of violating Russia's law on "foreign agents" and of justifying "terrorism and extremism" by releasing lists of political prisoners that include top Kremlin critic Alexei Navalny.
They also have asked the Supreme Court to approve their request for the shuttering of Memorial International, which focuses on efforts to remember victims of Soviet-era persecution, including in the notorious Gulag prison system.
A term with Soviet-era undertones, the "foreign agent" status forces individuals or organisations to disclose sources of funding and label all their publications, including social media posts, with a tag or face fines.
Authorities already have declared leading independent media outlets including the Meduza news website and the Dozhd TV channel to be "foreign agents".
Memorial's Human Rights Centre was put on the government's register of "foreign agents" in 2014, while Memorial International was added in 2016.
Together the two entities form the core of Memorial's operations.
A 'political decision'
Earlier this month, on November 11, prosecutors moved to dissolve the group over alleged systematic violations, which Memorial denies, in the latest legal effort to silence independent voices critical of President Vladimir Putin.
The group is among several investigative news outlets, journalists and rights organisations to have been hit with the "foreign agent" label this year in what observers have described as a historic crackdown on independent organisations.
The case has "no legal basis", said Memorial.
"This is a political decision aimed at destroying the Memorial Society, an organisation dedicated to the history of political repression and the protection of human rights," Memorial said in a statement.
"We have repeatedly stated that the law was originally conceived as a tool to crack down on independent organisations, and insisted that it should be abolished," it said.
The number of political prisoners in Russia has risen sharply in recent years in a trend that recalls late Soviet-era repression, Memorial said in late October.
It listed at least 420 political prisoners, including Navalny, who survived a poisoning attempt with Novichok nerve agent last year, compared to 46 in 2015.
Sharp rebuke
The move to close Memorial has sparked domestic and international rebuke.
In a video press conference last Thursday, United Nations (UN) special rapporteur on the situation of human rights defenders Mary Lawlor warned that Russia would show "flagrant disregard" of the UN's values if it moves ahead with plans to shutter the group.
"I also fear that if Memorial is targeted, it will only be a matter of time before the remaining actors of civil society in Russia are also targeted," she said.
One of Memorial's founding members, historian Irina Shcherbakova, said the move shows the Kremlin has taken a "sharp" dictatorial turn.
"The situation is degrading sharply; the dictatorship is becoming more repressive," Shcherbakova said November 17. "And it is so openly repressive -- that was somewhat unexpected."
Memorial, which campaigns for the preservation of historical memory in Russia and against rights violations, has been in the cross-hairs of the Russian authorities for years.
It oversees the work of about 50 branches across the country and abroad and has been regularly cited as a potential Nobel Peace Prize winner.
Founded in the twilight of the Soviet Union by a group including the late Nobel peace laureate and Soviet dissident Andrei Sakharov, its task was to uncover and document crimes committed by Soviet authorities.
A symbol of Russia's democratisation in the 1990s, Memorial has created a huge archive of Soviet-era crimes. The group also campaigns for human rights in the country, especially in the volatile North Caucasus.
Silencing people
The announcement that prosecutors wanted to shut Memorial took the group by surprise, Shcherbakova said.
While Memorial had expected "many unpleasant things" amid a media campaign against it, it was surprised by how quickly the authorities were moving, she said.
The aim, she said, is to silence and frighten people.
"They are ready to use any force and to show that people have no defence and no rights," she said.
Memorial has been receiving "constant phone calls" and letters of support from people since the surprise move, Shcherbakova said, adding that she fears the decision over its future "has already been made".
The group must "fight on", she added. "The truth is on our side."
She noted that many archives on Soviet repression now are available online, and therefore "impossible" to destroy.
"The situation is not like in the 1970s, when people had no information," she said.