KARAGANDA PROVINCE, Kazakhstan -- A Russian worker's claim of abuse and two decades of "slavery" at Kazakh farm rapidly fell apart in November, but not before Russian authorities seized upon the narrative to further inflame tensions.
The short-lived international incident also shone light on the Russian government's repeated efforts to equate isolated incidents experienced by ethnic Russians in Kazakhstan to the systemic, widespread abuse of Central Asian migrant workers in Russia.
Kotov's tall tale
The news broke on November 17 with a video that circulated on social networks.
It showed a middle-aged Russian, Aleksei Kotov, who said he was being held against his will in Shet district, Karaganda province, Kazakhstan.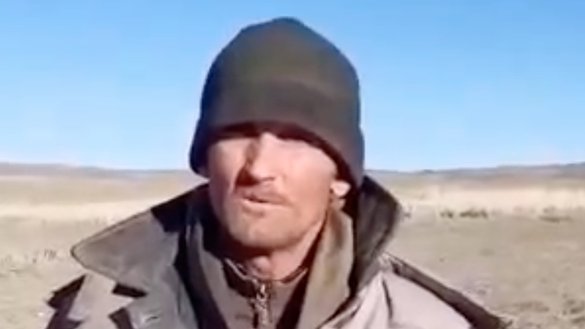 His slurred speech makes him sound drunk.
"Mom and Dad, help me escape from Kazakhstan," he says into the camera.
The jingoistic Russian media promptly spread the story.
Kazakh police rapidly found Aleksei Kotov, 44, a native of Yaroslavl province, Russia. He told the police that a Kazakh farmer, also 44, had enslaved him for 20 years.
Police arrested the farmer and opened a criminal case.
Kotov, though, rapidly recanted his tale, as the Kazakh Interior Ministry (MVD) said November 18 -- just one day after the news broke.
Kotov was merely homesick, the MVD said in its statement.
"He voluntarily stayed and worked on a farm, had use of a cell phone and was free to leave the farm at any time," Karaganda province deputy police chief Yernat Kaliakparov said in a November 17 video summarising the police's questioning of Kotov, at which Russian consular staff were present.
Kotov refused to press charges against the farmer, and his only goal in causing an international uproar "was to go home", added Kaliakparov.
Then came the incident that Karaganda journalists are calling censorship and obstruction of work by Russian officials.
A lesson of censorship
On November 17, the Russian consul, a Russian member of parliament and a Russian MVD official arrived in Karaganda to pick Kotov up and did everything they could to keep Kazakh journalists away.
When the journalists who had headed to the police station began lobbing questions at Kotov, one of his escorts commanded, "Don't say a word, Aleksei!"
Kotov obediently ignored the press and pulled his hood over his face.
"The Russian delegation told Kotov not to talk to journalists, and in the shots [of an amateur video] you can see one Russian let the others go through and hold the police station door, blocking the Kazakh journalists from entering until Kotov had left the building," the KazTAG news agency reported.
One of Kotov's escorts, who was apparently a Russian police officer, grabbed local journalist Ainur Balakeshova's mobile phone, which she had been using to film the events.
"An official from Russia's [MVD] took away my phone, shut off the recording and finally gave it back to me," Balakeshova told Caravanserai. "The Russian police officer's behaviour was appalling. I've never seen such aggression."
After the journalists became angry, local police officers intervened and shoved the Russian away from the door, but by then it was too late.
The journalists tried to follow Kotov outside, but the Russians already had whisked him away.
The Russian delegation's actions violated several Kazakh laws providing access to information and banning the obstruction of journalism, Balakeshova told Caravanserai.
The Russians knew that reporters were waiting for Kotov after he precipitated an international incident and premeditated their acts, she contends.
Not in Russia
Russian law enforcement agencies are accustomed to bullying Russian reporters and did the same thing in Kazakhstan, said Yerlan Ismailov, a blogger in Nur-Sultan.
"But here they're not in Russia. Who gave the citizens of another country the right to act that way with members of the media here in Kazakhstan?" he told Caravanserai. "In Kazakhstan these kinds of offences are usually punished."
Kazakhstan might not have a perfect record on free speech, but "in this country the situation with journalists' rights is much better than in Russia", said Ismailov.
"Obstruction of the professional activities of journalists is legally prohibited in Kazakhstan and free speech is guaranteed here, while the constitution explicitly bans censorship", KazTAG wrote November 17.
The news agency urged Kazakh law enforcement to assess the recent incident.
Feeding the Kremlin narrative
Kotov's story broke shortly after the Kremlin-owned newspaper Rossiyskaya Gazeta ran a headline-making article by Russian Foreign Minister Sergey Lavrov about alleged prejudice in Kazakhstan toward its ethnic Russian minority.
The Russian delegation's actions to keep the Kazakh journalists away from Kotov looked suspicious, said some observers.
The viral news about "a Russian's years-long enslavement in Kazakhstan" bolstered the Kremlin's narrative about supposed oppression of Russian speakers in Kazakhstan, said Zhanybek Asanov of Shymkent, an analyst of international politics at the NGO People's Anticorruption Committee.
"But the exposure of Kotov's lie places Russia in an unflattering light, so they [the officials] tried to take him home as soon as possible, before he made an even bigger mess," Asanov told Caravanserai.