The United Nations World Food Programme (WFP) has begun deliveries of food to Afghanistan from Tajikistan in support of the agency's emergency response for Afghan families facing hunger this winter.
The first convoy of seven trucks left WFP warehouses in Dushanbe Friday (November 26), heading to Badakhshan province, Afghanistan, according to a press release published by WFP Tajikistan.
The trucks will deliver 2,500 tonnes of wheat flour procured from the region in the coming days to be used by WFP Afghanistan in its lifesaving operations.
"Racing against time, WFP colleagues in Afghanistan need all the support we can provide to pre-position food before snow cuts off roads, especially in the remote districts such as those in Badakhshan," said WFP Representative and Country Director in Tajikistan Adham Musallam.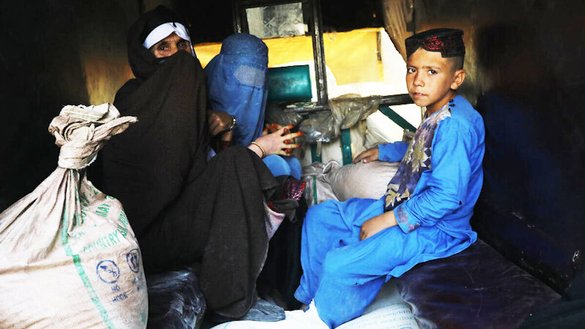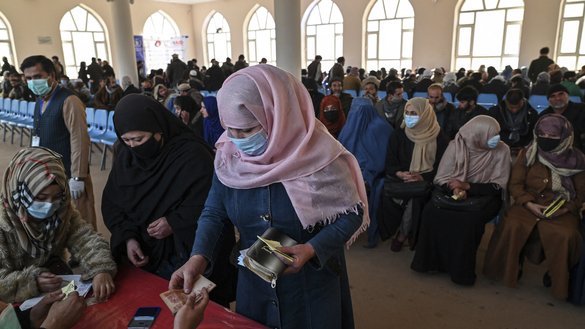 He made his remarks during a ceremony to mark the departure of the aid that Tajik officials attended.
"We thank the government of Tajikistan for standing with the Afghan people at this critical juncture. The corridor is extremely timely in helping us bring food into Afghanistan through border crossings," said Musallam.
Musallam also thanked the Tajik government for its support to the United Nations Humanitarian Air Service (UNHAS), managed by WFP, which is enabling regular flights from Dushanbe to Kabul and other destinations in Afghanistan for the humanitarian community.
Afghanistan is quickly becoming the world's largest humanitarian crisis.
WFP has been ramping up lifesaving support, reaching 14.8 million people with food and nutrition assistance since the beginning of this year.
Immense need
However, the needs are immense.
"To abandon the Afghan people now would be a historic mistake -- a mistake that has been made before with tragic consequences," Deborah Lyons, the secretary-general's special representative and head of the UN Assistance Mission in Afghanistan (UNAMA), said November 17.
With the winter approaching, up to 23 million Afghans will be in crisis or emergency levels of food insecurity, she said.
Moreover, although the risk of famine was once restricted to rural areas, 10 out of 11 of Afghanistan's most densely populated urban areas are now expected to reach emergency levels of food insecurity, she added.
On November 23, the UN said its flash appeal for more than $500 million to support the humanitarian response in Afghanistan until the end of the year was now fully funded.
The main donors were the United States, European countries and Japan, who helped reach the total funding goal of $606 million.
The funds are directed towards helping the 11 million most deprived people in Afghanistan.
Cash distributions in Kabul
Meanwhile, the WFP on Monday distributed cash in the Afghan capital to about 3,000 families severely hit by the country's growing humanitarian crisis.
"I never imagined that one day I would be sitting here in a queue seeking help," said Bassana, aged 20, who lives with her family of 10.
"We will first buy food to avoid starving to death," she added.
The UN agency distributed 7,000 AFN ($74) to each family.
Azimullah Fazlyar, who was helping to distribute the money, said about 50,000 to 60,000 families were in need of support in Kabul and the programme had identified the 3,000 worst affected.
"They can use the money in the winter to buy wood or whatever else they need," he said.
Many of those receiving aid were from families whose only breadwinner had lost their job since the collapse of the previous government.
Inflation and unemployment have surged in Afghanistan, and international aid that made up 75% of the previous government's budget has completely dried up.
Student and English teacher Sanaulla Hamidi was among those queuing for help.
He said he and his father, a government employee, had both been left out of work, meaning he is unable to continue his studies.
"I just wish I could pay (my fees) and return to my university," Hamidi said.