TASHKENT -- Russia is continuing to pressure Uzbekistan to join the Eurasian Economic Union (EEU) -- a move that Kazakh and Kyrgyz analysts warn is fraught with political and economic risks.
The EEU's members include Russia, Kazakhstan, Kyrgyzstan, Armenia and Belarus. In December 2020, Uzbekistan gained observer status in the bloc.
In the latest attempt at persuading Uzbekistan to fully join, Russian President Vladimir Putin November 17 said that Tashkent "could further strengthen our co-operation" with "a more proactive role within the [EEU]".
"This will benefit Uzbekistan and all EEU member states," Putin said during an address to the participants of the Second Russia-Uzbekistan Interregional Co-operation Forum.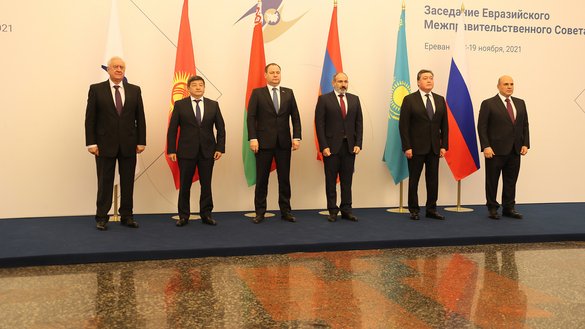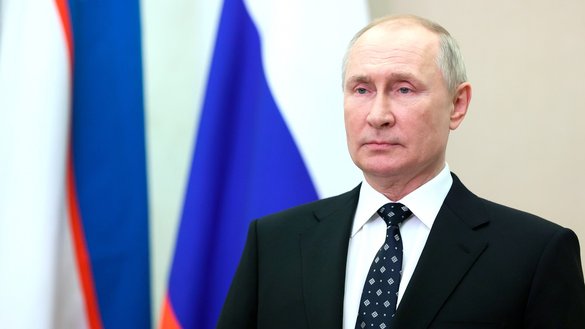 Putin's remarks came two days before an official visit by Uzbek President Shavkat Mirziyoyev to Moscow on November 19 -- the first abroad by Mirziyoyev after his re-election in October to a second five-year term.
Mirziyoyev, who has been president since September 2016, is no stranger to Russia's calls to join the EEU.
Soon after he came to power, Russian enterprises began to actively enter the Uzbek market, and Russian politicians started visiting Uzbekistan more often in hopes of persuading it to join the EEU.
Valentina Matvienko, chairwoman of Russia's upper chamber of parliament, erroneously claimed in October 2019 that Mirziyoyev had decided to join the EEU.
She made the assertion during a trip to Tashkent.
Two days later, Sadyk Safayev (Sodiq Safoyev), deputy chairman of the Uzbek senate, refuted her claim, noting, "For now there is no decision."
Russia is Uzbekistan's second largest trade partner after China, according to the Uzbek government.
Hostages of Russia
In some ways, Uzbekistan appears to be bending to Russian pressure.
In 2022 the country will comply with most of the technical regulations in effect in the EEU, Uzbek Prime Minister Abdulla Aripov said at a meeting of the Eurasian Intergovernmental Council on November 19.
He cited Uzbekistan's wishes to trade agricultural products with EEU members.
Nonetheless, Uzbekistan is not going to join blocs that do not help its economy, said Nigara Khidoyatova, a former Uzbek politician living in the United States.
"For the Kremlin, it's extremely important to drag Uzbekistan into the EEU," Khidoyatova said.
Without the participation of Central Asia's largest republic, "Moscow's chauvinistic superpower strategy won't be realised," she said.
"And this is a failure for Putin's circle, which has been in power for more than 20 years and cherishes the delusional idea of creating a quasi-Soviet Union led by Russia."
"By entering this union [EEU], we will become hostages of Russia's foreign policy and all the conflicts associated with it," Yuliy Yusupov, director of the Centre for Economic Development in Tashkent, told Kun.uz in 2020.
"The EEU is not a community of full-fledged members. One country dominates there. And many of its decisions ... cater to its wishes, based on political considerations."
"That's the risk of joining this organisation," he said.
Some Uzbek lawmakers have actively opposed the country's entry into the EEU.
During a debate on EEU membership last year, Uzbek member of parliament Gulbahor Saidganiyeva pointed out the negative aspects of joining the bloc.
EEU membership would require accepting the conditions established by Russia, she said, according to Kun.uz.
It could discourage potential investors who wish to invest in Uzbekistan, since Russia is under various sanctions and forms of pressure, Saidganiyeva added.
The international community imposed sanctions on Russia after it annexed Crimea from Ukraine in 2014.
"Today we independently establish customs duties for foreign investors, but after entering the union, we will have to act according to its rules," she said.
"And if one of our products does not meet the sanitary standards in one of the EEU member states, it will not be able to enter the markets of the union's other countries. In other words, our independence in market and customs policy will be curtailed."
A bad experience
Kamoliddin Rabbimov, an Uzbek political scientist from Tashkent, is convinced that Uzbekistan's accession to the EEU will not only produce no benefit but damage the country's interests.
The purpose of the organisation is to "serve" Russia's interests, he told Caravanserai.
This is a lesson that EEU members Kazakhstan and Kyrgyzstan have already learned, say analysts from those countries.
In Kazakhstan, producers have only suffered from their country's participation in the EEU, according to Anuar Galiev of Almaty, a political scientist and historian.
Kazakh "businesses complain that cheaper and lower-quality goods from Russia are replacing our products. They are going bust," he told Caravanserai.
"Today Kazakhstan, along with Russia, is bearing all the hardships of sanctions: the tenge is depreciating along with the ruble, because it is tied to it," Galiev added, referring to the sanctions imposed in response to Russia's annexation of Crimea.
Uzbekistan should not join the EEU but should instead expand its co-operation with the European Union (EU) and the United States, said Galiev.
"But we [Kazakhstan] are forced to remain in this 'union'."
The EEU was conceived to resemble the EU, which has free movement of capital, goods, and people among member states, noted Adil Turdukulov, a journalist and analyst from Bishkek.
"But we have a constant problem with migrants," he told Caravanserai, referring to the plight of Kyrgyz migrant workers in Russia.
"Police raids [to round up migrants] happen. Migrants are discriminated against all the time. It was assumed that their rights would be protected like those of Russian citizens," he said.
"We have constant problems transporting our goods," he added.
Accordingly, more and more Kyrgyz have decided that the EEU "is a political, not an economic, organisation and that it is aimed only at keeping Moscow's ... satellites in check", Turdukulov said.
"We, as civic activists, propose that entering or not entering the union should be decided by a referendum," Turdukulov added.
"This is how the procedure for leaving [it] should be defined, but that was not done," he said.