The US military will reinforce deployments and bases directed at China and Russia, while maintaining forces in the Middle East adequate to deter Iran and insurgent groups, the Pentagon outlined last week, referencing results of a review.
The details of the "global posture review", commissioned by President Joe Biden's administration early this year, will remain classified, said officials, so as not to reveal plans to rivals.
The review confirmed the priority region for the US military was the Indo-Pacific, said Mara Karlin, a top Pentagon policy official.
The review "directs additional co-operation with allies and partners across the region to advance initiatives that contribute to regional stability and deter potential military aggression from China and threats from North Korea", she told reporters on November 29.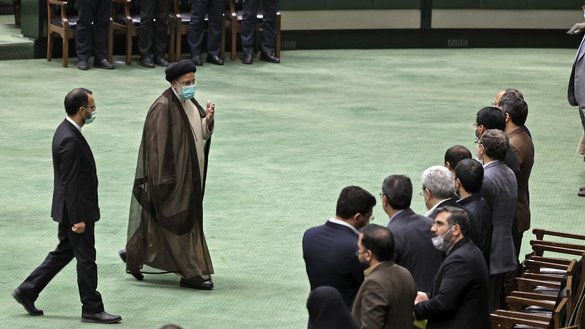 Initiatives include "seeking greater regional access for military partnership activities; enhancing infrastructure in Australia and the Pacific Islands; and planning rotational aircraft deployments in Australia", the Pentagon said in a statement.
"In Australia, you'll see new rotational fighter and bomber aircraft deployments; you'll see ground forces training and increased logistics co-operation," said Karlin.
In Guam, the Northern Mariana Islands and Australia, there will be upgrades to airports and fuel and munitions storage facilities, she said.
Asked if the review foresaw more increases in the US presence in the Pacific region, Karlin said: "We're moving the needle a bit."
"And what I'd like to think is, over the coming years, you will see that needle move more," she said.
The confirmation of US priorities comes as China flexes its military muscle.
The United States, Britain and Australia in September announced the formation of a new defence alliance -- dubbed AUKUS -- to counter China, which has been building up its own navy and testing decades of US military dominance across Asia.
That pact was formed as Beijing solidifies its control over the disputed South China Sea and intensifies its military threats towards Taiwan, which is closely supported by Washington but claimed by Beijing as its territory -- to be seized one day, by force if necessary.
Military tensions have risen to their highest in decades under President Xi Jinping with China now routinely sending fighter jets and nuclear capable bombers into Taiwan's air defence zone and state media regularly publicising invasion drills.
A Pentagon report published November 3 also noted that China could have 700 deliverable nuclear warheads by 2027 and could top 1,000 by 2030 -- an arsenal two-and-a-half times the size of what the Pentagon predicted only a year ago.
Countering Russia
The Pentagon is also keeping an eye on Russia, according to the review.
The review "strengthens the combat-credible deterrent against Russian aggression in Europe and enables NATO forces to operate more effectively", Karlin said.
It noted that US President Joe Biden in February 2021 rescinded the 25,000 active duty force cap in Germany established by the previous administration.
The Kremlin's relationship with European allies has worsened since Russian forces annexed Crimea from Ukraine in 2014, and tensions are exacerbated by allegations of election meddling and spying.
Western allies sharply condemned the poisoning of leading Kremlin critic Alexei Navalny in Siberia in August 2020, saying they could respond with further sanctions on Moscow.
Navalny recovered from the near-fatal poisoning but was sentenced to 32 months in prison on dubious charges in February.
More recently, Belarus, a close ally of Russia, has been using thousands of desperate migrants from the Middle East, Afghanistan and Africa as pawns to create pressure on the European Union (EU) to drop sanctions.
Tensions have also soared in recent weeks over reports that Russia might be planning an invasion of Ukraine at the start of the new year.
World leaders have agreed to draw up more sanctions on the Wagner Group, a shadowy Russian private mercenary group closely linked to the Kremlin.
Wagner mercenaries have been tied to a string of hotspots around the world, notably conflicts in Ukraine, in several African nations and in the Middle East.
The Kremlin came under scrutiny earlier this year from France and Germany over a reported deal to send 1,000 fighters from Wagner to conflict-ridden Mali.
The EU last year blacklisted Wagner's alleged financier Yevgeny Prigozhin, a longtime crony of Russian President Vladimir Putin, over the group's involvement in Libya.
Iranian threats
The Middle East, meanwhile, remains an area of flux for the Pentagon after the long wars in Iraq and Afghanistan, noted the review.
Global responsibilities "require us to make continuous changes to our Middle East posture, but we always have the capability to rapidly deploy forces to the region based on the threat environment", Karlin said.
In the Middle East, the review assessed the Pentagon's approach toward Iran and the evolving counter-terrorism requirements following the end of operations in Afghanistan, according to the statement.
In Iraq and Syria, the Pentagon will continue to support the campaign against the "Islamic State of Iraq and Syria" (ISIS) and building the capacity of partner forces, it added.
Iran's nuclear and destabilising activities are of particular concern.
The International Atomic Energy Agency (IAEA) on November 17 estimated Iran's stockpile of highly enriched uranium at 2,489.7kg -- many times in excess of the limit laid down in the 2015 nuclear agreement.
The total amount now includes 113.8kg enriched to 20% up from 84.3kg in September, and 17.7kg enriched up to 60%, up from 10kg, the report said.
In a separate report also issued November 17, the IAEA said there had been virtually no progress in resolving several questions the agency has about the previous presence of nuclear material at undeclared sites in the country.
Over the past decade, the IRGC has allocated a large percentage of its forces and resources towards regional intervention, establishing its presence in Syria, Lebanon, Iraq and Yemen.
Forensic evidence has tied Iran to a host of attacks in the region carried out via unmanned aerial vehicles (UAVs), commonly known as drones, even though Iran adopted this modus operandi in part to hide its hand.