Beijing has pressured foreign governments to deport hundreds of Taiwanese nationals to China, a new report found, in what human rights activists describe as a "hunt for Taiwanese".
Various countries extradited more than 600 Taiwanese to China between 2016 and 2019 in an effort to "undermine Taiwanese sovereignty", rights group Safeguard Defenders said in a report November 30.
China claims self-ruled democratic Taiwan as its territory, to be retaken one day by force if necessary, and has stepped up efforts in recent years to diplomatically isolate it.
The Chinese Communist Party (CCP) has never ruled Taiwan, even though the CCP considers it a renegade province.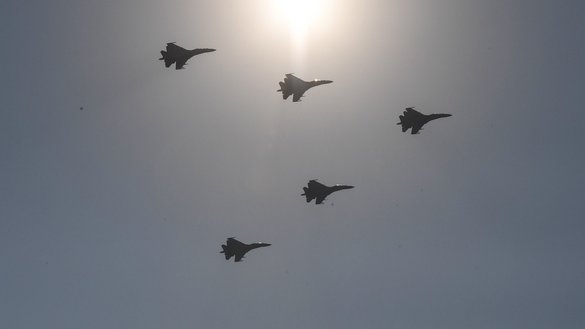 From 1895 to 1945, it was a Japanese colony. In 1945, the Chinese Nationalist (KMT) government took control of Taiwan after Japan surrendered in World War II. In 1949, the KMT fled to the island after losing the Chinese civil war.
A 2009 agreement, ignored by Beijing
China and Taiwan agreed in 2009 that police from both sides would return overseas suspects to their respective territories.
But Beijing began to increasingly ignore this agreement after the election of Taiwanese President Tsai Ing-wen in 2016, according to the NGO's report.
As Tsai has tried to assert the island's distinct identity, China has more aggressively professed its claim over Taiwan.
Safeguard Defenders said Beijing had pressured governments -- including those of the Philippines and Cambodia -- to extradite hundreds of Taiwanese mostly accused of telecom fraud to China, despite efforts by the Taiwanese government and the United Nations (UN) Human Rights Council to prevent the forced transfers.
Those extradited to China faced "arbitrary detention, torture, enforced disappearances, and forced televised confessions", Safeguard Defenders said.
Spain accounted for the greatest number of known forced transfer cases -- more than 200 -- despite being bound by the European Convention on Human Rights, according to the report.
A Spanish court ruled in 2017 that a group of 121 Chinese and Taiwanese fraud suspects could be extradited to China, pointing to Beijing's widely followed "One-China policy" -- in which Taiwan is diplomatically considered a part of China.
In a contrasting European ruling, last year the Czech Supreme Court rejected China's extradition request for eight Taiwan nationals, citing the risk of torture and Beijing's poor rights record.
In response to the report, Taiwan's government last week said that China "does not have jurisdiction" over Taiwanese citizens implicated in criminal cases abroad, who it said should be returned to Taiwan to face trial.
Around the world and inside China itself, the regime's track record is one of disregard for international laws and norms.
The most glaring state-sanctioned abuse is Beijing's oppression of Muslim minorities in Xinjiang. It has imprisoned more than one million Uighurs and other Turkic Muslims -- including ethnic Kazakhs -- in as many as 400 facilities that include "political education" camps, pretrial detention centres and prisons as part of its crackdown on Muslims in Xinjiang.
Increasing Chinese threats
Chinese warplanes made 159 incursions into Taiwan's air defence identification zone (ADIZ) in November, according to AFP's database, the second-highest month on record as Beijing continues to pile military pressure on the democratic island.
Taiwan lives under the constant threat of invasion by China, which has vowed to seize it one day, by force if necessary.
Beijing has ramped up pressure on Taiwan since Tsai's first election in 2016, as she rejects its stance that the island is part of "one China". She was re-elected in 2020.
Over the past 14 months, the sabre-rattling has reached new peaks after Beijing began sending an increasing number of warplanes into Taiwan's ADIZ, which Chinese military aircraft had previously largely avoided.
The escalatory moves have heightened fears among Western allies like the United States and Japan that China could order an invasion of Taiwan, even if they consider it unlikely for now.