KHUJAND - English lessons, computer technology lessons, internet access and a digital library -- these are just some of the resources that captivate the youth who visit American Spaces in Tajikistan every day.
All these services are provided free of charge.
Today 650 American Spaces operate in 150 countries across the world, according to the US Embassy in Tajikistan.
"Our American Spaces in Tajikistan are a valuable forum where people can freely meet, share ideas, make new connections, and learn new skills and English," US Ambassador to Tajikistan John Mark Pommersheim said during meetings with youth and journalists in Sughd province October 22.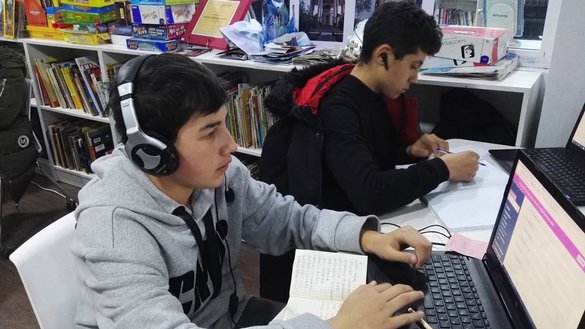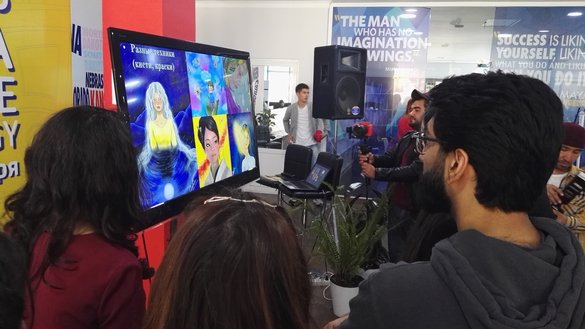 The Spaces' programmes are free and "aimed at developing critical thinking skills among young people, providing them with the opportunity to realise their abilities and teaching them computer technologies so that they can better perceive the outside world by connecting to global networks", he said.
The US embassy opened the first American Space in Tajikistan in Kulyab in 2005, and later in Dushanbe and Khujand, as well as Bokhtar, Khorog, Gharm, Isfara, and Panjakent.
"From small corners where a couple dozen young people who knew about US programmes would gather, in a decade and a half, they have become large creative and cultural centres with a good environment and broad opportunities," said Soro Marodalieva, a spokeswoman for the embassy.
Hundreds of schoolchildren and university students every day visit the spaces, she added.
American Spaces host up to 7,000 events annually, attracting up to 50,000 attendees, according to the embassy.
They also inform the public about US government programmes available in Central Asian countries, including Tajikistan.
"One of the purposes of our Space is to promptly communicate information to those wishing to take part in US programmes and, if necessary, to explain and teach how to correctly fill out applications for competitions," said Farangis Shokirova, co-ordinator of the American Space in Khujand.
"We have exchange programmes for schoolchildren, studies at US universities, internships for graduate students, English lessons, regional and international forums, exhibitions, meetings, scholarships, entrepreneurial support and much more," she said.
The US programmes are designed to cultivate relationships that foster "personal, professional, and institutional ties between private citizens and organisations in the United States and abroad", according to the US embassy in Dushanbe.
The more than 20 programmes enable schoolchildren and university students to receive an education in the United States, and for scholars and professionals to conduct research.
The exchange programmes provide opportunities to learn from US experience not only in education but also in the arts, filmmaking, journalism, engineering and technology.
They include reporting tours and study trips for journalists, the Teaching Excellence and Achievement (TEA) Programme, Foreign Language Teaching Assistant (FLTA) Programme, Study of the US Institutes (SUSI) programmes for scholars and schoolteachers and the OneBeat music exchange programme for musicians and other performers.
During the past 15 years, about 4,000 Tajiks have received education in the United States, and more than 3,400 Tajiks have participated in US government-sponsored study tours and educational exchange programmes, according to the embassy.
"The United States is doing much to develop education, literature, art and journalism in Tajikistan and to realise young people's talents and abilities," said Shokirova.
Key English programmes
Teaching English is among the principal areas covered by the US programmes.
Knowledge of English today is essential not only for schoolchildren and undergraduates but also for graduate students, scholars, teachers, entrepreneurs and military personnel.
US programmes provide training courses for each of these groups, according to Marodalieva, the embassy spokeswoman, adding that the US government covers the full cost of tuition and travel expenses.
"The number of people who want to speak English grows every year," noted Shokirova.
"This language opens up new opportunities for schoolchildren and university students both in continuing their studies at prestigious foreign universities and in finding jobs," she said.
English is the language of global communication, Kironshokh Sharifzoda, a senior lecturer at Tajik National University, told Caravanserai.
"And that's why priorities in Tajik society are gradually changing. To get a good education, find a good job and make a name for yourself, you need to know English," he said.
Despite the need to improve English language teaching in the country's schools and universities, the country's curriculum has changed only slightly.
In Tajikistan's public schools, teaching English is only on par with teaching Russian, which begins from the second grade, according to the Ministry of Education.
"The number of hours devoted to teaching English is just two a week, which is clearly not enough," Svetlana Baltina, a teacher from Khujand, told Caravanserai. "As a result, parents most often have to hire tutors for their children."
However, not all families can afford a tutor, while the US educational programmes are free.
"That means children from poor families can also participate," Rakhbar Najibova, director of the NGO Gurdofarid, told Caravanserai. She partners with US projects in Sughd province.
"By creating favourable conditions for mingling, the Spaces themselves contribute significantly to education, since the environment is an integral part of the teaching methodology for any language," Najibova said.
Discovering talents
The American Spaces have worked to foster and recognise youth talent.
Timur Sharipov, Malika Achilova, Bahodur Ishonkhodzhayev, and Sheroz Dzhuraev took part in Space Apps Challenge 2021, a hackathon focusing on space and science held by the US National Aeronautics and Space Administration (NASA).
The Tajik team, dubbed Oogway Comics, was organised by the American Space Dushanbe and reached the semi-finals.
The team selected the task of creating "artfully illuminated asteroids" and produced a comic book and mobile app to educate youth about NASA's Lucy Mission for exploring asteroids, according to the US embassy in Dushanbe.
The American Spaces have backed other high-achieving Tajik youth.
Jomi Toirzoda, a volunteer at American Space Kulyab, later became a professional debater. He founded ProDebates, a podcast in Central Asia.
Lutfullo Tagoyev, who started out as a volunteer at American Space Dushanbe and later became the co-ordinator of Maker Space creative workshops, would eventually create the first e-learning platform in Tajikistan.
In November, the art of Sevara Kodirova, a student in the Tajik Technological University's Programming Department from Jabbor Rasulov district, Sughd province, was featured at the Go Viral Festival at American Space Khujand.
"At the American Space, I met young people who, like me, love to draw. Professional artists go there as well. This means more opportunities to demonstrate your abilities," Kodirova told Caravanserai.