ALMATY -- Gazprom's newly obtained stake in Russia's largest social media network is the latest sign of an evolving information "Iron Curtain", say analysts.
Through a series of transactions and the reshuffling of executives, insiders close to Russian President Vladimir Putin now control the popular social network VKontakte.
VKontakte is Russia's equivalent of Facebook and says it has an audience of 97 million users.
USM, the holding company of Russian billionaire Alisher Usmanov, sold its shares in a media conglomerate that owns VKontakte to a company controlled by energy giant Gazprom, a statement said December 2.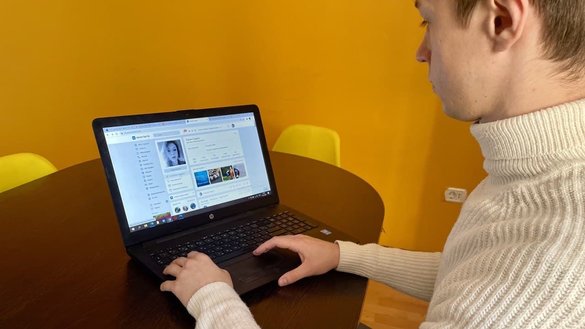 Insurance company Sogaz, the Gazprom-controlled firm, said in the statement that it had purchased a 45% share in MF Technologies, the holding company that controls VK Group.
VK Group includes the social networks VKontakte and Odnoklassniki and other online services.
"The cost of the transaction is not disclosed," USM said in a separate statement.
Gazprombank, Gazprom's financial arm, increased its own stake in MF Technologies from 36% to 45% before transferring control of the shares to Gazprom Media on December 3, the Moscow Times reported.
After those transactions, Gazprom, through subsidiaries and affiliated companies, controls more than 50% of the voting rights in VK Group.
In recent years, the Russian government has used the pretext of protecting minors and fighting extremism to control the Russian segment of the web and began developing a so-called sovereign internet.
Gazprom appears to be at the forefront of bringing the Russian web under government control and shutting out opposition voices.
Gazprom control
Usmanov was already a close ally of Putin, but the change puts control of VK directly in the hands of other Putin insiders, according to Current Time.
Gazprom Media is headed by Alexander Zharov, the former chief of Roskomnadzor, the Russian censorship agency.
Sogaz's shareholders include Yuri Kovalchuk, a personal friend of Putin who is said to strongly influence his ideological positions, and Mikhail Shelomov, Putin's nephew.
Meanwhile, the new CEO of VK Group is now expected to be Vladimir Kiriyenko, the son of Sergey Kiriyenko, Putin's first deputy chief of staff.
The simultaneous transfer of control of VKontakte and Odnoklassniki to Gazprom Media could have an impact on their content policies, Rustam Niyazov, an Almaty-based tech blogger, told Caravanserai.
"Right now, VKontakte users can circulate petitions ... and solicit signatures for them."
"With the purchase of VKontakte, it's completely plausible to expect stepped-up moderation and the purging of posts that violate new rules," he predicted.
Russia is looking to China as an example of state censorship, according to Kuanysh Satayev, an activist in Shymkent.
Beijing's "Great Firewall" blocks access to foreign websites in China -- including Facebook, Twitter, Instagram, Google, Yahoo, YouTube, WhatsApp, Telegram and many others.
"For the past 20 years China has been working on isolating Chinese citizens from web resources the Communist Party considers to be destructive," he said.
"Russia is learning from China's example: it has created the YouTube counterpart Rutube; instead of TikTok, there's Yappy, and now it controls all the social networks," said Satayev.
"It's doing everything to re-create an information Iron Curtain, just like during Soviet times," Satayev said.
Propaganda
Gazprom Media -- even before gaining control of VKontakte -- has long had a group of managers tasked with conducting mass propaganda campaigns, according to Shavkat Sabirov of Almaty, president of the Internet Association of Kazakhstan.
"They hire people and pay them lots of money to spread propaganda that appalls the world," Sabirov said.
VKontakte started going downhill when its founder, Pavel Durov, sold his shares to Usmanov in April 2014, said Dmitry Boiko, a project manager at an IT company in Almaty.
"After the FSB [Federal Security Service] forced Durov to leave the business and Usmanov came on board, users started getting charged for music on VKontakte and they started profiting off us," he said.
"But at least the Putinists weren't brainwashing us -- you could communicate on public pages without worrying. Now that Gazprom has turned its attention to VKontakte, the rules will quickly become stricter," Boiko said.
"I don't know if I'll stay on it for long. I'm pessimistic," he added.
Usmanov's departure speaks to the Russian government's intensifying control of social networks, said Tashkent programmer Sardor Seitov.
Society can expect a slowing of technological and innovative development of the web, since USM, unlike Gazprom Media, had a reputation for skillful management of tech firms, he said.
"I think that agencies with personal ties to the Russian president will control social networks jointly with Gazprom Media," said Seitov.
"For Gazprom Media, the technological part of [VKontakte] is less important. Instead, it sees a media platform under the government's control."