In the once empty streets of the Syrian city of Palmyra, a rapidly expanding Russian settlement has emerged, populated and controlled by mercenaries from the Wagner Group and its affiliates, Syrian activists said.
Most of modern Palmyra's 50,000 residents were displaced by the "Islamic State of Iraq and Syria" (ISIS), and were eventually replaced by Syrian regime-affiliated militiamen, including those from the Wagner Group.
Neglected and in ruins, Palmyra became a "ghost town" of sorts but is now witnessing a burst of activity, with Russian mercenaries, phosphate miners and oil and gas field workers flooding in, in pursuit of influence and revenue.
"Wagner elements are making new moves in the area," media activist Ammar Saleh told Al-Mashareq. "These movements were observed at Palmyra military airport and parts of the city of Palmyra."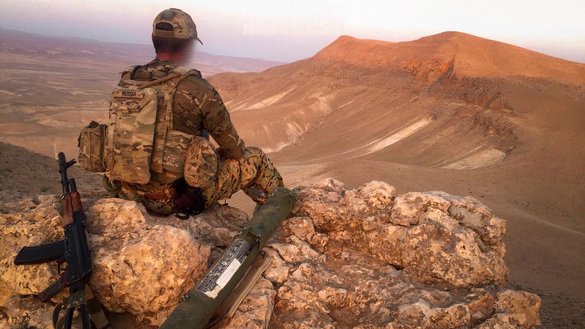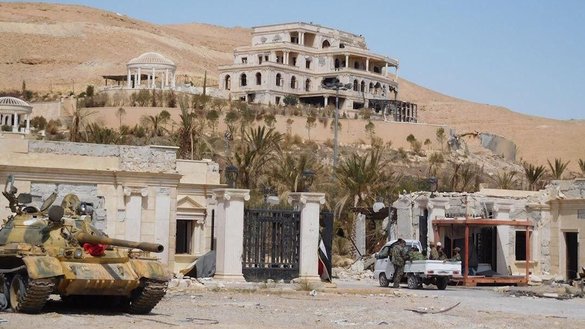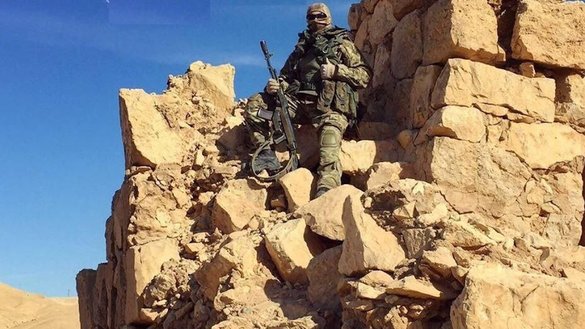 Local residents and activists said they have observed at least 100 new members of the mercenary group in the area, along with aircraft and armoured vehicles.
Russian military aircraft that have landed and remained at the airport include Sukhoi Su-24 fighter jets and Ka-226 and Mi-35M helicopters, Saleh said.
Residents have noticed unusual activity at Palmyra airport and in Palmyra city, where Wagner Group members are concentrated at the northern entrance, which is adjacent to the company's "security square", he added.
This is reflective of Wagner's current focus and priorities, he said, noting that the group's personnel in Palmyra are primarily protecting Russia's economic interests in the area.
Protecting profits
The "security square" in Palmyra, which is controlled by Wagner mercenaries and Russian military police, houses Wagner's military headquarters and barracks, Syrian journalist Mohammed al-Abdullah told Al-Mashareq.
Oil and gas consultants also live there, along with technicians from Evro Polis -- a Russian company owned by Yevgeny Prigozhin, an ally of Russian President Vladimir Putin who also owns Wagner.
Evro Polis has secured long-term contracts with the Syrian regime that grant it 25% of the oil and gas revenue generated in the areas under Wagner's control, al-Abdullah said.
To maximise its profits, the company added special provisions related to operations and re-start of operations performed by its technicians, he said.
The Wagner Group provides technicians with protection at their residences and in their daily travel to and from the gas and oil fields, he said. It also provides "protection" for the fields themselves.
According to al-Abdullah, Wagner mercenaries maintain security in the vicinity of a chemical fertiliser plant on the outskirts of Homs, and around a large number of the phosphate mines in Palmyra.
'Totally Russian area'
Deir Ezzor activist Jamil al-Abed said the area around Wagner's security square is expanding "and has become a totally Russian area".
"People who enter the area hear virtually no language other than Russian," he said, and about three months ago, Wagner Group personnel began reducing the number of Syrians permitted to enter their area in Palmyra.
Most individuals who are allowed to enter the area are provision suppliers, people who work with the Russians at civilian facilities, and drivers, al-Abed said.
Syrians working for the Wagner Group and some of the groups affiliated with it, especially the so-called "ISIS Hunters", benefit from a high level of security.
They are housed in the outskirts of the company's security square and assigned with securing the area, mainly the eastern desert (Badiya) region.
There have been persistent rumours -- purportedly based on leaked documents -- that Wagner employees are paid significantly more than their Syrian affiliates, al-Abed said.
These reports have sparked a wave of unrest, he said, fuelled by the revelation of other scandals involving Wagner Group elements, such as the theft of antiquities from the Palmyra area.