ALMATY -- As the Kremlin becomes increasingly shrill in alleging that the West and the North Atlantic Treaty Organisation (NATO) are trying to encircle it, Central Asian countries are faced with the need to band together.
Moscow earlier this month presented sweeping security demands, saying NATO must not admit new members and seeking to bar the United States from establishing new bases in former Soviet republics.
Russia's Foreign Ministry on December 17 published a prepared draft agreement between Russia and the NATO military alliance on "mutual" security guarantees.
The agreements include that NATO members "commit themselves to refrain from any further enlargement ... including the accession of Ukraine as well as other States".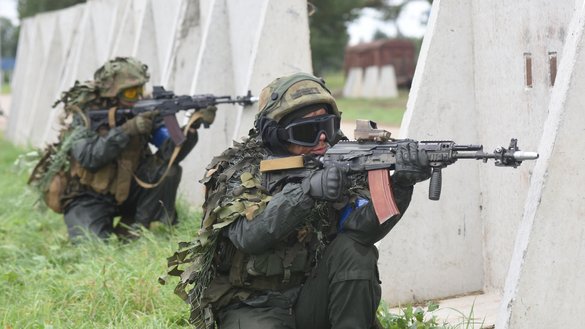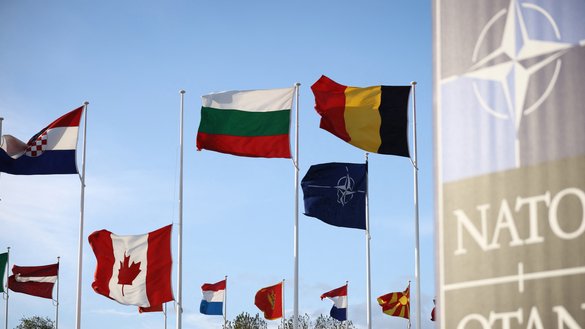 NATO members also "shall not conduct any military activity on the territory of Ukraine as well as other States in the [sic] Eastern Europe, in the South Caucasus and in Central Asia", the document states.
No country yet has signed the draft. NATO members have shown no sign of agreeing to Russia's demands.
Talks with Russia will take place on January 10, a spokesperson for the US National Security Council told AFP late Monday (December 27).
Russian Deputy Foreign Minister Sergey Ryabkov on Tuesday confirmed the date and said the talks will take place in Geneva, where US President Joe Biden and Russian leader Vladimir Putin met for their first summit in June.
But Russia's ultimatum to the West, which directly affects Central Asian countries and which Moscow issued without co-ordinating with regional governments, is a wake-up call for the region's sovereignty, analysts say.
The focus on Ukraine
The Kremlin's main objective is to block NATO from expanding eastward and Ukraine from joining the alliance. If the United States and NATO signed the proposed security agreements, they would officially disavow such plans for expansion, much to Moscow's satisfaction.
As leverage, Moscow is actively deploying military equipment and massing troops near the borders with Ukraine.
The number of Russian troops along Ukraine's borders has increased from about 93,000 troops in October to 104,000 now, according to Ukrainian estimates.
Russia December 25 announced that more than 10,000 troops had finished month-long drills near Ukraine.
Drills for Southern Military District forces took place in a host of southern regions including Rostov, Krasnodar and Crimea, the last of which Moscow seized from Ukraine in 2014, the Defence Ministry said in a statement.
But the drills also occurred further afield, including in Stavropol, Astrakhan, the North Caucasus and even in Armenia.
Western countries have accused Russia of preparing for a possible winter invasion of Ukraine.
The Kremlin insists it is not planning a large-scale attack.
Meanwhile, Ukraine has been training civilians on how to defend their country in the event of a Russian invasion.
Dozens of civilians have been joining Ukraine's army reserves in recent months.
The Ukrainian reservists -- who have ballooned to about 100,000 members -- have been learning "how to handle weapons, how to behave in a battle environment, how to defend cities", Daniil Larin, a 19-year-old university student, told AFP during a short break from recent exercises.
AFP did not report the previous size of the reserve force.
"I believe that every person in this country should know what to do... if the enemy invades their country," said Larin.
Larin was one of about 50 Ukrainian civilians who drove from Kyiv to an abandoned Soviet-era asphalt plant on a recent weekend afternoon to train.
Ukraine's army, which totals 215,000 soldiers, has been battling a Moscow-backed insurgency in two breakaway regions since 2014 in a long-simmering conflict that has claimed more than 13,000 lives.
Meddling in Russia's 'backyard'
Amid the commotion surrounding Ukraine, Russia has decided to "secure" not just its western borders but also Central Asia, which it traditionally views as its backyard.
The passage in the Kremlin's proposed agreement that would bar NATO from exercises in "Eastern Europe, the South Caucasus and Central Asia" strikes directly at all those countries' sovereignty.
Central Asian governments have given no official reaction, but they are most likely trying to formulate their positions since some have on-going military co-operation with the United States.
For example, officials from the Kazakh Defence Ministry and US Defence Department in Nur-Sultan December 7 discussed a plan for military co-operation for 2022.
The Kazakh Defence Ministry also stated that it was preparing to sign the next five-year co-operation plan between the two countries, covering 2023–2027.
Moscow's recent demand was a "surprise" to Nur-Sultan, analysts say.
Moscow wants to make sure the United States is present in Central Asia only with Russia's consent, said Rafael Sattarov, an Uzbek political analyst who lives in the United States.
Such a situation enable Russia to "easily deny the states in the region the right to sovereignty", he said.
A wake-up call
From the standpoint of independence, security and geopolitical freedom, Moscow issued the ultimatum not only to the Western countries but also to the post-Soviet republics, said Kamoliddin Rabbimov, a political analyst in Tashkent.
"This plan of Moscow's must greatly worry the Central Asian countries, but the governments aren't going to officially object to Moscow," he said. "No one wants to provoke Moscow to take aggressive action."
Central Asian countries have reason to be on guard because based on the draft agreement Russia could in the future lay the "legal and propaganda groundwork for possible aggressive acts in the post-Soviet region", he said.
"Moscow could then say that it proposed peace and stability but that they [Western countries] spurned the proposal and want to surround [Russia] through NATO, with military bases and military co-operation, so we were forced to react," Rabbimov said.
In addition to political and diplomatic lobbying, the proposed agreement promotes Russia's strategic economic interests, said Talgat Ismagambetov, a political analyst and senior researcher at the Institute for Philosophy, Political Science and Religion Studies in Almaty.
"Russia wants Central Asia to be inside the Russian military-industrial monopoly and to purchase only Russian weapons," he said. "And that's a massive amount of money."
Russia did not clear its demands related to Central Asia in advance with those countries' governments, and this lack of consideration is a wake-up call for the entire region, Ismagambetov said.
"The Central Asian countries are beginning to grasp that, when stand apart from each other, you won't be able to do anything," he said. "They need to integrate and formulate a common foreign policy in order to protect their sovereignty."
The countries of Central Asia and the Caucasus need to remain regions of stability and security that retain their sovereignty and territorial integrity, said Edil Osmonbetov of Bishkek, a scholar of politics, international relations and conflict resolution.
"Central Asia needs to ... diversify its foreign policy in order to avoid negative fallout from global geopolitical tensions," he said.
[Rustam Temirov from Tashkent contributed to this report.]