The violent protests that erupted in Kazakhstan this week are sending a message to neighbouring Russia, where President Vladimir Putin continues to face a population deeply discontent with the country's economy and future.
Long seen as one the most stable of the ex-Soviet republics of Central Asia, energy-rich Kazakhstan is facing its biggest crisis in decades after days of protests over rising fuel prices escalated into widespread unrest.
Military forces had deployed en masse in the streets of Almaty and were firing live rounds, according to footage shown Thursday (January 6) on Russian television.
Videos on social media showed pillaged shops and burned buildings in Almaty, automatic gunfire in the streets and residents screaming in fear.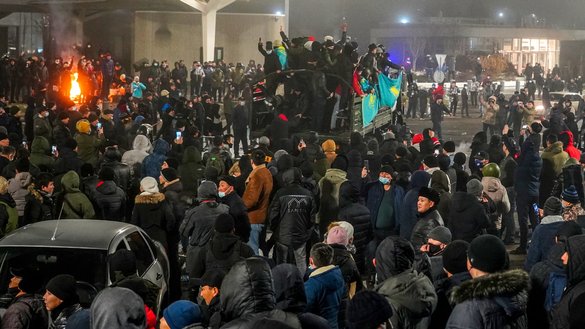 Officials said more than 1,000 people had been wounded in the unrest, with nearly 400 hospitalised and 62 in intensive care.
As of midday Thursday, more than 350 security officers had been wounded and 13 killed, officials told local media.
Warning for Putin
According to Vladislav Inozemtsev, an analyst of post-Soviet affairs and special adviser to Russian Media Studies Project, the situation in Kazakhstan is a warning for the Kremlin: under a surface appearance of stability, a pool of discontent might be brewing that could explode at any moment.
"In Russia, the government must realise that 10 years without economic growth cannot make the population happy," said Inozemtsev, according to The New York Times. "No geopolitical adventures can rescue it if the Kremlin doesn't offer a mechanism that would increase the standards of living."
It was only a year ago when nationwide demonstrations hit the streets of Russia, where many thousands of protesters were detained in more than 120 cities.
Tens of thousands of Russians protested in Moscow and in St. Petersburg, according to estimates from AFP journalists at the time, with rallies also taking place in the Czech Republic, Estonia, France, Finland, Lithuania, the Netherlands, Spain and Sweden.
Many at the protests expressed outrage at the findings of Putin foe Alexei Navalny's investigation into an opulent Black Sea property allegedly owned by Putin and purchased "with the largest bribe ever".
Leonid Gozman, a Russian political scientist, said the Kremlin is frightened by what is happening in Kazakhstan, and will in turn tighten the screws and crack down domestically.
"This means that our [Russian] soldiers there [in Kazakhstan] will be defending not their homeland or its security; instead, in the best case, they'll be defending the Russian regime that exists today. It's not the same thing," Gozman said.
Residents of Russia "are tired of living in poverty when Russia is a rich country," said Zebo Tajibayeva, editor-in-chief of the Your.tj news site based in Dushanbe.
Residents of "the megalopolises like Moscow and St. Petersburg live in relative prosperity, while most of the population lives no better than we do in Tajikistan", she told Caravanserai in January 2021.
"Russia even now has a hardy system of governance that rests on the world-view of the past," said Guljan Yergaliyeva, a journalist and political activist in Almaty, also in January 2021. "However, today the younger generation is confronting it."
Growing troubles in ex-Soviet realm
In the summer of 2020, violent protests hit Belarus, a close ally of Putin.
It was only through the use of violence that the regime of President Alyaksandr Lukashenka survived -- with the help of Putin.
The protest in Belarus, just like with Kazakhstan, came at an awkward time for the Kremlin with Putin's own popularity sharply eroded, as he faces a resolute and growing level of dissatisfaction among his once loyal political base.
Mass protests and arrests have been commonplace in Moscow and other parts of the country, with unprecedented protests occurring in eastern Russia in 2020.
The current events also must be seen within the growing tensions surrounding Ukraine, where Putin has amassed tens of thousands of troops and has threatened to invade.