TASHKENT -- Uzbeks are growing more and more interested in learning English, a new trend that some analysts say is a sign of Uzbekistan's desire to be closer to the United States and Western Europe.
The graduates of any Uzbek educational institution up to the university level must be proficient in at least two foreign languages, President Shavkat Mirziyoyev announced last May.
The requirement stemmed from Mirziyoyev's belief that the country can become competitive on the global market.
Starting in 2022, all government agencies will require new hires to know at least one foreign language. The requirement also applies to current workers in government agencies who want a promotion.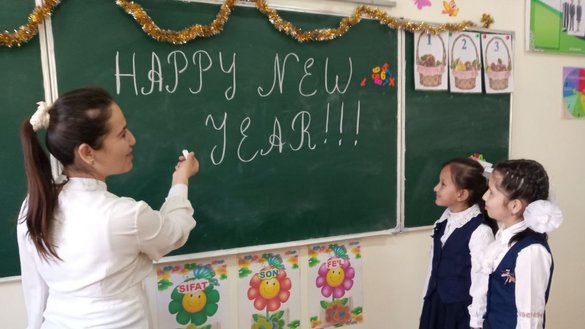 Mirziyoyev last May created the Agency for Promoting Foreign Language Learning, which is under the Cabinet of Ministers and is tasked with implementing teaching methods and developing effective programmes and textbooks at all stages of education.
As part of the effort, the government has selected 10 languages expected to raise the competitiveness of Uzbek citizens and of the country more generally.
English is at the top of the list, followed by Russian, German, French, Chinese, Korean, Japanese, Turkish, Arabic and Farsi.
Uzbek is the official language of Uzbekistan, while Russian is the second most widely spoken language, especially in the capital and large cities.
English, however, is growing in popularity among Uzbek youth.
While the country has no public schools with a purely English curriculum, English language courses are popular -- but they do not come cheap.
For example, in Tashkent, one learning centre charges between $180 and $200 (1.9 million UZS to 2.2 million UZS) for a three-month course.
In contrast, the minimum monthly wage in Uzbekistan is just 822,000 UZS, about $80.
Dilnoza Makhmudova, 32, an English teacher for grades one through eight in Kashkadarya province, says that there is huge interest in studying English.
"I'm proud that some of my students were able to earn IELTS certificates," she said, referring to an international standardised test of English language proficiency for non-native English language speakers.
"To improve our teaching, we need new foreign methods, textbooks and new educational technologies. We need help from American and British teachers," Makhmudova said.
Makhmudova, who herself dreams of spending time in the United States to improve her English and share best practices with her foreign counterparts, considers it important to create a permanent system to improve the qualifications of English teachers in Uzbekistan.
"We need to improve training programmes and retrain educators so we don't repeat the situation we were in during the Soviet years," said Bakhrom Rajabov, a political economist in Tashkent.
"We studied English but had a hard time using it abroad," Rajabov told Caravanserai, referring to the low quality of English instruction in those years.
Meeting English language demand
For its part, the United States has recognised the increased demand for English instruction and is working to improve co-operation in education.
US Ambassador Daniel Rosenblum and Agency for Presidential Educational Institutions of Uzbekistan Director Hilola Umarova last November 30 signed a co-operation agreement on education and hosting of American Corners in Creative Schools throughout Uzbekistan.
The officials inked the memorandum of understanding during the New Uzbekistan Education International Education Forum in Tashkent.
Today 650 American Spaces -- which provide English lessons, computer technology lessons, internet access and digital libraries -- operate in 150 countries across the world.
The US embassy in Uzbekistan opened one such centre last March in Karshi. Plans are in place to set up six more in the country, with more than $860,000 (9.3 billion UZS) earmarked for the initiative.
The United States is also helping Uzbek teachers and students by providing textbooks for schools.
In early November, officials from the US Agency for International Development (USAID) donated 385,000 textbooks and teacher guides to 208 schools in two regions in Uzbekistan.
The textbooks, which were developed by Cambridge University Press and are valued at $10 million (108.4 billion UZS), will support the teaching of information and communications technology (ICT) for grades 5 to 11 and English as a foreign language for grades 1 to 11.
USAID is also training and mentoring more than 1,000 English and ICT teachers on using the new textbooks and teacher guides and on mastering learner-centred teaching strategies.
Angering Moscow
The Strategic Culture Foundation, a Russian think-tank largely considered to be an arm of Russian state interests, slammed the opening of American Corners in Uzbekistan
"It's a safe bet that these American centres in Asia will not be lacking for patrons -- young people will happily spend time in such a 'corner' equipped with the latest technology, especially in poor Asian countries," the foundation sneered in an article published last December 4.
Young people will "at the same time internalise 'Western' values, fleshing out the ranks of the pro-American population of the post-Soviet republics", according to the foundation's analysts.
"These ranks will then develop into future Maidan activists -- all on the same American grants," said the article, referring to the anti-Kremlin movement in Ukraine.
"English will give Uzbeks the opportunity to break free from the captivity of Russian culture, the Russian mentality and the values of the Russian world," Pulat Akhunov, an Uzbek politician living in Sweden, told Caravanserai.
"In-depth study of English will open doors to the Western mentality and its values," he said.
"It will help get closer to the United States and Western Europe... it will bring liberalism into Uzbek society and change our patriarchal society, which in turn will help democratise society."
Rajabov considers it crucial to continue encouraging academic exchanges and multilingualism within the country while preserving the national language.
The popularity of foreign languages should not contradict valuing the Uzbek language, he said, arguing that mastering different languages will be understood and accepted as a definite competitive advantage, not as a threat to national identity.