TASHKENT -- Observers in Uzbekistan are wary of the recent deployment of Collective Security Treaty Organisation (CSTO) troops to Kazakhstan, warning that the move may threaten the sovereignty and independence of their northern neighbour.
Kazakhstan has been left reeling in the wake of unprecedented unrest that erupted earlier in January over a fuel price hike in the west of the country.
Both Kazakhstan and Russia have framed the unrest that left dozens dead and almost 10,000 people arrested as an attempted coup d'etat by foreign "terrorists" but have provided little supporting evidence.
Late on January 5, President Kassym-Jomart Tokayev appealed to the CSTO for help.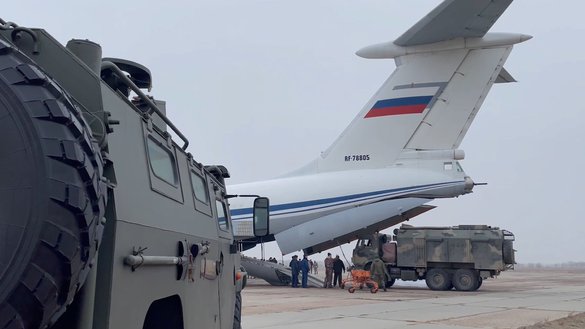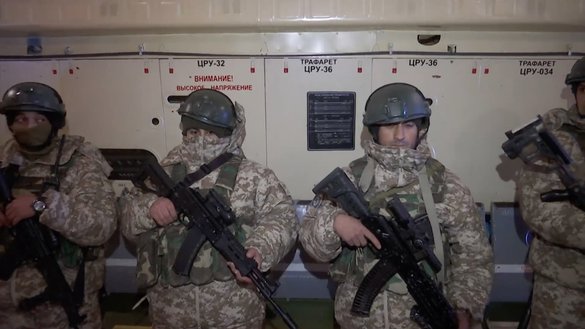 Led by Russia, a CSTO mission of more than 2,000 troops was deployed at the peak of the crisis, after armed clashes between the government's foes and security forces and a looting spree trashed parts of the largest city, Almaty.
Over the next few days, troops arrived from the other CSTO members -- Belarus, Tajikistan, Armenia and later, Kyrgyzstan.
The decision was a first for the CSTO, often touted by Moscow as a NATO equivalent but previously reluctant to interfere in unrest in Central Asia, a region with long historical ties to Russia.
It previously rejected at least two requests for intervention by members: from Kyrgyzstan in 2010 during a revolution and ethnic unrest and from Armenia in 2021 during border skirmishes with Azerbaijan, according to EurasiaNet.
The troops began withdrawing from Kazakhstan on Thursday (January 13), but concern has mounted that Moscow could leverage the mission to entrench its influence in Kazakhstan and the greater Central Asian region.
"Once Russians are in your house, it's sometimes very difficult to get them to leave," US Secretary of State Antony Blinken warned January 7.
Concerns in Uzbekistan
Kazakhstan's 2,330km-long border with Uzbekistan and several other factors have Uzbek analysts concerned over the recent unrest.
Almost 1 million ethnic Kazakhs live in Uzbekistan, while more than 600,000 ethnic Uzbeks live in Kazakhstan.
Kazakhstan is Uzbekistan's third-largest trading partner in terms of volume, after China and Russia.
Uzbek President Shavkat Mirziyoyev held phone talks with Tokayev Monday to discuss the situation in Kazakhstan and actions undertaken by the government to normalise the situation, according to Mirziyoyev's press office.
The leaders expressed confidence in the speedy restoration of peace and stability in Kazakhstan and exchanged views about their countries' co-operation and upcoming Uzbek-Kazakh events.
As for its relations with the CSTO, Uzbekistan has twice joined and left the organisation, most recently in 2012.
Appalled
Many Uzbeks were appalled by the deployment.
"There was no need to send in the CSTO troops," Tashkent-based political analyst Anvar Nazirov told Caravanserai.
"There is no international aggression or encroachment on sovereignty," he said. "This conflict is purely domestic."
Anora Sodikova, a journalist from Tashkent, also disapproved of Tokayev's call for Russia to intervene.
"I shuddered when I heard that CSTO forces had entered Kazakhstan," she said. "To me it felt like they had marched into Uzbekistan."
"I see the deployment of CSTO troops as a reflection of the weakness of the Kazakh authorities," she added. "It will make Kazakhstan more dependent on Russia."
"The CSTO turned out to be the only military entity that fights with itself," Igor Chubais, a Russian philosopher and sociologist, wrote on his blog Sunday.
"It has turned into the Eurasian enforcer," he said.
An end to sovereignty
The CSTO deployment will have long lasting effects on Kazakhstan, analysts say.
The violent crackdown could lead the Kazakh leadership and elites into a process of "Belarusification", according to Rafael Sattarov, an Uzbek political analyst, referring to Belarus's unflinching adherence to Russian President Vladimir Putin's wishes.
The Kremlin helped prop up Alyaksandr Lukashenka's regime in Belarus after demonstrators denounced election fraud in 2020.
But Moscow's "generosity" often comes at a price.
The Kremlin likely now will make several demands of Kazakhstan in exchange for preventing the government's ouster, Sattarov said.
"First, Moscow will insist that Kazakhstan (a) leave NATO's Partnership for Peace, (b) minimise its military co-operation with the United States and its participation in the C5+1 discussion group, and (c) gradually stop singing the praises of multi-pronged foreign policy," he said.
"For the Kremlin, it's vital that the other countries in the region also draw conclusions as soon as possible and brace for new conditions," he said.
"The presence of CSTO forces in Kazakhstan spells the end of its sovereignty," predicted Farhad Tolipov, a political analyst in Tashkent.
"There aren't thousands or millions of terrorists in any country," he said. "If there are so many terrorists in the country, what makes Kazakhstan different from Afghanistan?"
"Terrorists aren't chanting 'Shal ket!' [Old man out!]," Tolipov wrote on his Facebook page, referring to the slogan heard at nationwide protests calling out Tokayev's still-powerful predecessor and mentor Nursultan Nazarbayev.