MOSCOW -- Russian troops began arriving in Belarus Tuesday (January 18) for snap military drills against the backdrop of increasing tensions between Russia and Ukraine.
The Belarusian Defence Ministry said it was hosting the combat readiness drills because of the continuing "aggravation" of tensions "including at the western and southern borders of the Republic of Belarus".
Russia -- a close ally of ex-Soviet Belarus -- and the West are engaged in intensive diplomacy after Moscow sent as many as 100,000 troops to its borders with Ukraine in preparation for what Kyiv and its Western allies say is a possible invasion.
Russia has denied that its deployment of troops near Ukraine is in preparation for a ground assault and instead accused NATO of encroaching on its borders and demanded that the Washington-led defence bloc not admit any new members, specifically naming Ukraine and Georgia.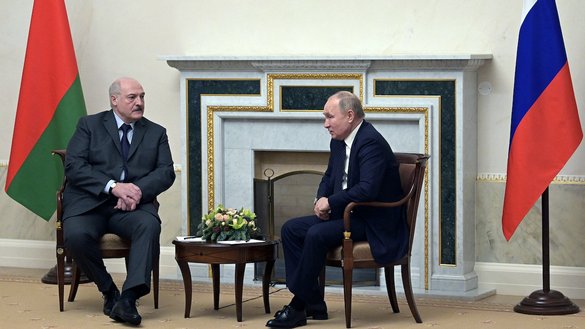 2-part exercise
Neither Russia nor Belarus has said how many troops would be involved in the drills, which Belarus said would take place in two stages.
A video published by the Belarusian Defence Ministry showed columns of military vehicles including tanks being unloaded from trains blanketed in snow, according to AFP.
The first part of the exercise will continue from Tuesday until February 9 and focus on speedy troop deployments, securing of government and military facilities, and joint air force firing drills, according to the Defence Ministry.
The second stage will take place between February 10 and 20 and centre on efforts to strengthen border defences, it said.
Belarusian strongman Alyaksandr Lukashenka announced earlier this week that Russian and Belarusian troops would hold the exercises, citing what he said was the growing foreign military presence in Ukraine and NATO member Poland.
"We made plans for a military exercise in February some time ago," state media quoted Lukashenka as telling military officials. "Please go ahead and set a specific date and announce it so nobody can accuse us of having massed troops all of a sudden and of being almost ready to go to war."
Lukashenka said his plans for drills with Russia had been made in December in co-ordination with his ally, Russian President Vladimir Putin but had not been announced at the time.
He said the drills would be dubbed "Determination of the Union 2022", and should focus on a scenario in which his country's military is forced to "resist forces coming from the West".
Rationalisations from Minsk
The Belarusian leader -- in power for nearly three decades -- justified the drills by what he claimed was a build-up of troops along his country's border in Poland, Ukraine and the Baltic States.
He accused Ukraine of massing thousand of troops -- without giving evidence for his claims -- and said Warsaw had requested from NATO the deployment of "a multi-echelon network of logistics, supply and technical support".
Putin backed Lukashenka after widely disputed Belarusian presidential polls in August 2020 that prompted weeks of mass protests against his rule.
Putin also promised to send in a Russian security force if the post-vote situation in Belarus deteriorated further.
With Lukashenka's vow to strengthen ties with Moscow, Putin promised the embattled Belarusian strongman a $1.5 billion loan.
Earlier in January, Russian troops poured into Kazakhstan following violent protests that rocked the country.
Both Kazakhstan and Russia have framed the unrest that left dozens dead and almost 10,000 people arrested as an attempted coup d'etat by foreign "terrorists" but have provided little supporting evidence.
Led by Russia, a Collective Security Treaty Organisation (CSTO) mission of more than 2,000 troops was deployed January 5 at the peak of the crisis.
Over the next few days, troops arrived from the other CSTO members -- Belarus, Tajikistan, Armenia and later, Kyrgyzstan.
The decision was a first for the CSTO, often touted by Moscow as a NATO equivalent but previously reluctant to interfere in unrest in Central Asia, a region with long historical ties to Russia.
The troops began withdrawing from Kazakhstan on January 13, but concern has mounted that Moscow could leverage the mission to entrench its influence in Kazakhstan and the greater Central Asian region.
"Once Russians are in your house, it's sometimes very difficult to get them to leave," US Secretary of State Antony Blinken warned January 7.