While China's deal with Iraq to build desperately needed schools appears to be a positive step, some Iraqis have said they are concerned that China is seeking to take advantage of investment projects like this to gain dominion.
They fear China will exploit the situation, and the goodwill such projects generate, to gain a bigger foothold in the Iraqi economy, from which it will seek to reap the benefits of its investment for years to come.
Concerns began to be raised immediately after Iraq signed a deal with Beijing on December 16 to build 1,000 schools in the country, to be paid for with oil sales.
The deal includes 15 contracts that will see Chinese companies Power China and Sinotech build 679 and 321 schools, respectively, over a two-year period.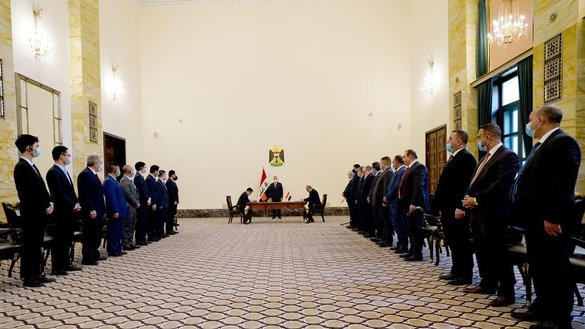 According to the Secretariat General of the Iraqi Council of Ministers, the construction of school buildings will be based on the needs of each province.
Iraq needs more than 12,000 schools to accommodate an estimated 11 million students, across all grades, and to eliminate overcrowding in the classrooms. It also seeks to do away with more than 2,000 dilapidated mud-brick schools.
Council of Ministers secretary-general Hameed al-Ghazi said the project will help to support the education process and provide school buildings that the education directorates in the provinces lack.
The project's legal, financial and technical aspects have been completed, he said, along with the development and approval of designs and preparation of plots of land, clearing the way for construction to commence soon.
Saddling Iraqis with debt
In principle, former Iraqi MP Taha al-Lahibi said, the project is a good step "towards helping the country overcome the shortage of schools crisis that has beleaguered Iraqis for many years".
But he expressed concern that China could attempt to exploit the various crises Iraq is facing and saddle Iraqis with debt.
He warned that China may seek to expand its foothold in the market with investments that drain Iraq's national wealth and resources.
The cost of the school project will be covered from the proceeds of the "oil for reconstruction" programme, pursuant to an agreement dating back to 2019 endorsed by former prime minister Adel Abdul-Mahdi during his visit to China.
The agreement sparked controversy at the time over Abdul-Mahdi's role in granting economic incentives to China by selling Iraqi oil at preferential prices and involving Iranian companies in the investment projects.
Some were concerned that this policy would leave Iraq encumbered by debt.
The framework agreement between Iraq and China stipulates that the proceeds from the sale of 100,000 barrels of Iraqi oil to China be deposited daily in a specially designated bank account.
These funds are to be used for expenditure on reconstruction and construction projects in several sectors.
Al-Lahibi noted that the Iraqi people will inevitably reject the contracts with China if they turn out to be a mere facade to save the Iranian economy "and supply the Iranians with technology and weapons with Iraqi funds".
Iran's proxies in Iraq had fiercely defended the agreement with China, as it served the interests of the Iranian regime, he said.