WASHINGTON -- The United States on Tuesday (January 25) said attempts by Moscow to "weaponise" its enormous oil and gas industry would backfire, and threatened personal sanctions on Russian President Vladimir Putin.
"We are prepared to implement sanctions with massive consequences" that go far beyond previous measures implemented in 2014 after Russia invaded Ukraine's Crimea region, a senior US official said.
"The gradualism of the past is out," the official told reporters, speaking on condition of anonymity. If Russia orders a new invasion of Ukraine, "we'll start at the top of the escalation ladder."
US President Joe Biden Tuesday said he would consider imposing economic sanctions personally targeting Putin if the Russian president orders a new attack on Ukraine.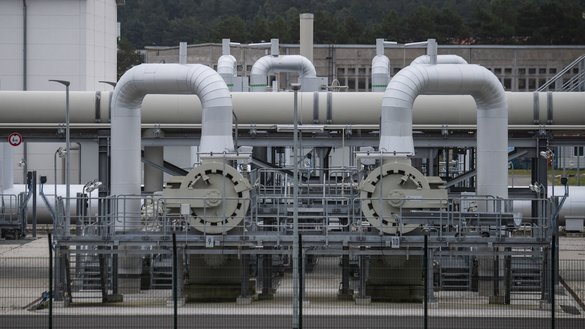 "Yes. I would see that," Biden said when asked by reporters in Washington.
Addressing concerns in Europe that Russia could push back against sanctions by curbing its own energy exports to heavily dependent Europe, the US official said Russia would also be hurting itself.
"If Russia decides to weaponise its supply of natural gas or crude oil, it wouldn't be without consequences to the Russian economy," a senior US official told reporters.
Although the European Union (EU) sources about 40% of its supply from Russia, Moscow also relies heavily on sales of energy for its national budget, meaning "it's an interdependency," the official said.
The United States and its European allies are scouring global markets for alternative energy sources to mitigate fallout from any conflict, as Europe already finds itself struggling with soaring mid-winter energy prices.
"We're working with countries, companies around the world to ensure the security of supply and to mitigate against price shocks," the official said.
The "contingency planning" includes negotiations with suppliers in North Africa and Asia to "temporarily surge gas output".
Liquid natural gas tankers have already started rerouting from Asia, bringing "a significant impact on the resilience of energy supply in Europe," according to the official.
The economic sanctions being prepared to respond to any Russian invasion of Ukraine would include previously unused restrictions on exports of high-tech US equipment, the official said.
"What we're talking about are sophisticated technologies that we design and produce," the official told reporters.
This would include artificial intelligence, quantum computing and aerospace technologies and would "hit Putin's strategic ambitions to industrialise his economy quite hard".
"These are sectors that Putin himself has championed, as the way forward for Russia to diversify its economy beyond oil and gas," the official said.
"And in many, many instances, if Russia wants to develop these sectors, it needs to import technologies and products that only we and our allies and partners produce."
History of using energy as geopolitical weapon
The Russian regime has a long history of denying or threatening to deny natural gas in winter to countries that defy its wishes.
Last October, Gazprom, Russia's oil and gas giant, began charging Moldova exorbitant prices for natural gas as leverage on unrelated geopolitical goals.
Gazprom officials proposed cheaper gas if Moldova agreed to back out of a free-trade agreement with the EU, shelved energy market reforms it had agreed to with Brussels, and joined the Russian-led Eurasian Economic Union (EEU), the Financial Times reported October 26, quoting anonymous sources familiar with the discussions.
In the same month, Moscow was accused in Europe of exacerbating an energy crisis on the continent that saw gas prices surpass records.
Ukrainian President Volodymyr Zelenskyy on October 22 accused Moscow of orchestrating Europe's energy crisis and urged the EU to work with Kyiv against Russian "gas aggression".
"There is a real gas aggression against the European Union," Zelenskyy told AFP in exclusive written comments, saying there was an "unprecedented need for joint efforts" in Europe and calling on Brussels to work with Kyiv on solutions.
Earlier winters saw similar or worse Russian behaviour affecting multiple countries in Europe.
Then-President Mikhail Saakashvili of Georgia accused the Kremlin of being behind two explosions on the Mozdok–Tbilisi natural gas pipeline in North Ossetia on January 22, 2006, suspending gas supply to his country.
Workers eventually repaired the pipeline. Georgia has since diversified its gas sources to include Azerbaijan.
Ukraine has suffered multiple cutoffs of Russian natural gas, including in 2014 and 2015. A January 2009 cutoff led to 18 European countries reporting partial or complete loss of Russian gas, which was supposed to pass through Ukraine.