BANGUI, Central African Republic -- Mercenaries from the Russia-linked Wagner Group are said to be headed to Eastern Europe and Ukraine from the Central African Republic (CAR), The Daily Beast reported Monday (January 31).
The CAR, one of the world's poorest and most unstable countries, has been ravaged by civil war since 2013.
It turned to Russia as armed groups threatened to topple President Faustin Archange Touadera in late 2020, and Russian paramilitaries -- including the Wagner Group -- helped CAR government forces recapture much of the two-thirds of the country that the rebels once controlled.
Rebel attacks remain frequent nevertheless in the former French colony.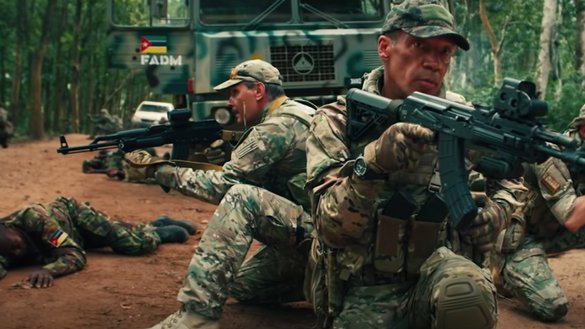 Officially, Russia recognises the presence of 1,135 "unarmed instructors", but aid groups on the ground as well as France and the United Nations (UN) say some of them work for the Wagner Group, which Russia denies.
A number of Wagner mercenaries left for Eastern Europe in January and more are preparing to leave in the next few weeks, according to two senior military officers in the CAR cited by The Daily Beast.
"Usually when we hear that some have left, we find out that they are just a handful -- sometimes five or six people within a month," said one officer who works at the military headquarters in Bangui, the capital.
"It's the first time we are hearing that dozens have departed in a month," he said.
"We have specifically been told by their supervisors that about 20 Russians departed this January for Eastern Europe," said another official, who works closely with the Russians.
"What we understand is that the Russians who've left, and those who will leave later on, are doing so as part of their assignment rotation policy and that they would be replaced in due course," the official said.
The Daily Beast also cited a man whom the Wagner Group recently detained.
He said he overheard CAR troops in the camp where he was being held describe a sudden exodus of mercenaries to Ukraine.
"For the 15 days we stayed in the camp, we only saw the four Russians that arrested us the first two days when we arrived," said Patrice Gaopandia, who was held along with three others when Russians stormed his home area and systematically arrested young residents for forced labour.
"It was later we heard FACA [CAR government] soldiers say that the Russian soldiers had left for Ukraine," said Gaopandia. He was eventually released.
Wagner first emerged in Ukraine in 2014, when war first broke out and Russia illegally seized Crimea.
Since then, its mercenaries have been involved in conflicts around the world, including in Syria, Mozambique, Sudan, Venezuela, Libya, the CAR, Chad and Mali.
The Carnegie Endowment for International Peace think-tank has described Wagner as "one of Moscow's worst kept secrets".
It said the group has two primary goals: "to provide the Kremlin with plausible deniability when deploying fighters in war zones" and to offer "a ready-made capability for building influence with receptive states".
The mercenaries' move comes as Ukraine's allies, led by the United States, have scrambled to send more arms to Kyiv in recent weeks while warning that Moscow could be planning a full-scale invasion after massing more than 100,000 troops on the border.
Intelligence suggests Moscow wants to install a puppet leader in Kyiv amid Russia's intensifying hybrid warfare against Ukraine, including false flag operations, cyberattacks, disinformation and what now appears to be secret military operations.
Cultural offensive
Meanwhile, actors are playing Wagner Group mercenaries in a new film that sings their praises for fighting rebels in the CAR and elsewhere on the continent.
A screening of the film drew several hundred viewers to a sports stadium in Bangui on Saturday.
In addition to the presence of hundreds of paramilitaries from Moscow and growing control over the country's gold and diamond resources by Russian companies, the CAR has seen a burgeoning cultural offensive.
The new film, "Granit", comes a few months after "The Tourist", which chronicles the recapture of rebel-held territory by CAR forces and their Russian allies.
The action is in French, Sango -- one of the CAR's national languages -- and Arabic.
As in "The Tourist", the film extols Russia's actions in Africa.
"Granit", though filmed in the CAR, is set in Mozambique, where Wagner Group "instructors" helped the Mozambican army in its fight against Islamist insurgents in 2019.
Rights abuses
The United States and the European Union (EU), however, have stepped up pressure against the Wagner Group, which has been accused of abuses in the CAR and Libya and has reportedly discussed a major contract with Mali.
"Granit" was produced by Aurum, a company whose majority stakeholder is Russian businessman Yevgeny Prigozhin, an ally of Russian President Vladimir Putin who is suspected of running the Wagner Group.
The EU in October 2020 levied sanctions against Prigozhin for destabilising Libya by supporting the Wagner Group.
Last December, the Council of the EU slapped sanctions on the Wagner Group itself, as well as eight individuals and three firms connected to it, and indicate the group's "destabilising activities" and "malign influence" in Ukraine, Syria, Libya and the CAR, among others.
In 2021, a group of UN experts warned of human rights abuses victimising civilians by CAR soldiers and Wagner paramilitaries.
The UN recorded 526 violations and abuses of human rights over a year, which UN experts said caused at least 1,221 deaths, including 144 civilians.
In early October, the government in Bangui acknowledged some of the abuses but insisted that most of the blame lay with rebels.
In January, The Daily Beast reported an incident in which Russian mercenaries opened fire and killed about 70 civilians on January 16 near the village of Aïgbado.
"They didn't speak a word to anyone; only their guns did the talking," said one survivor. "I saw people screaming and falling on the ground. It was only by luck that I survived."