ALMATY -- Russia's aggression in Ukraine and the current crisis are in part a reaction to worsening economic problems at home and to the population's widespread disillusionment with its government, according to observers.
Russia has massed more than 100,000 troops on Ukraine's borders, and Western leaders have warned that any incursion into the ex-Soviet nation would be met with "severe consequences."
The United States Wednesday (February 2) said it was deploying thousands of troops to bolster NATO forces in Eastern Europe, ratcheting up its military response to fears that Russia could invade Ukraine.
A thousand US troops in Germany will deploy to Romania, and 2,000 based in the United States will be sent to Germany and Poland, said Pentagon spokesman John Kirby.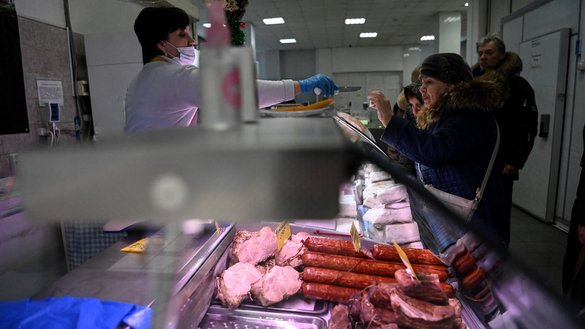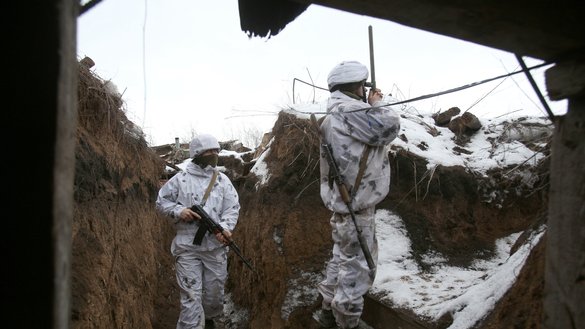 "It's important that we send a strong signal to [President Vladimir] Putin and the world that NATO matters to the United States," Kirby said. "This is not the sum total of the deterrence actions that we will take."
Tensions have been further aggravated by plans for joint military exercises between Russia and neighbouring Belarus, where Washington claims Moscow is preparing to send 30,000 troops.
Ukraine has been battling Moscow-backed insurgencies in two separatist regions since 2014, when Moscow annexed the Crimean peninsula.
More than 13,000 people have been killed in the fighting, the last major ongoing war in Europe.
Distractions
Central Asian observers are connecting the Kremlin's provocative moves against Kyiv to worsening domestic problems.
"Russia is going through tough times," Elmira Suranchiyeva, a Bishkek-based economist, told Caravanserai.
"The Western sanctions imposed right after Russia annexed Crimea in 2014 and gave military and technical support to separatists in eastern Ukraine hobbled the country [Russia]'s economy."
Russians' living standards have dropped steadily over the last decade. A COVID-19 pandemic-induced downturn further undermined the economy.
In September, disposable incomes in Russia were down 10% since 2013, and prices are on the rise, with inflation hitting 6.7% in August.
Putin's ruling United Russia party saw its ratings fall in recent years after the government raised pension eligibility ages in 2018 and as the country's economy stagnated.
Nevertheless, United Russia officially won 49.82% of the vote in parliamentary elections last September that were considered to be heavily rigged, claiming a two-thirds majority in the State Duma, the lower chamber, amounting to more than 300 of the 450 seats.
Disregarding the effect on ordinary citizens' pocketbooks, Russia continues to increase its military expenditures and is one of the world's top five countries in terms of such spending, Suranchiyeva noted.
"People who live in the Russian hinterlands aren't even sure if they'll be able to put bread and butter on the table tomorrow, yet they see Putin on TV praising the latest new missile -- of course, if they have a TV," she said.
Russia's actions on the Ukrainian border are attempts by Putin to boost his polling numbers by exploiting a conflict with an outside foe, Suranchiyeva said.
"All this media hype around a war with Ukraine distracts the public from actual problems -- poverty and a dearth of prospects for young people in Russia -- while curbing an increase in protest sentiment," she said.
"But these games are fraught: if Putin crosses a red line, it could be disastrous for his regime."
Putin's gamble
A Russian invasion of Ukraine would be fraught with risks for Moscow.
The Russian central bank said on January 24 it was suspending purchases of foreign currency after the stock market and ruble tumbled over fears Russia might attack Ukraine.
Stocks plunged sharply following two weeks of steady decline, with the dollar- denominated RTS index down 9%, suffering its worst crash since March 2020 and losing all of last year's gains.
The Russian currency fell to its lowest point in more than a year against the dollar at 79 RUB.
"The Russian market continues to slide amid the escalation of geopolitical risks surrounding Ukraine and the talks between Russia and the United States and Russia and NATO," stated Aton, an investment company in Moscow, as quoted by the BBC Russian service in January.
"The stalled negotiations and the increasingly bellicose rhetoric coming from both sides are negatively affecting risk appetite for Russian assets, particularly stocks."
US President Joe Biden and Western leaders have described "unprecedented" economic penalties and sanctions "with massive consequences" in the event Russia invades Ukraine.
Among the measures being discussed are banning Russian banks' transactions in dollars -- the key currency on international markets -- and excluding Moscow from SWIFT, a key mechanism of international banking exchanges.
Analysts in Central Asia have raised concerns over how such sanctions could potentially affect their countries.
The Central Asian countries need to conduct a more critical appraisal of the prospects for economic partnership with Russia within the Eurasian Economic Union (EEU), which includes several former Soviet republics, such as Kazakhstan, according to Meruert Makhmutova of Almaty, director of the Public Policy Research Centre, an NGO.
"We don't know how sanctions will affect Russia in the future, but obviously they will have a big impact on the Russian economy," Makhmutova said.
"Unfortunately, Kazakhstan will also feel the consequences because our economies are closely linked."