TASHKENT -- Uzbekistan has seen a spate of extremism-related arrests and trials since the beginning of the year.
Authorities arrested 30 residents from three regions of Uzbekistan -- Andijan, Surxondaryo and Qashqadaryo -- and held them in Tashkent for their alleged involvement with Katibat al-Tawhid wal Jihad (KTJ), a banned terrorist group.
"Pre-investigation measures established that they planned to leave for Syria to join the ranks of the militants fighting in that country," Uzbekistan's State Security Service said on Telegram on January 26.
Uzbekistan and other Central Asian countries consider KTJ one of the most dangerous terrorist group operating in Syria. The group's name means "Monotheism and Jihad".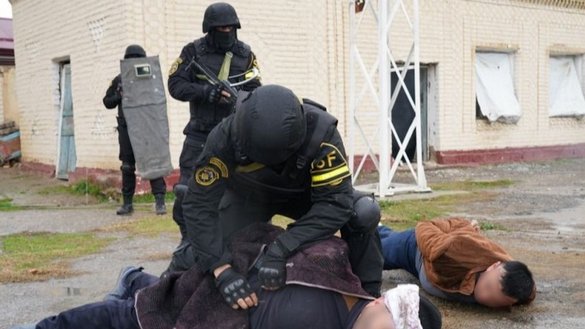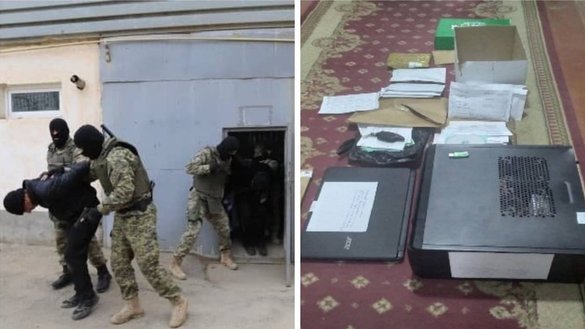 KTJ includes citizens from Kyrgyzstan, Uzbekistan and Kazakhstan, according to Ikbaljan Mirsaitov of Osh, a scholar of Islam.
"This is a combat unit in Syria that fought the regular Syrian army. The group is still active in Syria," he said, adding that residents of Osh province, Kyrgyzstan, formed it.
KTJ leaders recruit Uzbek citizens into their ranks through social networks, he added.
The arrests of the alleged KTJ members is just one counter-terrorism incident of late.
The Termez City Court on January 24 sentenced two men to 15 years and 15.5 years in prison for participating in extremist organisations and using the internet to distribute materials considered a threat to public safety.
"These persons promoted the ideas of 'jihad' and 'hijra' (travel to lands with 'true Islam') near mosques in Termez and planned to participate in armed clashes in Syria and Palestine," noted the website Uza.uz.
The two convicts, both natives of Termez, were detained last June.
Earlier on January 16, authorities in Andijan arrested 12 women suspected of belonging to Hizb ut-Tahrir, an organisation banned in Uzbekistan in 2016.
The suspects allegedly met at home and propagated radical ideas through social networks, according to law enforcement.
Webs of deception
Meanwhile, courts in Tashkent on January 18 convicted a college student and two high school students who were planning to leave to join militants in Syria, with sentences ranging from five-and-a-half years to six years.
The Sevimli TV channel covered the case in a video report.
The 21-year-old college student went to university in Tashkent. The others were students at schools in Namangan province of the Fergana Valley.
All three created their own Telegram channels to call on youth to go to Syria to "help the martyrs who are fighting for 'true Islam'".
They each also explained in detail how to get to Syria via Turkey, including the cost of airfare. Each Telegram channel had about 300 followers.
"I got caught in these people's webs of deception. They [recruiters] said that the women need help, that they need to be saved there [in Syria]. They have their own Telegram channel and put their posts there," one of the youths said in the Sevimli report.
From 2015–2021, international terrorist organisations' recruiters "worked with" 27,000 citizens of Uzbekistan. In total, a little more than 2,000 Uzbeks were recruited during this time, according to Viktor Mikhailov of Tashkent, director of the Centre for the Study of Regional Threats (TsIRU).
The victims of such recruiters are mainly young people aged 19 to 30, he said.
"Young people are easier to radicalise. Many have nothing to lose," Mikhailov said in a interview with Podrobno.uz posted on the TsIRU site in January.
"[Young men] have many problems. They are more sensitive to injustice and corruption. Even unsuccessful relationships with the opposite sex can be a reason to perform hijra [migration]," he added.
Only 10% of the recruits are real militants and potential killers, while 15% are religious fanatics. The remaining 75% are sympathisers who misguidedly want to help their Muslim brothers, according to Mikhailov's own estimate.
The internet, social networks and messaging apps have become the main ways to spread extremist ideas among youth today, he said.
Another risk group is migrant workers who find themselves in another country far from their home facing injustice and corruption.
There are recruitment centres (jamaats) not only in Russia but also in Ukraine and South Korea -- the main destinations for migrant workers from Uzbekistan, according to Mikhailov.
Weak education
The main reason why young people are easily influenced by extremists is their low level of knowledge, according to Dildora Tulyaganova, an Uzbek journalist based in Turkey.
Tulyaganova cited weak and low-quality education in public schools, expensive higher education that many young Uzbeks cannot afford to seek, a vacuum of religious knowledge -- particularly regarding Islam -- and the unstable economic situation.
"Until the state strengthens the education system, the so-called hijra process will be constant. After all, we aren't wondering why the citizens of developed Muslim countries, such as the United Arab Emirates, are not becoming ... terrorists," she said.
"Because there they study religion from early childhood. They explain. Schools have religious education," Tulyaganova said.
Unemployment and religious illiteracy are the main reasons for Uzbek citizens' departure to hot spots in the Middle East, according to Farkhod Mirzabayev, a political scientist from Tashkent.
"There is lots of injustice. They can't find a decent place in society. They don't believe in a 'bright future'," he said.
"The state seems to be doing a lot -- officials are dealing with youth issues, but all the same the problems do not diminish," he added.