ALMATY -- Russia is attempting to portray itself as a victim as tensions flare along the border with Ukraine, even as it steps up military deployments and exercises in preparation for a potential invasion.
Kyiv and its western allies have been sounding the alarm over a buildup of Russian troops on the border with Ukraine in recent months, accusing Russian President Vladimir Putin of planning a massive attack.
Russia continues to build up its forces along the border with Ukraine and has now deployed "north of 100,000" troops, Pentagon spokesperson John Kirby said Wednesday (February 9).
"We have continued to see even over the last 24 hours additional capabilities flow from elsewhere in Russia to that border with Ukraine and Belarus," he said, declining to provide specific numbers.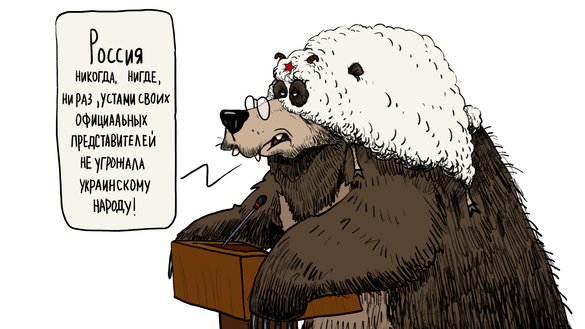 On Monday, European Union foreign policy chief Josep Borrell said there are upwards of "140,000 [Russian] soldiers heavily armed" on the border of Ukraine.
"We are living, to my understanding, the most dangerous moment for ... security in Europe after the end of the Cold War," he told reporters in Washington during a joint press conference with US Secretary of State Antony Blinken.
Borrell and Blinken said they shared "a strong concern" about the situation on the ex-Soviet state's borders.
"140,000 troops massed in the border is not to go to have tea," Borrell underscored.
Kremlin propaganda, aggression
Even as the Kremlin denies planning to invade Ukraine, it has in recent months ramped up propaganda describing the United States and NATO as aggressors carrying out "destabilising" acts.
"Russian government officials falsely portray Russia as a perpetual victim and its aggressive actions as a forced response to the alleged actions of the United States and our democratic allies and partners," the US State Department said in a statement January 20.
"To further these claims, Russia turns to one of its favourite labels to attempt to hit back: 'Russophobia'," said the statement, which covered the Kremlin's common disinformation themes.
"After invading Ukraine in 2014, the Russian government and state-controlled disinformation outlets began to accuse anyone who questioned Russia's actions of being xenophobic Russophobes."
"The Kremlin frequently tries to create multiple false realities and insert confusions into the information environment when the truth is not in its interests," it said.
Independent researchers have noticed, for example, an uptick in social media posts accusing Ukraine of plotting genocide against ethnic Russians, The New York Times reported January 25.
Moscow and its online allies have pushed out claims about western Ukrainians being aligned with Nazism and falsely accused the United States of using proxy forces to plot a chemical attack, according to researchers.
Other propaganda claims that Russia's planned military operations are intended to protect ethnic Russians or pre-empt action by NATO.
A history of lies
But the Kremlin's lies are not getting past Central Asians.
History shows that "Moscow itself has been the aggressor", having violated the territorial integrity of several former Soviet republics, such as Moldova, Georgia and Ukraine, said Alnur Musayev, a former chairman of Kazakhstan's National Security Committee (KNB) who now lives in Vienna, Austria.
He pointed to a January 28 statement by Russian Foreign Minister Sergey Lavrov in which Lavrov warned other countries not to strengthen Ukrainian security at Russia's expense.
Russia is denying Ukrainian individuality and sovereignty, and it has declared its intention to wage war, Musayev said.
"All these years, while Putin has led Russia, the Kremlin's information policy has been built on deceit, the shared motif of which says that the country is surrounded by enemies and Russophobes," Musayev said.
Kazakhstan also has firsthand experience with the Kremlin's aggressive propaganda, which depicts Russia as a "victim", he added.
Musayev pointed to provocative statements asserting Russian ownership of northern Kazakh territory and accusing Kazakh nationalists of suppressing the Russian language.
"These accusations serve as a pretext for Russian security forces to train sabotage and reconnaissance units, which, under a hybrid warfare plan, could be able to quickly capture strategic facilities in Kazakhstan's northern provinces and establish an occupation regime there," he said.
Kazakhstan should prepare for this scenario by strengthening its law enforcement agencies and border services in the northern regions, Musayev said, suggesting the deployment of reliable personnel and provision of modern weapons and military equipment.
'Unprecedented' bullying
Russia has even attempted to portray itself as the victim of tiny Kyrgyzstan.
Last August, an intoxicated customer at a Bishkek shopping centre threw a calculator at a female cashier because she spoke to him in Russian instead of Kyrgyz, prompting Russian officials at the highest level to claim oppression.
The committee of the Russian Presidential Council for Civil Society and Human Rights called the incident an "unfriendly action against our compatriots in Kyrgyzstan" and an "attempt to insult Russian speakers based on linguistic and ethnic attributes".
Russian State Duma member Vladimir Zhirinovsky even held a protest outside the Kyrgyz embassy in Moscow that month.
"All sorts of bastards taunt and kill Russians all across the post-Soviet space, from Ukraine to Central Asia," he claimed. "How much of this will we put up with?"
Russia is conducting "a propaganda and political attack against Kyrgyzstan on an unprecedented scale", according to Askat Dukenbayev, a Bishkek-based political scientist.
Dukenbayev cited past fake news stories that the Russian regime used to inflame nationalists.
In 2014, its news outlets reported Ukrainian troops' supposed crucifixion of a three-year-old ethnic Russian boy in Ukraine. In 2016, they reported the supposed rape of a 13-year-old Russian-German girl in Germany by Arab migrants. Neither incident took place.
"[Russian propagandists] exploit problems in inter-ethnic relations in Kyrgyzstan, which remain a sore point for Russian irredentists," said Dukenbayev.