TASHKENT -- With the crisis in Ukraine unfolding before their eyes, analysts in Uzbekistan are warning that their country could be the next to face the Kremlin's aggression.
Ukraine mobilised its military reserve Wednesday (February 23) and urged its citizens to leave Russian territory as Moscow sharpened its demands, increasing fears of all-out war.
Moscow evacuated its diplomats from Kyiv Wednesday.
President Vladimir Putin paved the way for Russian forces to invade and occupy the separatist-held Donetsk and Luhansk regions of eastern Ukraine after officially recognising their independence on Tuesday.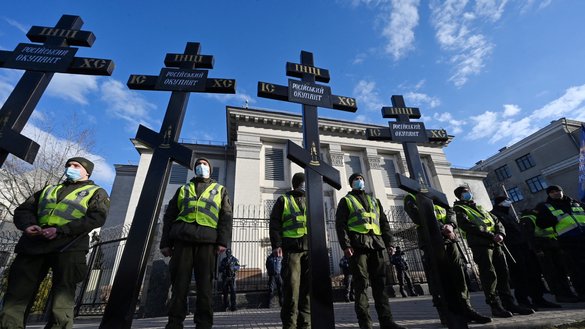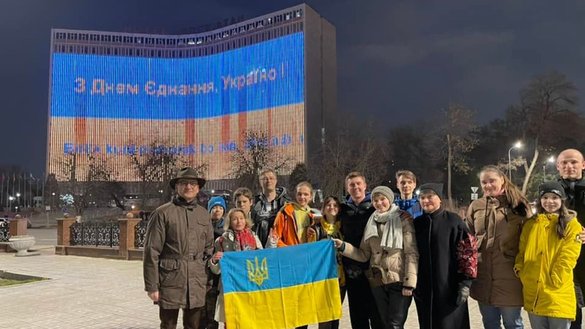 In response, Ukrainian President Volodymyr Zelenskyy has put Ukraine's more than 200,000 reservists on notice that they will receive summons to return to their units.
Ukraine's security council Wednesday called for a state of emergency in the country -- a measure that still needs to be formally approved by parliament.
Meanwhile, Ukraine urged its approximately three million citizens living in Russia to leave, as the crisis deepened despite intense international pressure on Moscow, backed by new economic sanctions.
Russia has amassed between 150,000 and 190,000 troops in combat formations on Ukraine's borders with Russia, Belarus and Russian-occupied Crimea and on warships in the Black Sea, say Western capitals.
NATO chief Jens Stoltenberg said the alliance had "every indication" that Moscow "continues to plan for a full-scale attack on Ukraine."
Authoritarian ideals
Thousands of kilometres away, Uzbekistan marked Ukraine's Day of Unity in Tashkent on February 16.
The Ukrainian embassy and the LED SSP Media Co. organised the event.
Zelenskyy earlier on February 14 released a decree calling for all villages and towns in Ukraine to fly the country's flags on February 16, and for the entire nation to sing the national anthem in the morning.
In Uzbekistan, the Ukrainian flag and greetings in Ukrainian and Uzbek were projected on an illuminated screen on the facade of the 17-story Hotel Uzbekistan in central Tashkent.
No one in Uzbekistan wants an open conflict between Ukraine and Russia, say observers.
Ukraine and Russia have essentially been at war since 2014, according to Farkhod Mirzabayev, a Tashkent-based political analyst.
At that time, Ukraine should have cut off all economic ties and other relations with Russia after the Kremlin seized Crimea, Mirzabayev said.
However, it did not go that route, which only encouraged a more aggressive policy on the Kremlin's part, he said.
"Ukraine experienced aggression in 2014. Why are the other CIS [Commonwealth of Independent States] countries, including Uzbekistan, saying nothing, as if this has nothing to do with them?"
"It's disgraceful and cowardly. After all, the aggressor [Russia] will also target them, if not nicely, then the hard way -- like what's happening right now in Ukraine," said Mirzabayev.
"The consequences of a war in Europe will be negative for Uzbekistan and the other Central Asian countries. They'll need to make a choice: either continue not to interfere and become silent allies of the aggressors or condemn Russia's actions and then become its next target," Mirzabayev added.
Russia does not intend to accept Ukraine's intentions of joining the West, which is critical of Moscow, said Kamoliddin Rabbimov, a Tashkent political analyst.
For its part, Ukraine wants to join Western countries as soon as possible in order to secure itself against Moscow and its authoritarian ideals, he added.
"If Moscow has an opportunity for a real military operation and occupation, the Kremlin will decide, 'Why not?'," Rabbimov told Caravanserai of the unfolding situation in Ukraine.
The Ukrainian situation is completely possible for all the ex-Soviet republics, except for the Baltic states, which joined NATO, said Rabbimov.
New sanctions
Other analysts are eyeing the fallout from the Kremlin's aggression on Uzbeks abroad.
US President Joe Biden on Tuesday announced tough new sanctions against Russia for "beginning" an invasion of Ukraine but said there was still time to avoid war.
Biden's address followed a wave of sanctions announced by Britain and the European Union. Germany announced it was halting certification of the Nord Stream 2 gas pipeline from Russia.
Japan and Australia followed suit early Wednesday with their own stringent penalties for Moscow and for individuals connected with the aggression against Ukraine.
A conflict between Russia and Ukraine will send the ruble's value down, while the imposition of new sanctions and an overall economic decline will hit migrant workers' income hard, according to Bakhrom Ismailov, who is originally from Uzbekistan and heads A Country without Racism and Xenophobia, a Russian advocacy group.
"We can expect new bans on employing foreign workers in Russia's provinces, and increased xenophobia," Ismailov told Caravanserai.
"Petty and mid-level crime will rise among migrants, who will have lost their jobs and will be left with no means of support," he said.