ALMATY -- Kazakhstan must distance itself from Moscow after its invasion of Ukraine, and under no circumstances should it recognise the independence of the separatist-held Donetsk and Luhansk regions, say Kazakh observers.
Russian President Vladimir Putin launched a full-scale invasion of Ukraine on Thursday (February 24), unleashing air strikes and ordering ground troops across the border in fighting that Ukrainian authorities said left dozens of people dead.
The attack triggered Western warnings of unprecedented sanctions against Russia as NATO, European Union and G7 leaders condemned the invasion and vowed to hold Moscow accountable.
Weeks of intense diplomacy failed to deter Putin, who massed more than 150,000 troops on Ukraine's borders in the biggest military build-up in Europe since World War II.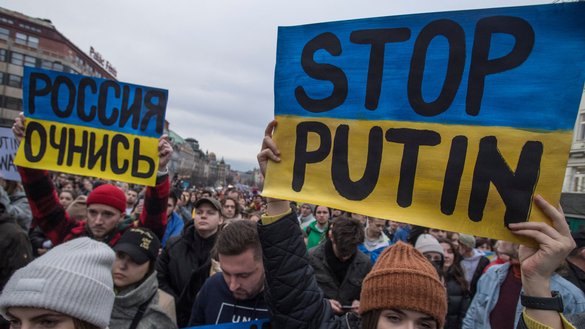 "I have decided to proceed with a special military operation," Putin said in a televised address before dawn on Thursday.
Shortly afterwards, the first bombardments were heard in Ukraine's capital, Kyiv, and several other cities, according to AFP correspondents.
Developments Friday (February 25) suggested Russian forces are not only attempting to invade and occupy the Donetsk and Luhansk regions, but also the entire country of Ukraine.
Russia's predatory foreign policy
"Russia is demonstrating that it does not recognise international law or borders recognised by the United Nations [UN], and the ongoing occupation of Ukrainian territory shows that it is Russia that is the main source of threat and danger in the post-Soviet space," said Murat Kastayev of Almaty, general director of the consultancy DAMU Capital Management.
"We need to understand that the longer Ukraine holds out and resists, the longer before the turn of the northern territories of Kazakhstan comes [to experience a Russian attack]," he said.
"Our national security interests are for Russia to bear as much responsibility and damage as possible from its aggressive and predatory foreign policy."
"Simultaneously, it is necessary to reduce dependence on Russia, replace Russian goods with our own and strengthen our armed forces," Kastayev said.
"We must return to a multi-directional foreign policy, which in recent years has essentially become pro-Russian, and to strengthen economic and political ties with other countries in Central Asia and with Europe, Turkey and the United States," he added.
The consequences of what is happening in Ukraine are absolutely negative for Kazakhstan, he said.
Without a clear demonstration of Kazakhstan's independent position and commitment to international law and borders recognised by the UN, the United States, Europe and China will increasingly consider Kazakhstan a pro-Russian country and, accordingly, will cool their foreign policy towards Kazakhstan, he said.
"We must remember that Europe is Kazakhstan's largest trading partner, and the United States is the largest source of foreign investment, and in no case should we spoil relations with them," Kastayev said.
Pointing to increased Russian pressure on Kazakhstan to recognise Crimea and the new self-proclaimed republics of Donetsk and Luhansk, Kastayev said under no circumstances should Kazakhstan recognise them as Russian territory.
The occupation of Crimea and now of Donetsk and Luhansk shows that the norms of international law and recognised borders mean nothing to Russia, he said.
"After Russia deals with Ukraine, its appetites will turn toward Kazakhstan," Kastayev said.
Kazakhstan must quickly strengthen its economy and armed forces and develop relations with other world powers because Russia could send in troops in a similar scenario, he warned.
Threats to Kazakhstan
Russia's recognition of Donetsk and Luhansk bears a number of consequences for Kazakhstan, primarily negative ones, said political analyst Gaziz Abishev of Nur-Sultan, agreeing with Kastayev.
"Kazakhstan has consistently supported the principle of states' territorial integrity," he said.
"Kazakhstan in the 1990s never would have recognised the independence of Chechnya, observing the principle of Russia's territorial integrity," he said, referring to a Russian region where Putin bloodily squashed an insurgency.
"For Kazakhstan, recognising the independence of rebellious 'places of dense [ethnic Russian] population' along Russia's perimeter means sawing off a leg of its own chair," Abishev said, referring to Donetsk and Luhansk.
Analysts expressed similar opinions online.
Almaty-based political scientist Dosym Satpayev Tuesday drew attention to the phrase "geopolitical solitude" in relation to Russia.
"Vladislav Surkov, assistant to the president of Russia, used the phrase 'geopolitical solitude' in an article," Satpayev wrote on his Facebook page. "At that time, he stated that Russia was entering the '2014+ epoch', during which Russia could face '100 (200? 300?) years of geopolitical solitude."
Alarmingly, Surkov used 2014, when Russia seized Crimea and aided separatists in Donetsk and Luhansk, as the beginning of the hypothetical new era, Satpayev said.
Surkov explained the gist of this coming geopolitical solitude with an aphorism: "Russia has only two allies: the army and the navy."
"This army is now being deployed to Donetsk and Luhansk," Satpayev said. "Again, all this meant that the confrontational style of Russian foreign policy would prevail based on the principle 'whoever is not with us is against us'."
"And this is a clear threat to the national interests of Kazakhstan, whose leadership, I hope, is smart enough not to recognise Russia's latest declarations regarding Donetsk and Luhansk," he said. "Otherwise, it will be diplomatic seppuku [ritual suicide]."