ALMATY -- Kazakh officials on Tuesday (March 1) reiterated an offer to host peace talks between Ukraine and Russia after Nur-Sultan unequivocally rejected a request from Moscow to send troops in support of attacking Russian forces.
Kazakhstan had been refusing to toe Russia's line in the run-up to war.
A day after Russian President Vladimir Putin unilaterally declared the independence of two separatist enclaves in Ukraine, Kazakh officials firmly declared neutrality.
Kazakh Foreign Minister Mukhtar Tileuberdi on February 22 told reporters that Kazakhstan had no plans to recognise the independence of the so-called "Donetsk People's Republic" (DPR) and "Luhansk People's Republic" (LPR).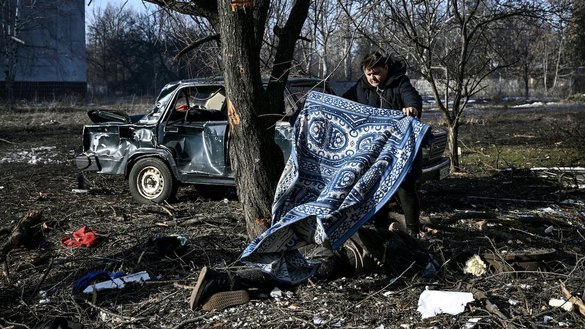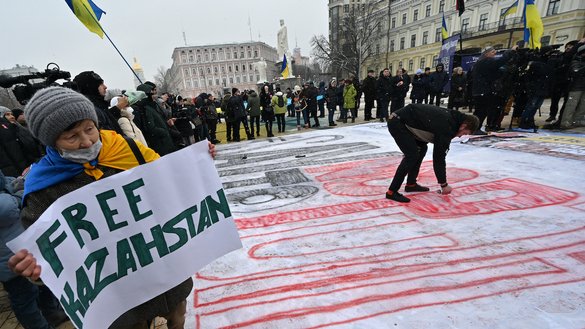 "It's not under discussion," he said, according to Vlast.kz. "We adhere to the foundations of international law and the principles of the [United Nations (UN)]."
The issue of sending Kazakh troops to Ukraine is not on the agenda either, Tiluberdi said.
Kazakhstan does not intend to send its troops to Ukraine as part of the Collective Security Treaty Organisation (CSTO) because war between Russia and Ukraine is not within the territorial jurisdiction of CSTO troops, Speaker of the Senate (the upper house of parliament) Maulen Ashimbayev said last Thursday, according to Vlast.kz.
The Russian-led CSTO includes six former Soviet republics: Russia, Kazakhstan, Kyrgyzstan, Tajikistan, Belarus and Armenia. Ukraine is not a participating country.
President Kassym-Jomart Tokayev Tuesday restated his country's neutrality and offered to host talks between the two countries.
Fighting in Ukraine continues to rage after Russian President Vladimir Putin launched an invasion last Thursday.
The Kremlin has since faced a raft of punishing sanctions as Western powers promised further measures to bring down Russia's economy.
Kazakhstan does not 'owe' Russia
Nur-Sultan will under no circumstances support Moscow's military aggression against Ukraine, said Dauren Ospanov, a retired Kazakh army major and former military officer at the Almaty regional garrison.
"Many experts say that our President Kassym-Jomart Tokayev owes ... Putin after Putin sent troops to Kazakhstan to stabilise the situation during the events in January, and that he must return the favour," he said.
"But this is not the same situation."
Ukraine did not pose any threat to Russia, this bloody military aggression is unjustified and Kazakhstan must not participate in it, he stressed.
In early January, Tokayev called on CSTO troops to intervene as initially peaceful rallies around New Year's Day against fuel price hikes turned into violent unrest.
Kazakhstan's official position has also received approval from Kazakhs, who appears largely sympathetic to Ukraine during the war.
Almaty resident Arman Shorayev, a public figure and former CEO of the largest Kazakh TV channels, Khabar and KTK, has been organising financial support and humanitarian assistance for Ukraine.
He is convinced that Ukrainians will be victorious.
"Unlike Putin's junta, every Ukrainian will defend his [or her] home, his relatives and friends, his meadows and fields, while the occupiers will fight for who knows whose ideals," he said in a video message on Facebook.
Amir Shaikezhanov, also an Almaty resident and director of global health initiative Amanbol.kz, compared Putin to a rat that gets into other people's houses through the toilet.
"I also imposed my own sanctions on Russia and do not buy Russian goods," he told Caravanserai.
"I do not want to sponsor a country that has turned into dangerous gangrene and not only kills its own citizens but poses a threat to others."
Risks for Kazakhstan
As risks emerge for Kazakhstan from the Kremlin's actions, Kazakhs are seeing Russia's invasion of Ukraine as a warning.
On February 22, Tokayev convened a Security Council meeting on the situation in Ukraine to discuss potential negative consequences for Kazakhstan, instructing the body to urgently adopt a national anti-crisis plan.
"The head of state gave some instructions to minimise potential economic and other risks for our country," the presidential press service said in an official statement.
In recent years, Russian politicians have increasingly made statements that Kazakhstan's northern provinces have historically belonged to Russia, leading to diplomatic rows and public outcry in the Central Asian republic.
Russia is now even more convinced that it must keep a sharp eye on Kazakhstan, according to Dosym Satpayev, a political scientist and director of a risk assessment team from Almaty.
Kazakhstan should never recognise the independence of the "LPR" and "DPR", just as it did not recognise Georgia's breakaway regions Abkhazia and South Ossetia, he said an interview with Radio Azattyk, Radio Free Europe/Radio Liberty's Kazakh service, last week.
"In January, Russia interfered in Kazakhstan's internal affairs, and now the Kremlin will believe that it has the moral right to interfere further," Satpayev warned.
Russian authorities, having failed to raise the standard of living in their country, are trying to distract the Russian population from internal problems, said Almaty resident Sergey Duvanov, director of the Kazakhstan International Bureau for Human Rights.
"Putin is using the image of an external enemy to regain support from the patriotic part of society," he told Caravanserai. "And this, unfortunately, is working. Many Russians believe that the West really wants to destroy Russia."
In the future, Putin may play another card in his Russian "revival" agenda and demand the return of the "gifts of the Russian people", i.e. Kazakhstan's northern provinces, Duvanov said.
"In the Akorda [the Kazakh presidential office], they do not rule out this possibility, but it is not acceptable to discuss it publicly," he said.