TASHKENT -- Uzbeks joined in with much of the world over the weekend to denounce Russia's invasion of its neighbour Ukraine.
Dressed in the blue and yellow of Ukraine's flag and bearing posters like "No World War 3" and "Russians go home", hundreds of thousands of protesters took to the streets worldwide Sunday (February 27).
From Berlin to Baghdad, from Washington to St. Petersburg, demonstrators chanted "shame" against Russian President Vladimir Putin while others waved banners with slogans like "Putin murderer" or "stop the monster".
In the German capital, police estimated turnout to be at least 100,000, while Prague drew 70,000 and Amsterdam 15,000.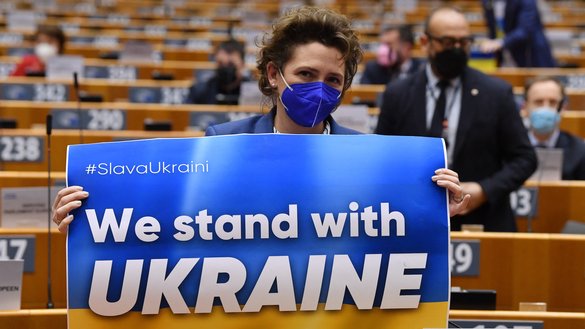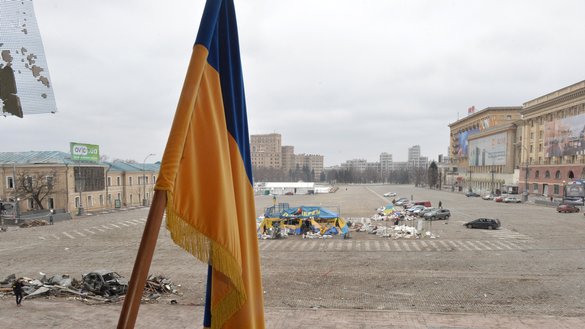 Even in Russia's second city of St. Petersburg, about 400 people gathered in defiance of strict protest laws, holding posters reading "No to war", "Russians go home" and "Peace to Ukraine".
More than 2,000 people were detained in demonstrations across the country Sunday, following thousands of arrests this week, but protesters remained undeterred.
Thousands of Americans nationwide came out to denounce Putin and express support for Ukraine, from San Francisco to Detroit, Chicago and Kansas City. Thousands also demonstrated in Toronto, Canada.
'A criminal decision'
While there have been no public protests in Uzbekistan, heated discussions online suggest many Uzbeks stand against the invasion of Ukraine.
Days ahead of the invasion, Uzbeks were incensed by remarks made by Vyacheslav Volodin, the speaker of the Russian State Duma, demanding that other nations support Russia's decision to recognise the breakaway Ukrainian regions of Donetsk and Luhansk.
"We hope that other countries will back this decision and won't try to 'be good' for everyone because that sort of position will end badly," Volodin threatened.
Thus far, only Belarus, Cuba, Nicaragua and Syria have recognised the separatist republics.
"Recognising such a criminal decision by the Russian government is utter nonsense," one commenter wrote under an article posted on Gazeta.uz February 22.
"I hope Uzbekistan doesn't follow that. Right now the only thing Russia deserves is sanctions," said the comment.
"I suppose they'll head to northern Kazakhstan tomorrow -- to establish the Petropavlovsk People's Republic?" wrote another user under the name Helge Kim, referring to the capital of North Kazakhstan province, which Russian politicians in the past have claimed historically belonged to Russia.
Putin's Russia will go down in history as an invader and executioner, Erkin Azam, an Uzbek writer, told Kun.uz last Friday.
Putin broke into the home of his neighbour -- a brotherly people -- and is now killing innocent citizens, he said.
"We all know that a person who kills someone is called a murderer. So what can we call the people who invaded Ukraine and caused hundreds of deaths?" Azam asked.
This war is not just a war against Ukraine but against all of humanity, Uzbek poet Fahriyar, also known as Fahriddin Nizamov, told Kun.uz on the same day.
Putin is afraid "of the ascendant democracy in Russia's neighbours because democracy doesn't allow authoritarianism to keep one person in power for more than 20 years," he said.
"This war should be a lesson for us all. We need to be vigilant. If Ukraine doesn't withstand the occupiers' assault, no other post-Soviet country will be able to withstand it."
Hitting close to home
Uzbek analysts, meanwhile, are concerned over the geopolitical and economic ramifications of the Kremlin's misadventure.
The ruble collapsed against the dollar and the euro on the Moscow Stock Exchange on Monday as the West punished Moscow with new sanctions over the Kremlin's invasion.
The currency fell about 30% on Monday, making one ruble worth less than one US cent.
In Tashkent, most currency exchanges were not working after the som fell more than 9% overnight against the dollar, an AFP correspondent said Monday.
"Russia's economy and the ruble will suffer greatly from the Kremlin's escapades, and that will undoubtedly have an impact on Uzbekistan's economy," Yuliy Yusupov, a Tashkent economist, told Caravanserai.
The developing situation could also affect the flow of investment from other countries -- investors may view Central Asia as unreliable, he said.
Yusupov also had a message for the Russian people.
"The Kremlin, not Washington, is making you poorer. It's in Moscow, not London, where they're enacting an economic policy that has made the retiree's borscht index twice as expensive," he said, referring to an index to track food costs.
"If the Russian ruble plunges under sanctions and from the fallout from the war, that will also devalue our currency. All the economic achievements of the last few years will be wiped out in one fell swoop," Farkhod Mirzabayev, a Tashkent-based political analyst, told Caravanserai, noting that Russia is Uzbekistan's main trading partner.
For that reason, the government will need to adjust the exchange rate of the som to the US dollar in order to ensure that Uzbek goods are competitive on the Russian market, he advised.
"We'll all be earning a lot less than we used to in dollar terms. Our purchasing power will decrease, and inflation will rise faster," Mirzabayev said.
Mirzabayev warned of ways Russia could harm the Uzbek economy, such as paying for Uzbek goods with the plummeting ruble.
In addition, migrants' earnings will lose value, reducing the remittances they can send home.
"Trade with Ukraine will also take a big hit. For example, some medications that enter our market will get more expensive or simply disappear," he said.