KYIV, Ukraine -- The international community this week expressed increasing alarm over the staggering human cost of Moscow's invasion of Ukraine as civilian casualties continue to rise.
The invasion, now in its eighth day, has driven one million Ukrainians from their homes and plunged Russia into deepening isolation as a global pariah in the worlds of finance, diplomacy and sports.
On the ground in Ukraine, Russia appeared determined to intensify the offensive ordered by President Vladimir Putin despite stubborn Ukrainian resistance.
Ukraine's military authorities Thursday (March 3) said that residential and other areas in Kharkiv had been "pounded all night" by indiscriminate shelling.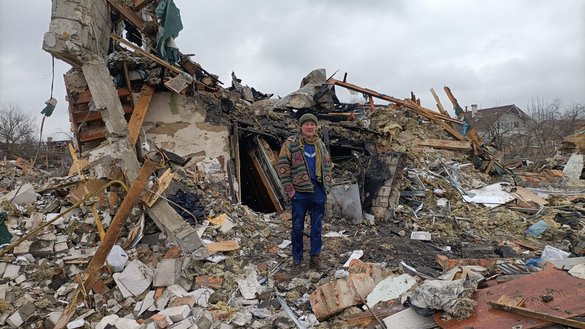 Russian troops have been advancing elsewhere on the southern front and are besieging the port city of Mariupol east of Kherson. Mariupol is without water or electricity in the depths of winter.
The Russians "just wanted to destroy us all", Mariupol mayor Vadym Boychenko said Wednesday, accusing their forces of attacking residential buildings.
At least 350 civilians including 14 children have so far been killed, Ukrainian authorities say, and hundreds of thousands have fled the country since the invasion began.
The United Nations rights office, OHCHR, said it had registered 752 civilian casualties including 227 deaths -- but believes the reality is "considerably higher".
The International Criminal Court (ICC)'s chief prosecutor Wednesday said that an active probe into possible war crimes in Ukraine "will immediately proceed" after his office received the backing of 39 countries.
The countries include all European Union member states, as well as Australia, Britain, Canada, New Zealand, Switzerland and several Latin American countries.
"I have notified the ICC Presidency a few moments ago of my decision to immediately proceed with active investigations in the Situation" in Ukraine, Karim Khan wrote in a statement.
"Our work in the collection of evidence has now commenced," he added.
UK Prime Minister Boris Johnson told parliament on Wednesday that Putin was "guilty of a war crime" after Russian forces bombed civilians in Ukraine, echoing an earlier accusation by Ukrainian President Volodymyr Zelenskyy.
In Washington, top US diplomat Antony Blinken warned the human costs were already "staggering", accusing Russia of attacking places that "aren't military targets".
"Hundreds if not thousands of civilians have been killed or wounded," said the secretary of state, who will travel to Eastern Europe next week to shore up support for Ukraine -- and for efforts to secure a ceasefire.
Bombing homes, infrastructure
The war crime probe comes amid Russian missile bombardments that ended up hitting civilian homes and infrastructure -- and ending civilian lives.
Oleg Rubak wept for love of his wife, Katia, crushed in the rubble of his family house, and for hatred of Putin, whom he blames for the missile strike that killed her.
The 32-year-old engineer was playing with his baby daughter in the couple's brick-and-timber house in Zhytomyr, 150km west of Kyiv.
On Tuesday night at about 10pm in the Ukrainian crossroads town, home to a military garrison, a first missile struck near the house.
A second crashed down behind the building, tearing a five-metre-deep crater, now full of dirty water and the smashed remnants of Rubak's house.
"Her name was Katia. She was 29 years old. One minute I saw her going into the bedroom; a minute later there was nothing," Rubak told AFP, standing by the ruins.
"I hope she's in heaven and all is perfect for her."
He sobbed, apologised, and continued: "I want the whole world to hear my story."
He points out a pile of rubble among the others.
"That's where I was with our one-and-a-half-year-old daughter. But you can see, it's no longer a house; it's not even a room; it's... maybe it's hell," he said.
When the second blast struck, Rubak was thrown under debris as a terrifying sound followed by the icy winter night ripped into his home.
Reaching out with his fingertips, he found his mobile phone, turned on the flashlight app and found his daughter.
'I want him dead'
"She wasn't moving, and my whole world fell in, but I took her hand, and she started to cry. It was the most beautiful sound I'd heard in my life," he said.
Katia, however, was still under bricks and ceiling beams. Oleg desperately dug her out with his bare hands, he said, showing the red welts and scars.
He found her corpse, as he had feared. The first explosion had left her with no chance. "Katia was a housewife. She loved two things, me and our daughter."
Rubak's father, battling his own grief, tries to comfort him, urging him to wrap up against the bitter cold, but the angry son stood straight once again, trying to focus.
"I have to stay strong. I'm not cold. I just want the whole world to know what happened," he said, turning his fury on Putin.
"I want him dead," Oleg said of Putin. "Let him roast in hell for all eternity."
According to Zhytomyr officials, Tuesday night's bombings killed at least three people and wounded 20 more, including several young children.
In the city centre on Wednesday, dozens of residents were cleaning up the remains of a wrecked market, just opposite the city's large military academy.
Among them, 28-year-old Katarina Chternova does not hide her fear, but local solidarity reassures her.
"We are all together; we help each other," she told AFP. "Because this is our land, and we want to save it... we don't give up."
Rubak, on the other hand, is more pessimistic in the face of the Russian advance. In Zhytomyr, he says, "many people would like to leave, but today, no one knows where to go."
Russian tactics
France Thursday expressed fear that the worst phase of Russia's war on Ukraine could be yet to start, with key Ukrainian cities at risk of encirclement by Russian forces.
"The Russians entered Ukraine looking for a blitzkrieg, a fast advance that would allow Russia to control Ukraine," Foreign Minister Jean-Yves Le Drian told France 2 TV.
"It was not the case, due to the exemplary, courageous and strong resistance from the Ukrainians."
Le Drian recalled past Russian tactics in Syria and also against separatists in Chechnya.
"The Russians are used to this -- remember Aleppo, Grozny," he said, referring to cities in Syria and Chechnya that Russian bombers flattened. "This could be very grave. The disaster continues, and Russia's despicable aggression continues."