MOSCOW -- Russian President Vladimir Putin is facing increased pressure at home as oligarchs, opposition members and ordinary citizens continue to condemn his decision to invade Ukraine.
Dozens of anti-war demonstrators were detained in Moscow and St. Petersburg Wednesday (March 2) after jailed Kremlin critic Alexei Navalny called on Russians to protest the invasion of Ukraine.
Demonstrators took to the streets hours after Navalny called for daily rallies against the military assault, saying Russia should not be a "nation of frightened cowards" and calling Putin "an insane little tsar".
In Moscow, law enforcement closed off Red Square near the Kremlin and detained at least seven people who gathered while loudspeakers warned people from convening.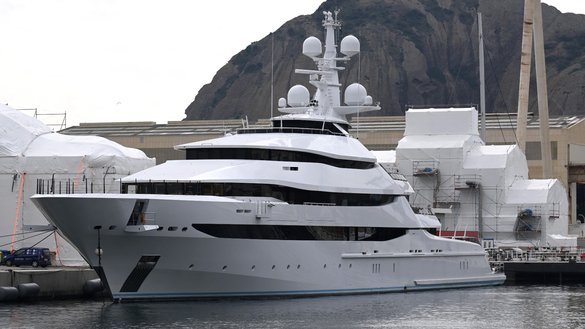 One woman in a red coat shouted "No to war!" before being hauled off by police to a van, according to an AFP journalist.
"It pains me to see what is happening and to do nothing," a man in his fifties told AFP, before being arrested with his 17-year-old son.
Police in Putin's hometown of St. Petersburg violently dispersed protesters and made about 100 arrests, an AFP journalist at the scene said.
"I couldn't stay at home. This war has to be stopped," student Anton Kislov, 21, told AFP in St. Petersburg.
Independent monitoring group OVD-Info said that in total more than 7,000 people had been detained at demonstrations in Russia over Moscow's invasion of Ukraine that began February 24.
Meanwhile, almost 7,000 Russian scientists, mathematicians and academics on Thursday signed an open letter addressed to Putin "strongly" protesting his war in Ukraine.
The demonstrators and those publicly criticising Russia's war do so at great risk, including a fine or jail time after Russian authorities adopted legislation in recent years allowing them to target citizens criticising the government.
In early 2021, Navalny led the biggest protests in Russia against Putin in recent years after he was targeted in a Novichok nerve agent attack he blames on the Kremlin in 2020.
He is now serving a prison sentence outside Moscow on old fraud charges.
"I am urging everyone to take to the streets and fight for peace," he said in a statement posted on Facebook Wednesday, calling on Russians not to be afraid of going to prison.
"If, to prevent war, we need to fill up the jails and police vans, we will fill up the jails and police vans."
"Everything has a price, and now, in the spring of 2022, we should pay that price."
Navalny urged the people of Russia and Belarus -- which allowed Russian troops passage to attack Ukraine -- to demonstrate in main squares at 7pm every weekday and at 2pm on weekends and during holidays.
He accused Putin of using "pseudo-historical nonsense" to justify the invasion of Ukraine.
"I cannot, do not want and will not remain silent, watching how pseudo-historical nonsense about events from 100 years ago [the Russian Revolution] has become an excuse for Russians to kill Ukrainians, and those, defending themselves, kill Russians," he said.
"Putin is not Russia."
Oligarchs speak out
In a sign of growing dissent, some Russian oligarchs have spoken out against Moscow and Putin.
As governments tighten their squeeze on Russia's economy with increasingly punitive sanctions, world capitals also have their sights on Moscow's wealthy elite and its assets abroad, seen by analysts as a way of sapping Putin's power.
Russian tycoon Oleg Deripaska Monday said it was time to end "all this state capitalism" and change policies as the country's economy reeled from the effects of Western sanctions over Moscow's assault on Ukraine.
"It is necessary to change economic policy; it is necessary to end all this state capitalism," he said on messaging app Telegram, demanding "explanations" from officials on what was going to happen to the economy in the next three months.
"If this is a real crisis, then we need real crisis managers and not fantasists with a bunch of silly presentations," he said.
"Unlike in 2014, it will not be possible to sit this out now," Deripaska said, referring to Moscow's annexation of Ukraine's Crimea peninsula and the subsequent introduction of Western sanctions.
Businessman Mikhail Fridman, who has holdings in Russia and Ukraine, told employees at his private equity firm LetterOne that "war can never be the answer" and called for the "bloodshed" to end, the company said Sunday.
"I am deeply attached to Ukrainian and Russian peoples and see the current conflict as a tragedy for them both," he wrote. "This crisis will cost lives and damage two nations who have been brothers for hundreds of years."
"I do not make political statements, I am a businessman with responsibilities to my many thousands of employees in Russia and Ukraine," he said.
"I can only join those whose fervent desire is for the bloodshed to end. I'm sure my partners share my view," he concluded.
Fridman on Tuesday withdrew from the European groups in which he is a shareholder, including LetterOne, though he denied having any "financial or political relationship" with Putin.
Another billionaire, banker Oleg Tinkov, spoke out directly against the war.
"In Ukraine, innocent people are dying every day; this is unthinkable and unacceptable!" he said on Instagram Monday.
"States should be spending money on treating people, on research to defeat cancer, and not on war. We are against this war!"
Task Force KleptoCapture
Both Deripaska and Fridman are among the Russian elite sanctioned by the West.
US Attorney General Merrick Garland on Wednesday announced the launch of a multi-agency task force to pursue "corrupt Russian oligarchs" and violators of sanctions imposed on Russia for its invasion of Ukraine.
"The Justice Department will use all of its authorities to seize the assets of individuals and entities who violate these sanctions," Garland said in a statement announcing the launch of Task Force KleptoCapture.
"We will leave no stone unturned in our efforts to investigate, arrest and prosecute those whose criminal acts enable the Russian government to continue this unjust war," he said.
US President Joe Biden on Tuesday warned Russia's billionaires that the task force would "find and seize their yachts, their luxury apartments, their private jets".
"We are coming for your ill-begotten gains," he said.
The task force would be made up of more than a dozen prosecutors from the Justice Department as well as assets from other law enforcement agencies, said Garland.
"To those bolstering the Russian regime through corruption and sanctions evasion: we will deprive you of safe haven and hold you accountable," Deputy Attorney General Lisa Monaco said.
"Oligarchs be warned: we will use every tool to freeze and seize your criminal proceeds."
Also targeted were Nikolay Tokarev, boss of pipeline mammoth Transneft; brothers Boris and Arkady Rotenberg, who both play ice hockey with Putin and made their money from state construction contracts. Another on the list was Rostec head Sergei Chemezov.
In other action against Russian oligarchs, France said Thursday it had seized a superyacht owned by Russia's oil czar Igor Sechin, and the UK government the same day said it was imposing sanctions on billionaire businessman Alisher Usmanov and former deputy prime minister Igor Shuvalov.