KYIV -- The rapid blitzkrieg into and capture of Kyiv failed, putting Russia's military failures on display for the world.
Instead of entering the Ukrainian capital and installing a puppet leader in a matter of hours, as the Kremlin had planned, the Russian military has been incurring colossal losses for a week.
Still, Russian President Vladimir Putin insists that Moscow's advance in Ukraine is going smoothly.
"I want to say that the special military operation is going strictly according to schedule, according to plan," he said Thursday (March 3), opening a session of his security council.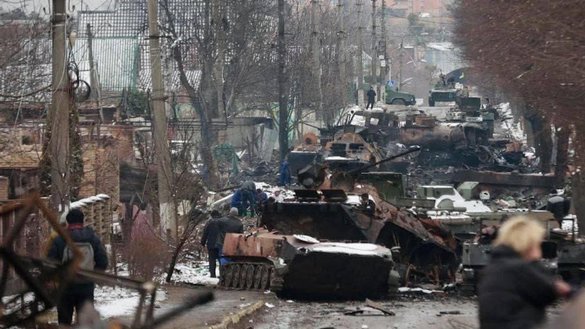 However, the Russian regime has been forced to acknowledge losses piling up faster than they ever did in Afghanistan, which the Soviet Union invaded in 1979-1989.
In that war, more than 15,000 Soviet soldiers were killed in a span of more than nine years.
On March 2, Russia for the first time put a number to its losses in Ukraine, saying 498 of its troops were killed since Putin ordered the invasion last week. It has not updated that total.
Russian losses are much higher than what the Kremlin is saying, according to Ukraine. Russia has suffered 9,166 casualties so far, the Ukrainian general staff said Friday.
Major logistical problems
Apart from the unprecedented number of casualties, Russia's military has suffered from food and fuel shortages, abandoned armoured vehicles, and aircraft losses.
Analysts who study the Russian military say they are astonished by the mismanagement of the campaign.
Invading columns have stalled, apparently hundreds of Russian armoured vehicles have been lost, and the Ukrainians have prevented the Kremlin's air force from controlling the skies.
"If you were going to screw it up two or three weeks in, I might understand it," said Scott Boston, a senior defence analyst at the Rand Corporation, a US-based global policy think tank.
"But if you, like, tripped over the doorframe on the way into the house, you have another issue," he said.
A massive convoy of Russian military supply trucks and attack vehicles has stalled about 32km from Kyiv, according to an intelligence assessment released Thursday by Britain's Defence Ministry.
The several-kilometre-long column has "been delayed by staunch Ukrainian resistance, mechanical breakdown and congestion", it said.
The convoy has been seen in a number of satellite images taken this week, raising concerns about a change in tactic -- a potentially new phase of "unrestricted warfare", The New York Times reported.
The reality is the convey, which analysts believe includes food supply trucks for soldiers, fuel for vehicles and heavy artillery, "has made little discernible progress in over three days", according to the British intelligence analysis.
Food, fuel shortages
US intelligence gave a similar assessment.
"We're seeing vehicles abandoned. We're seeing sustainment problems not just in fuel but in food," Pentagon spokesman John Kirby said Wednesday.
He said it appeared that the Russians did not co-ordinate well their sizeable and diverse capabilities, or manage the logistics for the invasion.
"We're seeing indications here early on that though they have sophisticated combined arms capabilities, that they're not being necessarily fully integrated," he said.
In a Tuesday briefing Kirby cautioned that it is difficult to discern why the Russians' push toward Kyiv from the north had "remained stalled".
One analyst, Trent Telenko, a retired civil servant with the US Defence Department, suggested that Russia's military may be unwilling to move heavy vehicles off-road "during the Ukrainian mud season" because the tires of the vehicles had not been properly maintained.
"Military trucks need to be turned over and moved once a month for preventative maintenance reasons," he tweeted Thursday, analysing several photographs and videos posted online showing damaged tires and abandoned vehicles.
Ukrainians united
Other analysts explain why Putin's plans have resulted in failure rather than a victory.
"The main thing is they underestimated the adversary," Mykola Sunhurovskyi, director of military programmes at the Razumkov Centre, told Caravanserai.
"We need to understand whom we're dealing with," he said. "Did Putin want to inscribe his name in the annals of history?"
"Instead he'll be inscribed in the annals of psychiatry because he believed in his own nonsense instead of a true picture of what is happening," Sunhurovskyi said. "He convinced himself that the Ukrainians didn't exist and Ukraine didn't exist, and that there wouldn't be any resistance."
However, the resistance is formidable. The entire country has united to fight the Russian aggressor.
Along with the regular army units, thousands of ordinary Ukrainians have joined the conflict: they are making Molotov cocktails and throwing them at enemy vehicles, felling trees to block tanks from advancing and even rushing at them unarmed.
Some Russian units that have encountered massive opposition are even sabotaging their own equipment to avoid going into battle, a senior Pentagon official told The New York Times on Tuesday.
"In some cases, Russian troops have deliberately punched holes in their vehicles' gas tanks, presumably to avoid combat," the Times reported.
'Arrogant faith in success'
The Russians lost the most important part of the battle: the first three days, asserted Ihor Romanenko, former deputy chief of the Ukrainian general staff.
"They used tactics from the second Chechen war: a mass approach of attack groups in the hope that they'd find half-guerrilla forces here," he told Caravanserai.
"That's called an arrogant faith in success," he said. "Here we don't have guerrilla warriors, but a well-trained, professional army that is defending its land and whose fighting spirit is exponentially stronger than that of the Russians."
The Kremlin's objective was to quickly march on Kyiv from three directions, but they failed to advance quickly in the south, north or east.
All attempts to land paratroopers near the capital failed, and the Ukrainian armed forces took down all the columns that were trying to advance deep into the territory as though they were targets on a shooting range.
The Kremlin's second goal -- to cut Ukraine off from Western support -- also failed, Sunhurovskyi said.
"That was another [erroneous] calculation by Putin: he was hoping we'd be on our own. But the West was able to get organised and support us unflinchingly," he said.
'The blitzkrieg failed'
There is a major difference between the Kremlin's official statements on Russia's military prowess and what the world is actually seeing in Ukraine, said Valentin Badrak, director of the Centre for Army, Conversion and Disarmament Studies.
"Russia has major problems, and there is a lot of evidence that it is far behind technologically," he said.
"For example, the most recent war in Nagorno-Karabakh [in 2020] showed that the Russian Iskander missile system had many problems. All four firings of it failed, and before that, it was also a failure in Georgia in 2008."
"The Russians are proud of their drones, but where are they? No one is seeing any," he said. "In 12 years they have created one mass-production fighter jet, the Su-57. The only area where they've had some success is with the Kalibr cruise missiles. But it really depends on how many there are. According to inside information, Russia has about 120 of them."
Photos and videos from the battlefield in Ukraine show old equipment that dates from the Soviet era. Such images raise the question of where the billions Russia devoted to its Putin-era military buildup actually went.
"Putin is a destructive person who has never met with resistance, but now he has, and this has pushed him to the edge," Badrak said.
"The blitzkrieg failed, and he's hungry to take revenge on the Ukrainians for their resilience. He's already talking about using nuclear weapons."