KYIV -- Russian forces are continuing to indiscriminately shell Ukrainian cities as well as deliberately target civilians, say Ukrainian and Western officials.
Washington has seen "very credible reports" that Russia has committed war crimes during its invasion of Ukraine, particularly in attacking civilians, US Secretary of State Antony Blinken said Sunday (March 6).
President Joe Biden's top diplomat also hailed the resilience of the Ukrainian people and said Russian leader Vladimir Putin was "destined to lose" the war that has already claimed hundreds of civilian lives.
"We've seen very credible reports of deliberate attacks on civilians, which would constitute a war crime," Blinken told the CNN talk show "State of the Union".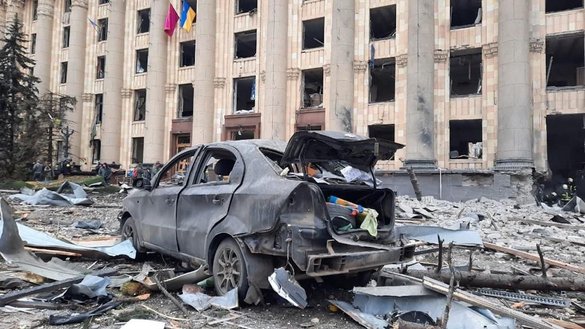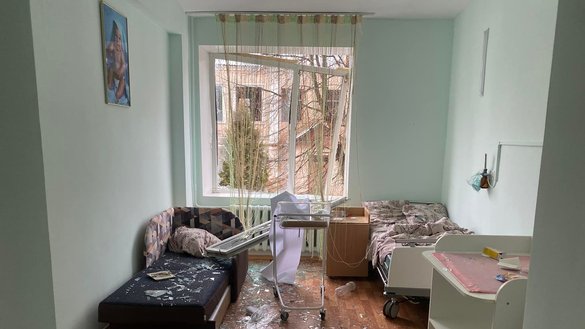 The United Nations (UN) said Friday it had recorded nearly 331 civilian deaths in Ukraine, although the true toll could be far higher.
Among those killed by the Russians was the mayor of Gostomel, a town near and northwest of the Ukrainian capital of Kyiv, city authorities said on Monday.
"The head of Gostomel, Yuri Illich Prylypko, died while distributing bread to the hungry and medicine to the sick," the city said on its Facebook page.
Prylypko was fatally shot along with two other Ukrainians, it said, without specifying when.
"No-one forced him to go under the occupiers' bullets," it said. "He died for his people, for Gostomel. He died a hero."
Gostomel is home to the strategic Antonov military airport, which was the site of fierce battles between Ukrainian and Russian forces in the first days of the war after the Kremlin's invasion on February 24.
'Terror against Ukraine'
Russia has intensified strikes across Ukraine with fresh reports of civilian casualties and devastating damage, particularly in southern areas near Kherson, the first city to fall to Moscow's troops.
The port city of Mariupol, east of Kherson, is cut off without water or electricity in the depths of winter.
Mariupol deputy mayor Sergei Orlov told BBC radio that his town's humanitarian situation was "terrible", after 40 hours of continual shelling including on schools and hospitals.
In the northern city of Chernihiv, 47 people died last Thursday when Russian forces bombed residential areas, including schools and a high-rise apartment block, according to a new toll given by local officials.
A hospital and perinatal centre were among the targets hit in a shelling March 1 on Zhytomyr, killing at least three civilians and wounding 16.
Residential parts of the eastern city of Kharkiv have also come under indiscriminate shelling, say Ukrainian authorities. UN prosecutors at The Hague are investigating the Kharkiv shelling as a possible war crime.
The most densely populated districts of Kharkiv -- Alekseevka, Saltovka and Pavlopol, were hit on February 28, according to Yevhen Vasylenko, the spokesman for the Main Directorate of the State Emergency Situations Service in Kharkiv province.
"The complication is that we do not have the capability of reacting during shelling ... It is harder for us to put out the fire when we arrive after a delay due to the threat of being fired upon," he said.
"The same is true with removing obstacles, where we're talking about minutes to save the life of a person trapped [under rubble]. For this reason, there are victims among the civilian population," Vasylenko told Caravanserai.
Kharkiv remains in Ukrainian hands despite intense bombardments, according to Western sources.
Ukrainian President Volodymyr Zelenskyy described the shelling of Kharkiv as "terror against Ukraine" during a speech to the European Parliament on March 1.
The missile strikes were aimed against districts in the city that had neither Ukrainian military equipment nor any other military facilities, he emphasised.
No neighbourhoods in Kharkiv have not been shelled, according to Vasylenko.
The shelling of the city has increased in recent days, with some shells not detonating after landing -- marking yet another threat, he added.
"In a single day, we had 33 requests to disarm [unexploded] munitions on the streets of Kharkiv. Our ordnance technicians are actively working on disarming them," said Vasylenko.
'Real terror'
"Putin is transitioning to very real terror," Aleksandr Khara, an foreign policy and security analyst from Ukraine's Centre for Defence Strategies and a former adviser to the Ukrainian defence minister, told Caravanserai.
"[Putin] thought that he would take Ukraine in a few days, but he saw that Ukraine, instead, rallied and is putting up resistance to its armed forces."
"The very first of what are called precision-guided attacks, which were inflicted on the main cities of Ukraine, did not accomplish their goal and did not destroy the military control system or the state control system," he said.
The military leadership of Russia "understands that war can now be taken to the cities", he added.
"But it is very hard to fight in cities, and all the advantages of the Russian armed forces ... are simply neutralised," Khara said.
"Taking into account that the Ukrainian military has the Javelin, the NLAW and the Stinger, that means that we can effectively defend our cities," he said, referring to Western-made, portable anti-tank and anti-aircraft weapons.
"Therefore, the Russians are simply wiping out Ukrainian cities with missiles in the hopes that the people will scatter in panic," he said.