KYIV -- Russian forces are continuing to hinder the creation of humanitarian corridors from besieged Ukrainian cities as they violate ceasefire attempts, say officials and aid groups.
Late Monday, Russia named the southern port city of Mariupol as one of four cities where evacuation corridors would be opened.
But on Tuesday (March 8), Ukraine accused Russia of violating a humanitarian corridor aimed at enabling civilians to leave the beleaguered city.
"The enemy has launched an attack heading exactly at the humanitarian corridor," the Defence Ministry said on Facebook, adding that the Russian army "did not let children, women and elderly people leave the city".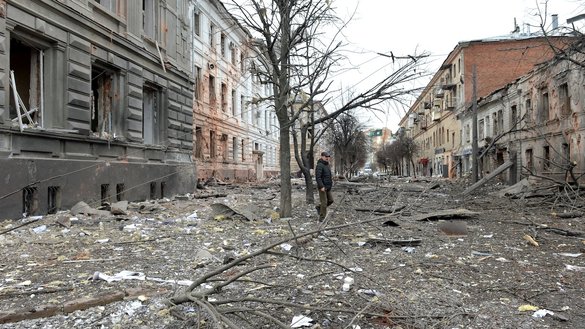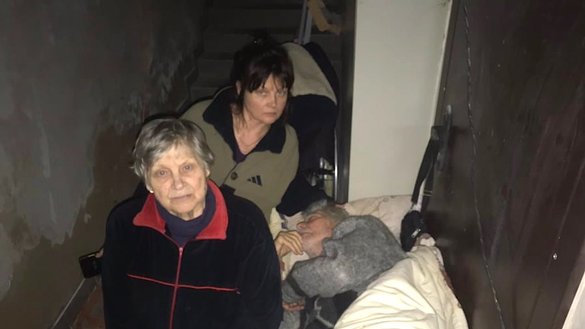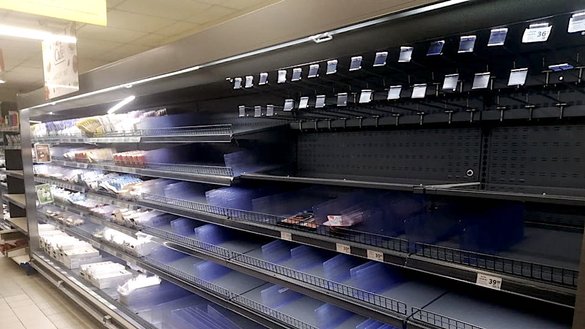 "Such actions are nothing other than a genocide," it said.
"Ceasefire violated!" tweeted Ukraine's Foreign Ministry.
"Russian forces are now shelling the humanitarian corridor from Zaporizhzhia to Mariupol. 8 trucks + 30 buses ready to deliver humanitarian aid to Mariupol and to (evacuate) civilians to Zaporizhzhia," it added.
Kyiv said it had carried out mine-clearing activities along the 250km-long route to Zaporizhzhia in the northwest to allow the evacuation of the roughly 450,000 people living in Mariupol.
The city has been under siege by the Russian army for several days.
It is a key strategic location because of its proximity to the Russian-controlled Crimean peninsula and the Donbas region, where Russian separatists are based.
Attempted evacuations involving about 300,000 civilians from Mariupol have failed on several occasions in recent days.
Ukrainian President Volodymyr Zelenskyy said there had been "guarantees" on evacuating Mariupol civilians but that these "did not work".
Kyiv on Monday dismissed Moscow's offer to create humanitarian corridors from several bombarded cities after it emerged that exit routes would lead refugees into Russia or Belarus.
French President Emmanuel Macron accused Russian President Vladimir Putin of hypocrisy and cynicism the same day after the Russian proposal.
"All this is not serious; it is moral and political cynicism, which I find intolerable," he told LCI television in an interview, adding that promises to protect civilians so that they could merely flee towards Russia were "hypocritical".
'Route of terror'
The Russian proposal of safe passage for people from Kharkiv, Kyiv, Mariupol and Sumy came after terrified Ukrainian civilians came under fire in previous failed ceasefire attempts.
"The enemy has selected the route of terror in regards to the civilian population," Irina Vereshchuk, the minister for Reintegration of Temporarily Occupied Territory of Ukraine, said during a briefing on March 1.
"Residential neighbourhoods are being fired on, and there is no water or electricity supply. People are forced to continually stay in basements without food or water."
"Among them are women, children, the elderly, the sick and the handicapped," Vereshchuk said.
Ukraine on Tuesday began evacuating civilians from Sumy to the city of Lokhvytsya, about 150km to the southwest in Ukrainian-held territory, under a deal with Moscow.
However, agreements for other cities have yet to materialise.
AFP journalists witnessed thousands of civilians on Monday fleeing fighting via an unofficial escape route from Irpin, a suburb west of Kyiv, towards the capital.
One Ukrainian paratrooper told of "hand-to-hand" combat in Irpin, saying, "We are trying to push [Russian soldiers] out, but I don't know if we'll be fully able to do it."
Cities 'razed to the ground'
"The city is supporting our troops, but the firing doesn't stop; battles go on day and night," Alla Kucheruk, a resident of Irpin, told Caravanserai.
"The city is destroyed; many people have died. Those who could not get out have remained here," she said, adding that many families with children are still unable to escape the city.
Kucheruk said about 20 people sleep in the basement of her apartment building each night. One 80-year-old man in a wheelchair has not been able to leave the basement since the war began.
The biggest problem in the city is lack of foodstuffs and medications, she said.
"There are empty shelves in the store. They aren't bringing anything into the city," she said. "But our people help each other. Those like me who stored supplies of food before the war started are now sharing them with the rest."
Kucheruk recalled one grocery store that had only "some chocolates" on the shelves and cashiers limited customers to buying only 1 kg of flour.
Irpin is not the only city struggling with food supplies.
"All these seven frightening nights, we have been sleeping on the basement floor. That's because it's not safe at home," Natalya Dratusova, a resident of Kharkiv, said a week after Russia's invasion. "Russian aircraft are flying and firing on residential districts."
"For the first five days, nothing was working in the district. It was impossible to even buy water," she said.
"The city is destroyed; it seems that it's being razed to the ground."
Need for life-saving aid
The United Nations needs safe passage to deliver humanitarian aid to conflict zones in Ukraine, Undersecretary-General for Humanitarian Affairs Martin Griffiths told the Security Council on Monday.
"Civilians in places like Mariupol, Kharkiv, Melitopol and elsewhere desperately need aid, especially life-saving medical supplies," he said.
Ukrainian officials are trying to provide food and medicine under martial law, but sporadic communication with cities under siege is making it difficult to deliver aid.
"In just the last 24 hours, we received 20,000 requests from people from all over Ukraine who need all sorts of assistance," Anna Bondarenko, director of the Ukrainian Volunteer Service, told Caravanserai.
"In addition to the need for foodstuffs and medications, there are many requests for provision of medical assistance," she said.
"But the biggest problem is that the Russian troops in the majority of towns and cities are deliberately not creating a ... corridor for humanitarian assistance," she said. "Neither our Ukrainian volunteers nor representatives of the Red Cross can get into the city to provide humanitarian assistance to the population."
Russian troops are refusing to negotiate with local authorities to enable humanitarian assistance to enter, according to Bondarenko.
"There have already been cases when the emergency services have come under fire," she said. "In other words, to attempt to come to an agreement about anything is absolutely useless."