In most of the world, the Kremlin's unprovoked war in Ukraine has stoked outrage and an outpouring of support for the Ukrainian people trying to escape Russian bombs and cluster munitions.
Even as Ukrainian President Volodymyr Zelenskyy remains bunkered down in Kyiv amid heavy bombardment and the fear of assassination, his government has waged an all-out assault on social media to win supporters for their cause.
Zelenskyy's daily video addresses, usually published with English subtitles, have become viral sensations, while the defence and foreign ministries tout the military resistance of Ukraine in snazzy graphics.
Meanwhile, Ukrainians have posted videos showing the success of their forces that have become viral trends, including a Ukrainian missile shooting down a Russian helicopter and a Ukrainian farmer towing away captured Russian military hardware on his tractor.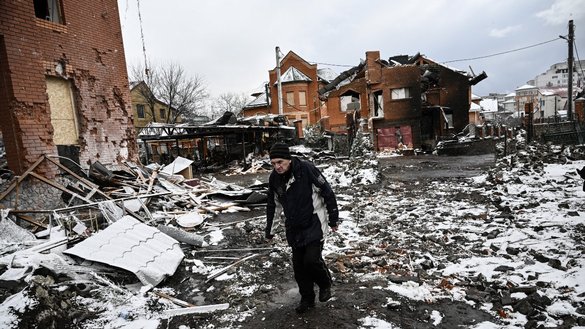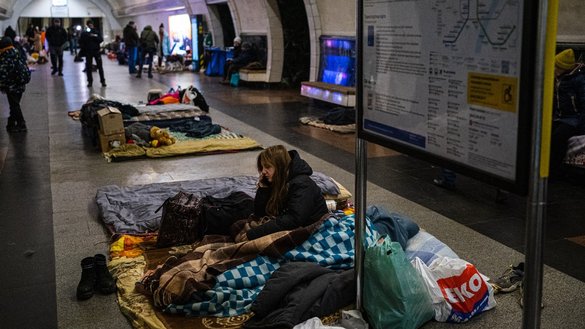 Self-shot videos of Ukrainians sobbing amid the ruins of their towns after Russia stepped up bombardments have also gripped people around the world.
Independent photojournalists and videographers have captured harrowing scenes of civilians, including children, killed by Russian troops as they attempt to flee the bloodshed.
Even commercial satellite imagery is helping to lift the fog of war, documenting a huge Russian military convoy snaking its way to Kyiv, missile strikes and refugee crossings.
But ask people in Russia, and they say there is no war in Ukraine, no shelling of Kyiv, no civilians dying, and that Russian troops are "liberating" and "helping" the Ukrainian people in a "special military operation".
Kremlin-controlled media
The vast majority of Russians consume their news through Kremlin-controlled media, especially television, which have downplayed the war in Ukraine and painted Russia not as the aggressor but as a victim of the West.
Even those who get their news online are unlikely to find a narrative that differs from the official party line.
That is because President Vladimir Putin has gone to great efforts to take control of public opinion in Russia.
"To read or view the manipulative domestic coverage of the assault on Ukraine is to walk through a looking glass into a propagandist world of Russian heroes and Ukrainian nationalist villains," the Washington Post reported Tuesday.
The truth is becoming harder and harder to find in Russia as Putin clamps down on the information environment.
A draconian "fake news" law he signed Friday criminalises contradiction of the official Kremlin line. Merely describing the invasion as a war in Russia can now result in a 15-year jail sentence.
Some journalists who work for pro-Kremlin media say they are restricted in how they can cover the events, and that they are specifically prohibited from using the word "invasion".
The result is a "parallel information universe".
"There are big cities, Moscow and St. Petersburg, with lots of students, intellectuals and people connected with the outside world," Lukas Andriukaitis, an analyst of Russian propaganda and misinformation at the Atlantic Council's Digital Forensic Research Lab, told Washington Post columnist Anthony Faiola.
"But even there, so many people are accepting the government's narrative. Even young people will say, 'We don't like the war, but it's something we have to do.'"
"And those are the more liberal places in Russia," Andriukaitis said. "In smaller towns where the Internet is not common, and people have heard nothing besides Putin's propaganda for years, the situation is worse."
Dueling narratives
Anecdotes from Ukrainians who have relatives in Russia demonstrate their frustration dealing with the dueling narratives.
Four days after Russia began bombing Kyiv, Misha Katsurin, a local restaurateur, wondered why his father, who lives in Russia, had not called to check on him.
"There is a war; I'm his son, and he just doesn't call," he told The New York Times.
When Katsurin called his father, he said, his father denied there was a war in Ukraine.
"I'm trying to evacuate my children and my wife -- everything is extremely scary," Katsurin said he told his father.
"No, no, no, no stop," his father replied.
"There are Russian soldiers there helping people. They give them warm clothes and food," Katsurin said his father told him.
"I am not angry at my father -- I am angry at the Kremlin," Katsurin said. "I'm angry about the Russian propaganda. I'm not angry at these people. I understand that I cannot blame them in this situation."
Another Kyiv resident, Valentyna V. Kremyr, said she was met with similar disbelief from her brother and sister in Russia when she told them her son had spent days in a bomb shelter in the Kyiv suburb of Bucha.
"They believe that everything is calm in Kyiv, that no one is shelling Kyiv," Kremyr told The New York Times by phone.
On February 25, a day after Russian troops invaded Ukraine from multiple directions, Kremyr said her sister, who lives in Perm, denied the situation on the ground.
"No one is bombing Kyiv, and you should actually be afraid of the Nazis, whom your father fought against," she wrote via direct message. "Your children will be alive and healthy. We love the Ukrainian people, but you need to think hard about whom you elected as president."
She was repeating a common Kremlin narrative: that Putin's army is conducting a "special military operation" with "precision" and the honourable mission of "de-Nazifying" Ukraine.
Putin himself has referred to Zelenskyy as a "drug-addled Nazi" in an attempt to justify the war.
Katsurin launched a website, papapover.com, which means "Papa, believe", to help Ukrainians speak to their family members in Russia about the war.
"There are 11 million Russians who have relatives in Ukraine," he said. "With 11 million people, everything can happen -- from revolution to at least some resistance."
'Call Russia'
A group of Lithuanians on Tuesday launched a similar campaign to encourage Russians abroad to call 40 million compatriots back home and talk to them about what is happening in Ukraine.
The campaigners say they are hoping that direct contact will bypass the narrative in pro-Kremlin media and change the minds of ordinary Russians so as to eventually put an end to the conflict.
The initiative, dubbed "Call Russia", has a database of 40 million randomly chosen Russian telephone numbers. A new number pops up every time a user clicks on the campaign website.
One of the campaign's founders, Paulius Senuta, said he had spoken to three people he knew in Moscow and the conversations were "very difficult".
"These people are in completely different information space and have radically opposing views," said Senuta, a marketing specialist.
"Sometimes it seemed that we are actually from different planets."
The website offers tips for callers. It says there should be no "scolding" or "offending" and asks them to be prepared to listen to a differing point of view coming from the person they are calling.
"We ask people to refrain from being confrontational and trying to explain who is right and who is wrong," Senuta said.
"We urge people to speak about the tragedy of human suffering, people dying, women who are forced to give birth in metro stations," he added.
The human tragedy "is the thing everyone, hopefully, agrees on, whatever the country they live in".
Lukewarm Russian support for war
There are some signs that Putin's information war is cracking inside Russia.
Last week, a telephone survey taken in Russia by a group of independent survey research organisations showed unusually modest support for Putin's war, the Washington Post reported.
Among the 1,640 asked, 58% said they supported it strongly or somewhat, and 23% said they opposed it. The rest were non-committal or offered no opinion.
In comparison, Putin had 91% public support for Russia's annexation of Crimea in 2014.
A number of public antiwar demonstrations have taken place in Moscow, St. Petersburg and other Russian cities.
Authorities arrested at least 4,640 people across 56 cities on Sunday, according to OVD-Info, an independent human rights organisation that monitors violations in Russia.
Thirteen journalists and 113 juveniles were among those arrested, OVD-Info reported.
The organisation reported multiple instances of excessive force against protesters, including beatings and use of stun guns.