TASHKENT -- Central Asia's ties to Russia are bringing new risks as the Kremlin faces unprecedented economic sanctions for its invasion of Ukraine, say economists and other watchers.
European countries and the United States unleashed sweeping sanctions aimed at isolating Russia from the global financial and trade system after the invasion began on February 24.
The sanctions have caused the ruble to sink to historic lows.
Major retailers have suspended sales in Russia overnight, closing their doors in many shopping centres in Moscow.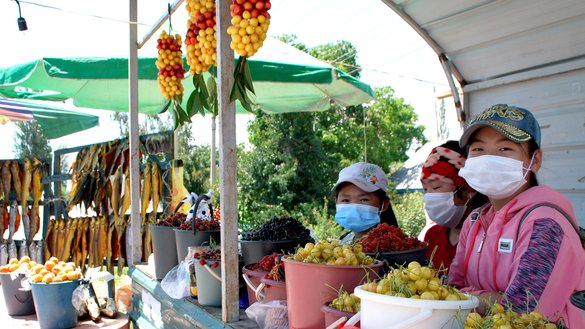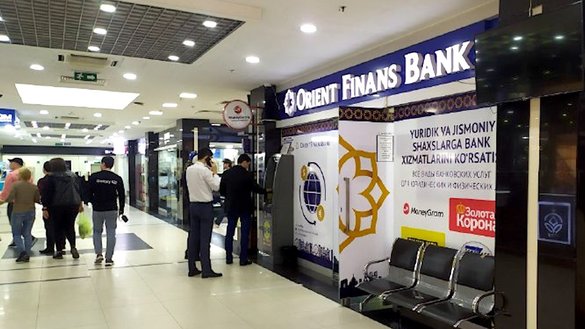 In the latest measure targeted at Russia, US President Joe Biden banned imports of Russian oil on Tuesday (March 8).
Britain said it would phase out Russian oil by the end of the year. Meanwhile, the European Union plans to slash Russian natural-gas imports by two-thirds.
For Central Asia -- which remains economically linked to Russia and has millions of citizens working there as migrants -- the Kremlin's decision to invade Ukraine is raising major concern.
Migrants and their families at home, many of whom rely on remittances for income, are particularly vulnerable.
In Uzbekistan, banks are urgently working so that such transfers do not get cut off.
In 2021, $8.1 billion was sent to Uzbekistan through international money transfer systems, a 34% jump over 2020 and 2019, when this sum was $6 billion, the Central Bank said.
The same year, Uzbek citizens obtained more than 1.3 million permits to work in Russia.
"The ruble's dive will deal another big blow to the volume of money transfers. Whatever percentage the ruble falls against the dollar, migrants' earnings and money transfers in dollars will fall by exactly the same percentage," Yuliy Yusupov, a Tashkent economist, told Repost.uz March 1.
"We can already see that the sanctions that have been introduced and the ones that are being planned are very severe and stricter than previous ones," he said.
"They've begun to hit the Russian economy very painfully. The plunge in the ruble's exchange rate and skyrocketing prices are just the beginning," Yusupov said.
"This is why it is vital to again reexamine the issue of joining or not joining the EEU [Eurasian Economic Union]," Alisher Ilkhamov of London, an analyst of Central Asia, told Caravanserai.
"It's becoming apparent that belonging to the EEU and, in general, being tied too closely to Russia economically is becoming too toxic for Uzbekistan. I hope the government understands this," Ilkhamov said.
The Uzbek government has repeatedly resisted the Kremlin's pressure to join the EEU, a Russian-dominated trading bloc.
The Russian economy is approaching default, according to Ilkhamov. Severe economic sanctions will create a surge in unemployment, which will also mean a drop in demand for foreign labour.
"I'm afraid that a large outflow of Uzbek migrants from Russia will start soon. Then unemployment in Uzbekistan will spike," he added.
"And then we have the direct issue of the need to drastically improve policy on facilitating economic growth, which would capture the surplus labour," Ilkhamov said.
Catastrophic consequences
Analysts and economists in other Central Asian countries also fear that the war in Ukraine could severely damage their economies.
Tajikistan and Kyrgyzstan will be hit the hardest by Russia's decision to invade Ukraine, said Adil Turdukulov, a journalist and analyst from Bishkek.
Migrants' remittances account for more than half of those countries' economies. In the first 11 months of 2021, migrants sent more than $2.5 billion back to Kyrgyzstan, according to Kaktus Media.
"Kyrgyzstan is a country that depends on imports. The conflict in Ukraine will cause prices to rise, especially for energy, and that's a sensitive issue here," Turdukulov told Caravanserai.
Kyrgyzstan depends on Russia for 90% of its petroleum products, and if they get more expensive, food prices will go up, according to Turdukulov's calculations.
"The dollar exchange rate shot up from 85 to 97 KGS. And now dollars aren't even sold at all currency exchanges," he said.
Kyrgyzstan did not back Russia's aggression and is maintaining more or less the same neutral stance as Uzbekistan and Kazakhstan, he added.
The sanctions imposed on Russia will noticeably affect the Tajik economy since petroleum, construction materials and many other items related to the economy and other industries are imported from Russia, according to Shokir Khakimov, a legal scholar from Dushanbe.
Tajikistan is also dependent on remittances -- in just the first nine months of 2021, Tajik citizens remitted $1.3 billion from Russia, according to the newspaper Vzglyad.
"To be sure, the sanctions against Russia could substantially lower [migrants'] income, and they'll create additional problems. Many of those workers could lose their jobs," Khakimov told Caravanserai.
"Amid the developing situation, Tajikistan is gaining alternative opportunities to develop its trade and economic relations with foreign countries," Khakimov said.
"We need to intelligently and soundly use the new realities, taking into account our national interests and improvement of the standard of living and quality of life of our citizens," he said.
Turkmenistan sells about 4 billion cubic metres of natural gas per year to Russia, said Kakamurad Khydyrov, a Turkmen analyst who lives in England.
Sanctions imposed on Russia will have considerable repercussions in Turkmenistan, said Khydyrov. They will also affect the income of ordinary Turkmens, which is not very high to begin with.
"The value of the [Turkmen] national currency, the manat, is micromanaged. The Central Bank is lowering the dollar exchange rate -- in other words, it's strengthening the manat. But how can you strengthen the manat if Turkmenistan isn't producing enough goods?" Khydyrov told Caravanserai.
EEU risks
The Kazakh market is also suffering. On March 2, the US dollar rose against the tenge, climbing 6.68 KZT to 492.21 KZT.
The recent sanctions are wider reaching than those imposed on Russia after it annexed Crimea in 2014, Meruert Makhmutova, director of the Public Policy Research Centre in Kazakhstan, told Caravanserai.
Kazakhstan's economy, like that of other Central Asian countries, is closely tied to the Russian economy.
The creation of the EEU has only exacerbated the situation since there are no customs borders between member countries, according to Makhmutova.
After losing export markets, Russian goods will surge onto the Kazakh market, and the drastic devaluation of the ruble will make them cheaper.
That devaluation could demolish Kazakh manufacturers, she said. Even before 2022, Kazakhstan was running a trade deficit with Russia, and now it will only increase.
"Russian businesses could move to Kazakhstan to try to avoid sanctions, just like we saw in 2014–2015 after Crimea was annexed. That also threatens Kazakhstan's security," Makhmutova said.
In addition, she expects that a significant portion of the Central Asian migrants working in Russia will be forced to go home. It is possible that some of them will move to Kazakhstan, a shift that will create tension on the labour market.
"The tenge will also depreciate on the heels of the ruble despite high prices on raw-materials markets. Russia accounts for almost 42% of Kazakhstan's imports and about 11% of its exports, and the trade deficit will balloon," Makhmutova said.
Then a devaluation of the tenge will lead to price hikes, inflation and a decline in the population's standard of living, she said.