Russia's fatal targeting of a children's hospital in Mariupol, Ukraine, on Wednesday (March 9) reflects an ongoing pattern of Kremlin tactics in conflict zones such as Syria, where medical facilities have been regularly hit with air strikes.
Two adults and a young girl were killed, and doctors and women waiting to give birth were among 17 wounded in the attack on a children's hospital in the southern port city, local officials said.
Video shared from the site by rescue workers showed a scene of devastation, with the wounded being evacuated, some on stretchers, past charred and burning carcasses of cars and a massive crater by the building.
Inside, debris, shattered glass and splintered wood littered corridors, administrative offices and bedrooms, with mattresses thrown from their frames.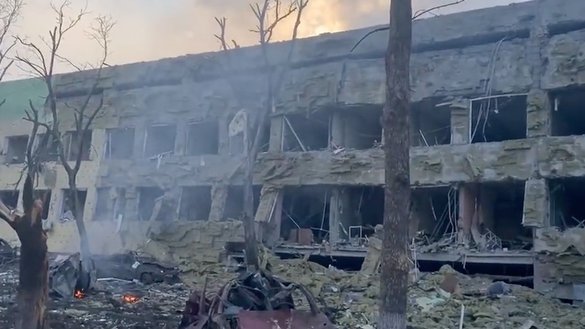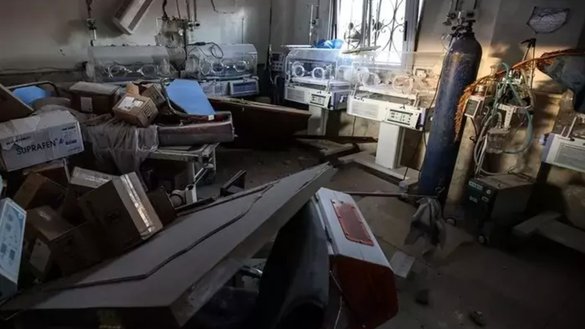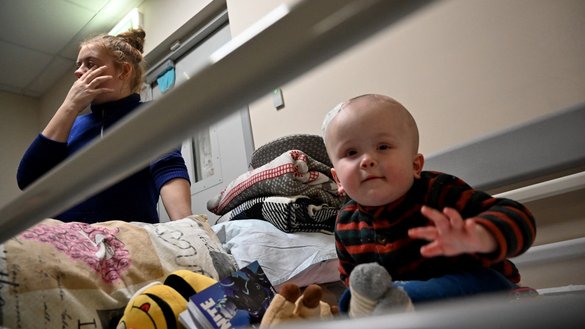 Ukraine President Volodymyr Zelenskyy shared video footage showing massive destruction at the recently refurbished hospital, condemning the attack as a "war crime".
No health facility "should ever be a target", United Nations (UN) spokesman Stephane Dujarric said Wednesday.
The UN and World Health Organisation (WHO) have called for an "immediate halt to attacks on health care, hospitals, health care workers, ambulances", he said.
The White House slammed the "barbaric" use of force against civilians, British Prime Minister Boris Johnson called the attack "depraved", and Spanish Prime Minister Pedro Sanchez accused Russia of "war crimes".
"It's horrifying that a place people seek for help has become one of absolute and utter destruction," Save the Children's Eastern Europe director Irina Saghoyan said in a Thursday statement.
"Where can families and children turn to if even hospitals are not safe? They must not become the battlefields where conflicts rage and innocent children are the casualties," she said.
A total of 1,207 civilians died during the nine-day Russian siege of Mariupol, local authorities said Wednesday.
City authorities said Mariupol had experienced "nine days of continuous shelling of the civilian population" with "half a million people without light, water, heat and communications".
Familiar pattern
The bombing of hospitals is familiar in Russia's military strategy.
One witness of Russian atrocities is the Syrian White Helmets, the civil defence unit that has lost 252 members to Syrian and Russian attacks while saving thousands of civilians' lives.
The White Helmets had advice for Ukrainians in a Washington Post column that appeared Tuesday: "Do not give GPS [global positioning system] locations of medical facilities to the United Nations, which may claim it needs the information to keep them safe. The Russians will use that information to target them."
In June 2019, then UN humanitarian chief Mark Lowcock said he had asked Russia to explain how it used data on the location of Syrian hospitals and clinics following a string of attacks on health facilities.
He told the UN Security Council he was "not sure" hospitals that share co-ordinates of their location under a UN deconfliction system would be protected.
At that time, the UN said more than 23 hospitals had been hit by strikes since Russia-backed Syrian regime forces launched an offensive in late April 2019 in the Syrian province of Idlib.
On June 20, 2019, an ambulance transporting an injured woman in southern Idlib was hit, killing the woman and three medical workers.
A month later on July 18, Russia opposed a UN Security Council resolution calling for an end to attacks on health facilities in the Idlib region.
In November 2019, Russian and Syrian air strikes hit a hospital and a civil defence centre that provided rescue and paramedic services in the Syrian provinces of Aleppo and Idlib, injuring civilians and knocking both out of service.
Air strikes also hit a maternity hospital in rural Idlib.
Investigations that linked Russian radio recordings, plane spotter logs and witness accounts proved the 2019 attacks on medical facilities were part of a larger pattern by forces supporting the Syrian regime of Bashar al-Assad.