KYIV -- On the seventh day of Russia's invasion of Ukraine, Anna Dovbysh, a 29-year-old from Kyiv, decided to leave home.
"I had nightmares that Kadyrov's goons came into our house and took us prisoner," she said, referring to Chechen leader Ramzan Kadyrov, an ally of Russian President Vladimir Putin.
"Emotionally, my mother and I couldn't take it any more and could not think clearly. We were just hysterical and weeping," said Dovbysh, who is now in western Ukraine.
She left her father with an 87-year-old grandmother in Kyiv.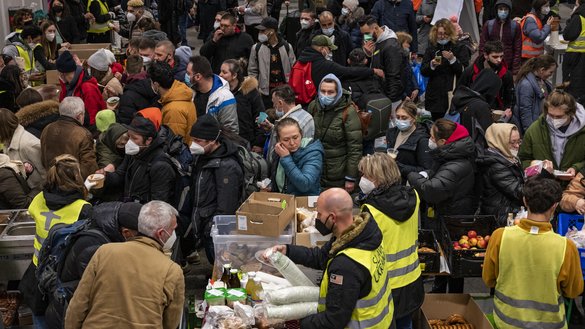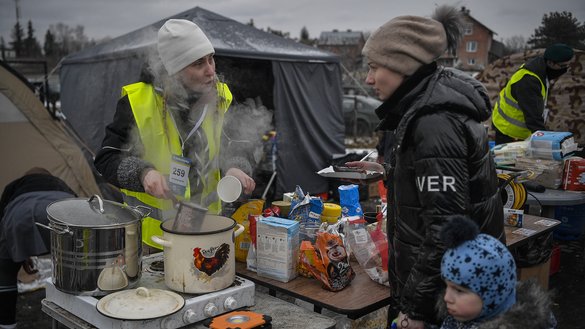 "We said goodbye to dad with tears in our eyes. It was the worst moment in my life, getting into a car, looking in the rearview mirror and seeing my dad there, standing and waving at us on the road, while we were leaving for the unknown," Dovbysh said.
Russia's war has sent about 2.2 million refugees across Ukraine's borders in what the United Nations has called Europe's fastest-growing refugee crisis since World War II.
Ukrzaliznytsia, the Ukrainian state railway, on March 3 began offering free rides for those fleeing west.
Polish state railway company PKP Thursday (March 10) said it was offering free tickets to Ukrainians travelling onwards to parts of Germany.
As of Wednesday, Ukrainian citizens may travel free by second class on the nine daily intercity trains linking the Polish cities of Warsaw, Przemysl (via Krakow) and Gdynia to the German capital Berlin and the border town of Frankfurt (Oder).
PKP has put on more trains from the Ukrainian border and allowed refugees fleeing into the country to use them for free since the start of the invasion on February 24.
An estimated 300,000 Ukrainians have travelled into Poland that way since February 26.
The evacuations come as the Russian army intensifies shelling of residential districts in Ukrainian cities in the north, south and east of the country.
Polish hospitality
The Polish border guard service Thursday said that 1.43 million people had crossed from Ukraine to Poland since the start of the war.
With men between the ages of 18 and 60 banned from leaving Ukraine because they are needed for national defence, families must endure separation.
Kharkiv resident Alexander Morgunov, who luckily turned 60 one month before the start of the invasion, is safely in Poland now.
"Although we were among the first to leave, on February 24, it took a very long time to cross the Ukrainian border," he said.
"Our border guards checked everything carefully. Whether all documents are in order. They checked permits for travelling abroad with children. All men from 18 to 60 were turned back."
"Once we were received by the Polish border guards, everything was organised very clearly, without delays. There was a separate line for women with children. That line moved very quickly. [The guards] helped them with luggage," he said.
"I was pleasantly surprised by the hospitality of the Poles and their willingness to help," Morgunov told Caravanserai.
In the space of just a week the European Union (EU) rushed through a unanimous decision to trigger its protection mechanism granting those fleeing Ukraine the right to stay and work in the bloc for an initial two years, AFP reported Wednesday.
It was the first time the EU had activated the measure, drawn up in 2001 after the conflicts in former Yugoslavia.
"Public transport in Warsaw is already free for Ukrainians," said Morgunov, who has lived in Warsaw for a week now.
"Also, if you buy a SIM [subscriber identity module] card from a Polish mobile operator, all calls and texts to Ukraine are free for the first month."
"Information centres for Ukrainians have been organised at Polish train stations. You can eat there. You can get diapers and essentials. Everything is very well organised," Morgunov said.
Urgent assistance
In western Ukraine, authorities and volunteers are also working together to receive incoming refugees.
Ruslana Mits, a volunteer and local entrepreneur in the small town of Przemyshlyany, Lviv province, has sheltered two families who fled to western Ukraine with their children.
"I own a small hotel with eight rooms and am taking people in. The first two or three days, when people flooded in, we urgently organised assistance," Mits told Caravanserai.
"But soon the mayor gathered us and put everything in order. Now everyone knows his [or her] area of responsibility. Refugees are being settled very fast. Local authorities register them, and people immediately receive all the assistance they need," Mits said.
A similar process for receiving refugees has been established throughout all western provinces of Ukraine.
Volunteers and government agencies ready to receive refugees are co-ordinated by special headquarters created under the provincial governments, Oksana Gobod, a member of the co-ordinating council for social issues under the government of Volyn province, told Caravanserai.
"Today we have more than 2,000 available spots for refugees. The work is all well organised," Gobod said.
"But people consider our province only a transitional location on the way to Europe. They don't stay here for long."